Greta Gerwig & Her Famous Boyfriend Were Creative Collaborators Before They Were Partners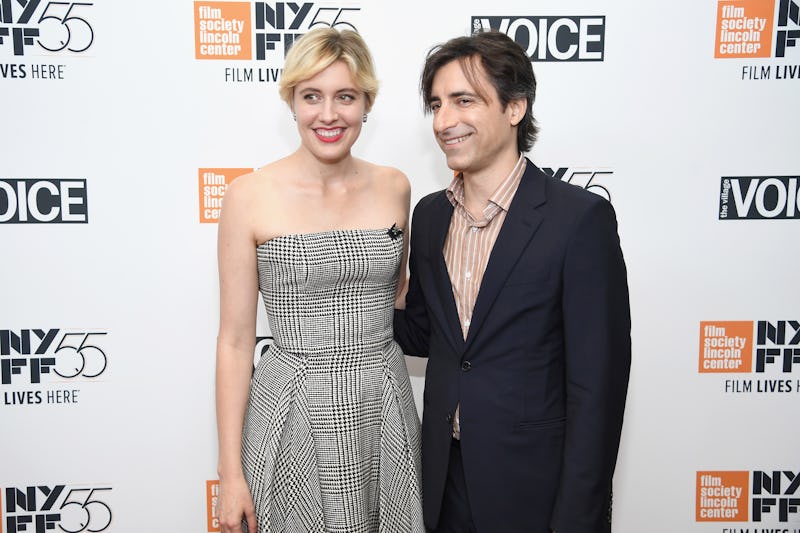 Dimitrios Kambouris/Getty Images Entertainment/Getty Images
Greta Gerwig's directorial debut Lady Bird has garnered rave reviews, and five Oscar nominations — with two for Gerwig herself. The first-time director but longtime performer will likely be bringing a date to the 2018 Oscars that cinephiles will definitely recognize. Greta Gerwig has been dating Noah Baumbach since 2011, according to The Globe and Mail. Writer/director Baumbach and Gerwig are frequent collaborators, working together on such films as Greenberg, Frances Ha, and Mistress America. Gerwig often identifies Baumbach as her partner in interviews.
Baumbach is also no stranger to the Academy Awards. In 2005, the 48-year-old director wrote and directed a semi-autobiographical drama called The Squid And The Whale, which was nominated for Best Original Screenplay at the Oscars and received three Golden Globe nominations. He also wrote and directed Margot at the Wedding, While We're Young, and the recent Netflix film The Meyerowitz Stories. In addition to frequently teaming up with Gerwig, Baumbach has collaborated with friend and auteur Wes Anderson; they co-wrote the scripts for the films The Life Aquatic With Steve Zissou, and The Fantastic Mr. Fox. His directorial debut Kicking And Screaming was released in 1995.
According to The Globe And Mail, Baumbach and Gerwig first met on his 2010 film Greenberg, but did not become a couple until they filmed the 2012 movie Frances Ha.
Gerwig told The New Yorker that after working on Greenberg, she and Baumbach had talked about working together again with him directing and her as an actor. When she e-mailed him a list of ideas, she remembered: "He loved it. He said, 'I can totally see this in a movie and I can see what kind of movie it is. Let's keep going.'" They kept making a list of ideas together, and eventually landed on Frances Ha, which Gerwig co-wrote with him. It was a prologue to their eventual relationship. Gerwig told The New Yorker the following about their brainstorming of the movie:
"It's sort of like—this is a ridiculous way to say it—but like a nun in a convent singing over a wall to someone she knows is on the other side. And the person thinking, That song is for me, but not really knowing it's for them, but then it was for them. And then they meet one day."
After Frances Ha was in production for a month, Baumbach and Gerwig became an official couple, according to The Globe And Mail. In a 2013 interview with the publication, Baumbach expressed his admiration for Gerwig. "Greta's one of the funniest people I'd ever met, both as an actor and a person, and she also has this incredible vulnerability," he said.
While filming Lady Bird, Gerwig told Entertainment Weekly that she did consult with Baumbach during some parts of the experience. "It's nice because there are certain things that are just nerdy inside-baseball stuff — like, 'Do you think this could cut to that? — that really only other directors know," she told the publication.
While accepting her Golden Globe for Best Original Screenplay in January, Gerwig forgot to thank Baumbach in her speech, but she told The View that her partner didn't take offense. "I had an entire speech that I was going to give and I got up there and none of it came out," Gerwig said on the show. She continued:
"I looked at Oprah and I was like, 'It's gone!'..I had a whole thing about him. He's my favorite writer and my favorite first reader. I got off stage and … then as I was coming back to the table, he was already looking at me and he said, 'Please don't feel bad, please don't feel bad!'"
After all, Gerwig may have another opportunity to deliver an acceptance speech or two at the Oscars ceremony on Sunday, March 4.