This 'Making It' Contestant First Auditioned As Part Of A Husband & Wife Duo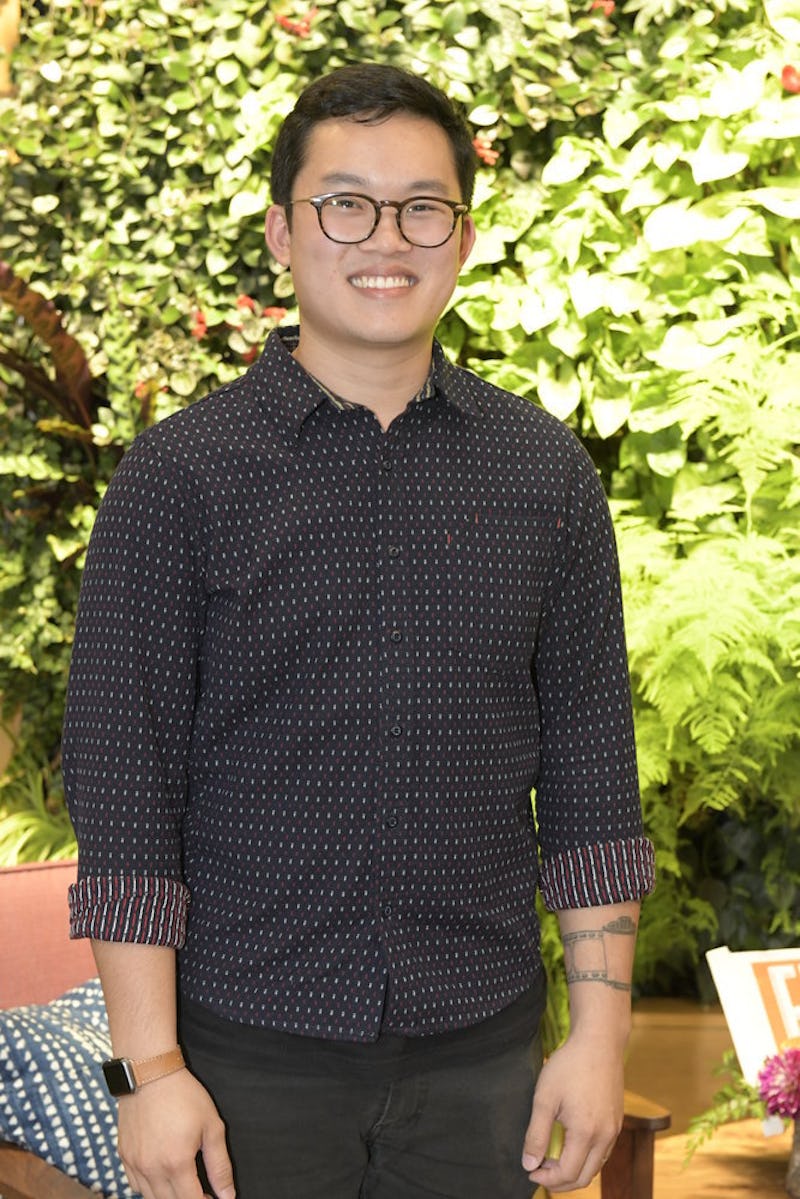 NBC
What happens when a growing niche subculture like the maker community begins to gain popularity among the masses? It gets a TV show, of course. And for this community — which is essentially made up of super-advanced DIY creatives and artists — that show is NBC's Making It. It premieres on July 31 at 10 p.m. ET, hosted by Parks and Recreation co-stars Amy Poehler and Nick Offerman, and will see eight hand-picked makers do-it-themselves for a six episode series. Each of the self-proclaimed makers excel in a different medium, which means they're all bringing something new to the craft table. 28-year-old Making It contestant Khiem Nguyen is a woodworker, but he claims that it wasn't always his strong suit.
"My strongest skill is woodworking, and that kind of evolved through photography, and creating objects," he said in a video interview with Nothing But Geek. As an art student at Massachusetts College of Art and Design, he intentionally kept his major open so that he could "get his hands into everything," according to his NBC bio. That led him to dabble in many different mediums and textiles, and after graduating, he began to focus most of his efforts on woodworking. "I like how clean the design can be," he told the Austin American-Statesman. "How geometric and simple."
So it wasn't long before he started a woodworking business with his fellow artist and wife, Amanda McKeever, called A&K Woodworking & Design which is based in Austin, Texas. There, they make and sell furniture, like handmade stools and small tables, and little things like boxes, cutting boards, coasters, and wooden lanterns. Nguyen told the American-Statesman that walnut is his favorite type of wood to work with. "It's such a rich and dark beautiful wood," he said.
Nguyen and his wife actually tried to audition for Making It as a pair, which seems pretty fitting for them. But the producers quickly let them know that teams wouldn't be present on the show. So, Nguyen proceeded through the audition process solo, and according to the American-Statesman, he said it was a long haul.
Knowing the business he runs with his wife currently thrives off of local exposure and word of mouth, Nguyen is excited for their brand to hopefully gain some national attention through Making It. He's also just excited for the maker community, as a whole, to have a more public platform.
"I think it'll be awesome to have more exposure for the maker community," he said in the video interview. "I know it's been growing and becoming more popular, but, like having it as a TV show is exciting for a lot of makers." And although the audition process may have been a little daunting, he's glad to have had the experience, and has found new friends in his Making It competitors.
"We're all still friends," he told the American-Statesman. "We talk pretty regularly, which is awesome. I'm looking forward to visiting everyone in the near future and hanging out again."