'Floribama Shore's Youngest Cast Member Might Be The Wildest Of The Bunch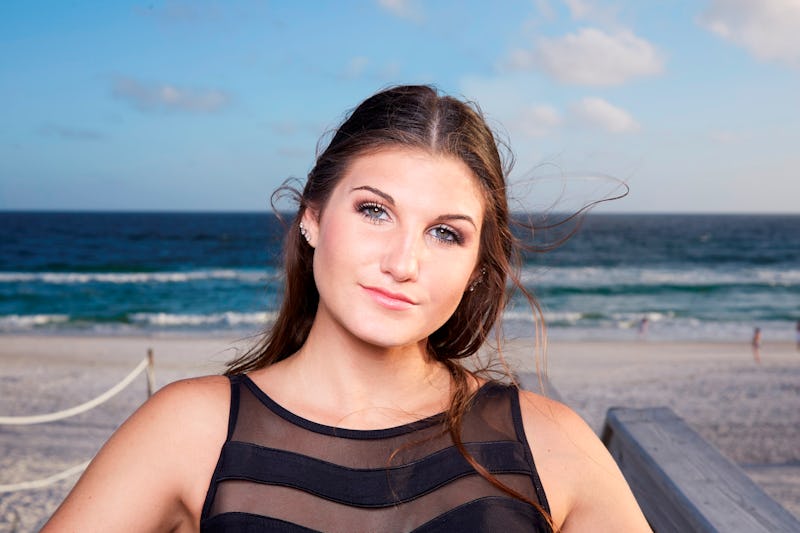 MTV
MTV's Floribama Shore, which aims to re-create the alcohol-fueled antics of Jersey Shore on Florida's Panama City Beach, centers on eight young people as they grow, drink, and spend the summer getting to know each other. But as the housemates get familiar with each other, viewers may be wondering: who is Kortni on Floribama Shore? The 21-year-old bartender and dancer just made the age cutoff to appear on the show, and now that she's of legal drinking age, the Panama City Beach native is ready to have a good time in her hometown.
Deadline reports that Floribama Shore, which was created by Jersey Shore executive producer and creator SallyAnn Salsano, is a "coming of age story" that "captures the very real thrill and angst of being young and trying to figure out the future with a group of people you'll come to call family." Of course, if the trailer is any indication, that story will also involve plenty of partying.
While the show will be party heavy according to promos, it will also acquaint us with a new set of iconic personalities beyond the likes of Snooki, The Situation, and JWoww. Let's get to know Floribama Shore's youngest cast member, Kortni, a little bit better.
The first thing to know is that Kortni doesn't want the Jersey Shore cast or fans to be upset by Floribama Shore. She considers both shows different and thinks the Jersey Shore was an iconic show. Speaking to TooFab about the comparisons between the shows, she said:
I don't know how old they are now (the Jersey Shore cast) or even if they watch TV. I know they have kids and stuff so they're probably worried about more important things, but I wouldn't want them to think we are trying to run off that show because that show is a legend... I don't necessarily feel like any of us, are any of them. I feel like we are all our own individual person.
While Kortni acknowledges that eight people living in a house and partying is a similar formula, she maintains the casts are very different.
Entertainment Tonight interviewed the cast to help fans get to know the crew before the premiere. They reported that Kortni worked at Coyote Ugly as a bartender before landing the gig on Floribama Shore. Kortni posted to Instagram working, saying, "I love my job".
Kortni is close with her family, posting the above Instagram throwback with the hastag #thatsmysister. Kortni's so close with her family that she was relieved filming was close to home, telling Entertainment Tonight that she called home often. Kortni admitted,
I loved filming in Panama City Beach because if I needed my mom to bring me something, I'm like, 'Girl, I need you here right now'. There were probably about 30 calls to her, at least, like, five a day.
Kortni also wants it to be known that she can party. Entertainment Tonight asked her the steps for how to get ready for a Floribama night out, and many of the steps involved alcohol. Kortni said,
First you got to take a drink. And then you got to try not to be too drunk and put on your makeup. And then you need to get into your clothes and not fall down the stairs. And then you got to make it out the house.
Sounds like the 21-year-old won't be shy when it comes to drinking, clubbing, and having some summer fun. Promos for the show confirm this as she drinks, plays in the pool and loses her shirt.
Kortni wants fans to experience the next generation of Shore partiers. She told Entertainment Tonight,
We're a completely different generation to them (Jersey Shore). They said that they were 'Guidos', we have a lot of different ethnicities in our house. So I feel like Panama City really brings that together. And Panama City is just really welcoming.
Meet Kortni and the rest of the gang Monday, Nov. 27, at 10/9 Central on MTV. It's shore to be a wild ride.