Here's Who's Left On 'The Bachelor'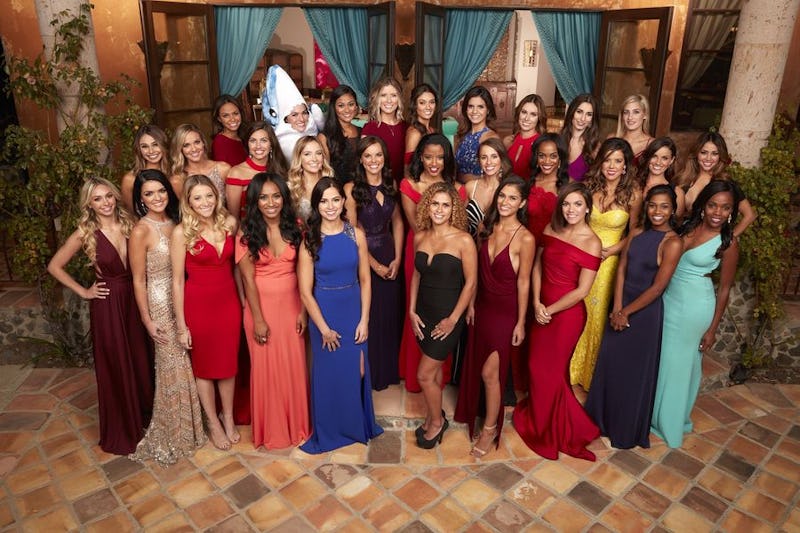 Craig Sjodin/ABC
After starting his season with a whopping 30 women, Nick Viall's remaining Bachelor contestants are dwindling down week after week. He axed eight women in the premiere alone, which is the price of starting with more than the usual 25, I suppose. Then, in the second week's episode, Nick sent Liz home during the group date. It's always fairly unusual for a contestant to leave outside of a rose ceremony, but Nick proved right off the bat that he's not afraid to break the "rules" when it comes to getting rid of ladies he's just not that into.
Over the course of about 10 weeks, Nick will whittle his astounding night-one number of 30 contestants down to the final two, from which he will (hopefully) choose one lady to be his bride. And, she will (hopefully) choose to accept that Final Rose, because getting rejected again after his history on the show would really just be the worst.
You can follow along on Nick's ~journey~ to love with Bustle, as we keep this list up-to-date with all of The Bachelor's current competitors and those who have sadly been sent home to shill teeth whiteners on Instagram and await their Bachelor in Paradise casting calls.
Still In It To Win It
Raven
Vanessa
Eliminated From The Competition
Rachel
Rachel was sent home following the Fantasy Suites.
Corinne
Nick sent her packing after hometowns.
Kristina
Unfortunately Kristina didn't make it to hometown week.
Danielle M.
She got sent home during a one-on-one just before hometown week.
Danielle L.
She told Nick she was falling for him, but he didn't feel the same so he sent her home Week 6.
Whitney
Nick sent her packing during his second two-on-one date.
Jasmine G.
During Week 6, Nick sent Jasmine home mid-date.
Alexis
Our dolphin/shark has to find another fish in the sea after being cut during Week 6.
Jaimi
Sadly, this chef didn't make the cut and was sent home during Week 6.
Josephine
Josephine was sent home during the sixth episode.
Taylor
Taylor said her goodbyes during the two-on-one date.
Astrid
Astrid failed to make much of an impression on Nick and was sent packing during the fifth episode.
Sarah
Sadly, Sarah was sent home during Week 5.
Brittany
She had a tearful goodbye during Week 4.
Christen
Week 4 proved to be Christen's undoing.
Dominique
Nick sent her home early during a Week 3 group date.
Lacey
She got axed Week 2.
Liz
Nick sent Liz home during a group date in the second week.
Hailey
Hailey left Week 2.
Elizabeth
Week 2 became the end of the road for her.
Olivia
This season's Olivia didn't make it quite as far as the Olivia on Ben's season. She got sent home on the first night.
Susannah
She got sent home on the first night.
Angela
Another night-one evictee.
Briana
Briana was sent packing the first week.
Ida Marie
We barely got to know this night-one eliminated contestant.
Jasmine B.
One of two Jasmines, Jasmine B. got sent home on premiere night.
Lauren
Another premiere night casualty.
Michelle
We barely knew Michelle — she was axed on night one.
Who will prove the champion in the end? We'll have to wait and find out.