How Filming 'Real Housewives' Led To Gina Kirschenheiter's Split From Her Husband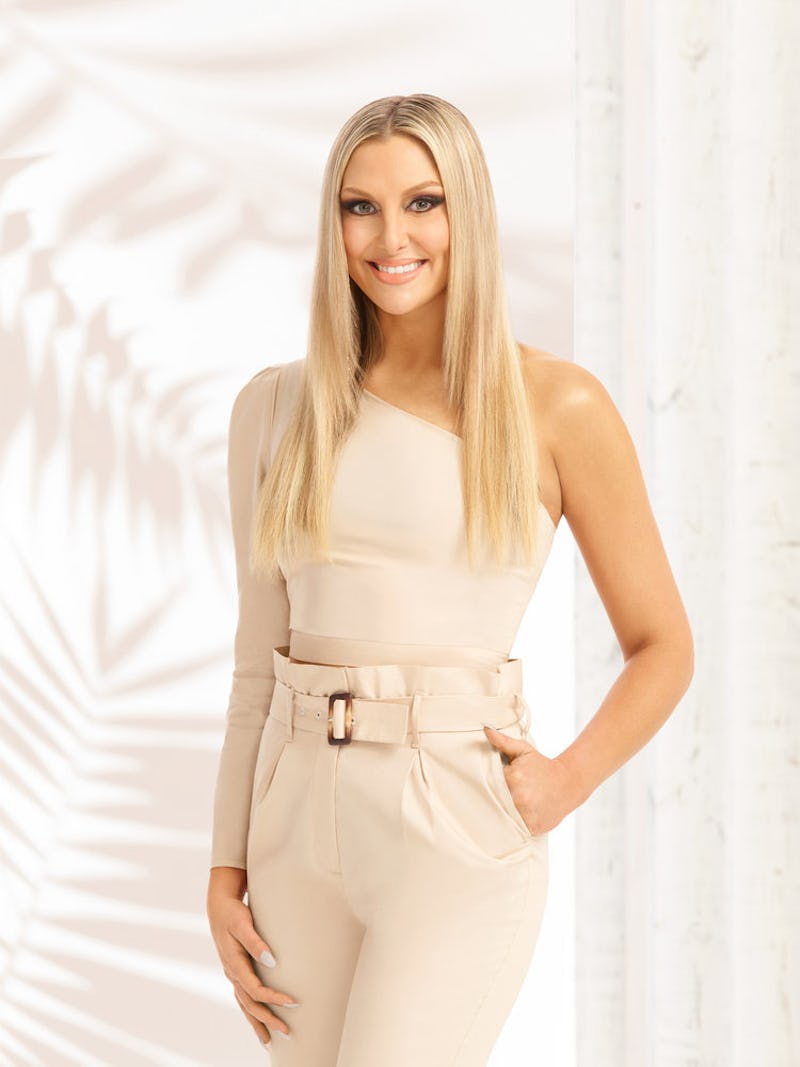 John Tsiavis/Bravo
Unfortunately, not all marriages are built to withstand the test of time, regardless of how hard the people involved tried to make it work. Such may be the case for new RHOC star Gina Kirschenheiter and her husband Matthew, who split while filming the upcoming season of the show, according to Us Weekly. But since his name will probably come up intermittently throughout the season, fans will still be curious about what Matthew Kirschenheiter does and why the two are calling it quits.
"After careful consideration and deep thought, we have decided to end our legal marriage," the couple said in a joint statement to Us Weekly on July 8. "With that said, we will never end our friendship and will forever remain family." Their three children, 5-year-old Nicholas, 4-year-old Sienna, and 2-year-old Luca will also remain a top priority for the two of them. "We are dedicated to raising our children together in a happy, healthy loving environment," the statement continued. "We will be navigating this difficult process with respect and grace for one another. We kindly ask for others to treat us with this same respect and grace at we move through this family adjustment."
Gina and Matthew were together for seven years before the RHOC star filed for divorce on April 2, citing irreconcilable differences. In fact, according to Newsday, they both attended Hofstra University, which is where Matthew received his Bachelor's degree in Business Administration and Finance before going on to become a financial planner. And while he doesn't have a very extensive online presence, a quick browse of the Hofstra alumni page offers a few other pieces of information regarding his career. No image in the profile is provided, but it states that Matthew has been the Vice President, Regional Manager at PIMCO Investments in Newport Beach since February 2011. Prior to that he worked at Allianz Global Investors and Merrill Lynch.
Apart from that, there isn't a ton of information about Matthew out there, though Gina occasionally posts photos of him and her children, even going so far as to share a very sweet message about him for Father's Day.
So it seems as though they really are on good terms and have a very healthy friendship, despite the separation. However, it hasn't always been an easy process. Speaking with Us Weekly, Gina revealed that filming the Real Housewives series definitely made them both more aware of their marital struggles.
"I think I did see it as an opportunity that would be good for us, 'cause we're buddies, we're friends, we're just going to navigate this together," she told the outlet. "And then when he couldn't film, and he's also away a lot, I think that it probably did have more of a negative effect on our relationship and made things harder. Now I'm basically going on this venture, and he's not included and involved in it, and it creates even more distance than is already there."
Evidently, Matthew's company didn't want him getting filmed on the show, so fans shouldn't expect to see him pop up at any point, though he's bound to be a very central topic of discussion for Gina. "His employer did not want him to," Gina explained to Newsday, in regards to why her won't appear husband on RHOC. "It wasn't a decision having anything to do with our relationship. Pure timing."
It's difficult to see any marriage come to an end, but Gina and Matthew are clearly making the best of the situation and hopefully have many more years of friendship and co-parenting in their future.