These Are The People Who Decide Whether O.J. Simpson Goes Free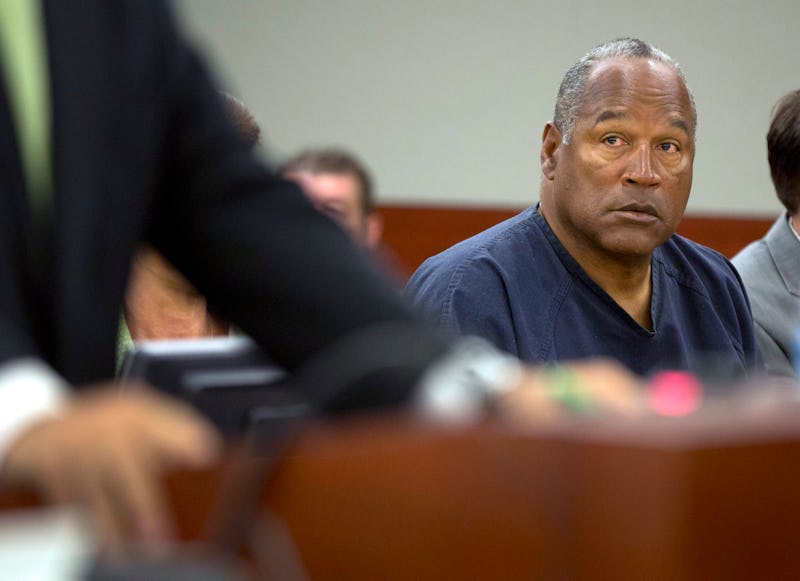 Pool/Getty Images News/Getty Images
Four of the six members of the Nevada Board of Parole Commissioners will decide O.J. Simpson's fate at his hearing on Thursday at 1 p.m. EST. Simpson, 70, has been behind bars at the Lovelock Correctional Center for nearly 9 years after a botched robbery attempt in Las Vegas. If granted parole, Simpson could be released as early as Oct. 1.
Simpson will appear at his hearing through video conference from the correctional facility. The parole board members, appointed by Gov. Brian Sandoval, are the same four board members who granted Simpson parole at his July 2013 hearing for some of his lesser charges. The members are Chairman Connie Brisbee and Commissioners Susan Jackson, Tony Corda, and Adam Endel.
Leading the hearing is Brisbee, who is serving her second term as chairman. Before coming to the parole board in 2003 as commissioner, the U.S. Air Force veteran worked as an associate Nevada prison warden. Brisbee has also worked in the field of criminal justice and substance abuse since 1986 and is a licensed alcohol and drug counselor in Nevada.
Gov. Sandoval first appointed Jackson as commissioner in 2008. She spent 23 years working in public safety and law enforcement before coming to the parole board. She is a graduate of the FBI National Academy and has worked as a senior investigator with the Attorney General's Office.
Corda has been a parole commissioner since 2009 and has worked for more than 22 years in Nevada prisons as a correctional officer, caseworker, analyst, and associate warden. Endel also joined the board as commissioner in 2009. Prior to his appointment, he was employed as an associate warden, correctional officer, and caseworker at three different correctional facilities in Nevada.
The other board members Michael Keeler and Ed Gray will only be called in from Las Vegas should Brisbee, Jackson, Corda, and Endel not come to a decision.
Simpson is currently serving time following a 2007 confrontation in the Palace Station hotel and casino in Las Vegas. Simpson and a group of armed men broke into a hotel room and stole hundreds of sports memorabilia from two memorabilia dealers. Simpson claimed he was taking back his own items, including family heirlooms and photos, but the former NFL star was ultimately convicted of armed robbery and kidnapping. Bruce Fromong, a sports memorabilia dealer and victim of the theft, testified against Simpson, but now says he is in favor of granting Simpson parole.
The four parole board members would need to make a unanimous vote in order to release Simpson from prison. In case they are unable to decide, Keeler and Gray will join the decision making. Simpson's release requires four votes and if a 3-3 tied vote were to occur, the board will deny parole until a follow-up hearing that would be held January 2018.