Everything You Need To Know About Team USA's Olympic Figure Skating Team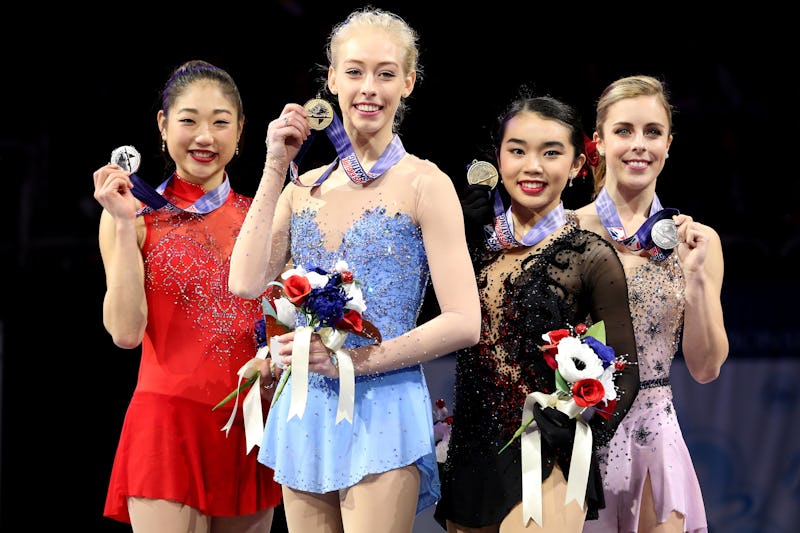 Matthew Stockman/Getty Images Sport/Getty Images
After a nail-biting national championship series, the United States skating committee finally selected in February the skaters that will head to PyeongChang, South Korea. Three talented women and three talented men have officially made the skating team for the 2018 Winter Olympics, along with one husband-wife pair.
On the women's team, a committee made the decision after considering the skaters' performances at the national championships in Kansas City, as well as past indicators of their skill. Bradie Tennell, Mirai Nagasu, and Karen Chen were chosen to represent the country in the Winter Games. Tennell, a newcomer who was considered a long shot for the team, wowed judges with her free skate and was awarded the top title at the national championships.
As The New York Times reported, Tennell suffered from stress fractures and wore a back brace for much of 2015 and 2016. She had never competed in an international competition until Skate America in November, where she placed third. Her Cinderella-inspired routine at the national championships cemented her place as a top-notch skater.
"I knew it was an Olympic year and somebody had to go," Tennell told the Times of her mindset going into 2018. "I just kind of kept it in the back of my mind." Now, this dream has become a reality for the 18-year-old skater.
The two other skaters going to the Olympics — Nagasu, 24, and Chen, 18 — won silver and bronze at the national championship, respectively.
The women's team selection process was not without some drama. Ashley Wagner, who beat out Nagasu for a spot at the last Winter Olympic games in Sochi, strongly disagreed with her scores at the national championship. Upon seeing them, she immediately showed a look of disdain, and images of Wagner's reaction quickly started circulating on the internet.
The skater later told reporters that she was "absolutely furious" at the outcome of her performance. Although the committee had yet to make a decision on whether to send Wagner to the Olympics, she didn't hold back discussing her scores, continuing to say, "I honestly think that at the end of the day, this is how I feel, and I feel I need to stick up for myself and I deliver when I needed to. But I want to be on that Olympic team, and I'm really mad that I'm in this position again." She later delivered her congratulations to the team and said she was in their "cheering squad."
In an interview, Nagasu — who lost a spot to Wagner the last time around — avoided gloating about her accomplishment, only saying that it had been a personal goal of hers to get to the Olympics, and to accomplish it was "a dream come true."
These three talented young women won't be the only skaters to take to the ice come February. Nathan Chen, Adam Rippon, and Vincent Zhou were selected for the men's figure skating team. Chen was an expected member of the team, as he won the U.S. championship for the second time in a row, and he's ranked fifth in the world — which gives him a very good shot at an Olympic medal. When he was only 10 years old, he was already shooting for a spot on this Olympic team.
Like the 18-year-old Chen, Zhou, who is only 17, will be appearing in his first Olympics. He captured his spot by landing several quadruple jumps in the Olympic trials, but he's also got a gold in the 2017 world junior championships under his belt.
Rippon, at 28, could be seen as the elder statesman of the team — but PyeongChang will actually be his first Olympics as well. Although Rippon finished fourth in the U.S. championships, the selection committee picked him over his competitor Ross Miner, who finished second but who doesn't have as impressive of a resume as Rippon has. Rippon is also be the first openly gay man chosen for a U.S. Winter Olympic team in any sport.
Closing out the U.S. figure skating team are the pairs skaters and ice dancers. The only American pair competing will be Alexa Scimeca Knierim and Chris Knierim, the husband and wife team that also won the 2018 U.S. national championships. The U.S. hasn't won an medal in pairs skating since 1988, so there will be some pressure on them to break the drought.
Three pairs of ice dancers will be going to PyeongChang, with high hopes that they'll follow up on the big success in 2014, when Meryl Davis and Charlie White won the gold. The teams hoping to replicate that this year will be Maia and Alex Shibutani, who came in second at the national championships this year after winning it in 2017; Madison Hubbell and Zachary Donohue, this year's national champs; and Madison Chock and Evan Bates, who placed eighth in Sochi.
If you're already holding your breath for the competition to begin, don't worry — it's coming soon. The opening ceremonies will air on Feb. 9, and millions are expected to tune in.
Lani Seelinger contributed to this report.