Emma Roberts Teased Her Return To 'American Horror Story' In One Epic Instagram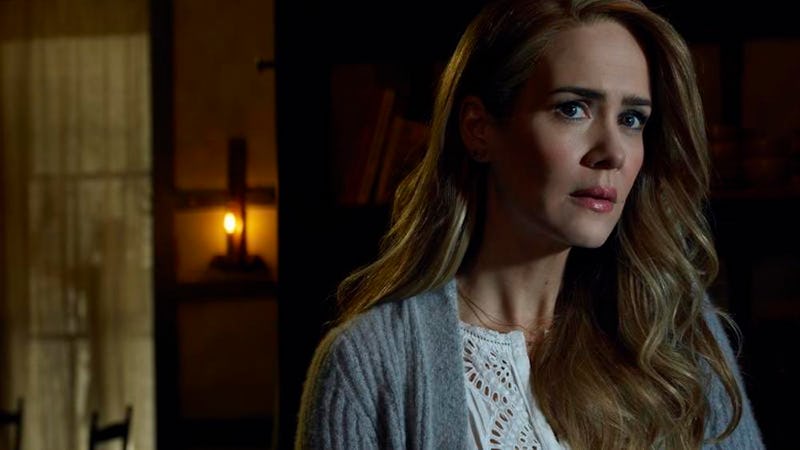 Frank Ockenfels/FX
American Horror Story fans are no stranger to the occasional crossover that tends to pop up with various installments of the anthology series. However, Murphy threw fans a major curveball on June 14 when he revealed that a Murder House and Coven crossover would be happening for the show's eighth season. After Ryan Murphy confirmed that all AHS seasons are connected in some form or another, fans immediately began thinking of potential crossovers, and now they are eager to learn who will be coming back for such an epic reunion. So who's returning for American Horror Story Season 8? Murphy hasn't been shy with revealing a few pivotal clues regarding what viewers can expect.
During Sunday night's episode of Pose, Murphy took to Twitter to answer fan questions about the highly anticipated crossover, which included teasers about who fans could expect to see. When one fan asked if Taissa Farmiga would be returning, after having been noticeably absent since Coven, Murphy responded in a since-deleted tweet, stating, "All the witches are being asked back." It's unclear as of now why Murphy chose to remove the statement from his social media account; however, various outlets, including Syfy.com, managed to obtain a screenshot of the tweet. Fans, of course, are extremely excited over this prospect since it opens the door for many beloved alums to reprise their former characters.
One star that many fans would love to see return would be Jessica Lange, who left the franchise after Season 4, though she did continue to work with Murphy, starring in his 2017 hit show Feud. Her departure left a hole in the AHS universe that has been difficult to fill, so having her back in the picture as Season 1's Constance Langdon (Murder House) or Season 3's Fiona Goode (Coven) would be a real treat for many. And since Fiona was the formidable Supreme throughout most of Coven, it stems to reason that Murphy was referring to her when stating that all the witches were being asked back. (Fingers crossed this turns out to be the case.)
It's also important to note that Murphy had previously mentioned to Entertainment Weekly that many reunions would be taking place within Season 8. "You will see so many fan favorites return that you'll feel like it's The Love Boat. It's a very high concept," he told EW. "It's a season unlike anything we've done because there's a big hook to it. There's a huge thing that happens in episode five." That alone sounds like something Fiona needs to be apart of.
Like Lange, Farmiga hasn't had a prominent role in the AHS cast since the show's third season, so having her back would be huge news as well. Though whether she would play Violet Harmon of Murder House or Coven's Zoe Benson (or both) remains unknown.
Speaking of badass witches, though, there's also a highly probable chance that Emma Roberts will once again be playing the role of Coven's Madison Montgomery in Season 8. Shortly after Murphy unveiled the crossover news, Roberts took to Instagram with a very telling video that had her repeating one of Madison's most iconic lines: "Surprise b*tch. Bet you thought you'd seen the last of me." Roberts may not have come right out and said that Madison would be making a comeback, but the message feels pretty clear.
In regards to what we do know, Evan Peters, Sarah Paulson, and Kathy Bates are all signed on for Season 8 and will presumably be playing one of their former characters from either Season 1 or Season 3. (Bates' would have to be from Season 3 since she wasn't in Season 1.) However, other notable favorites, such as Lily Rabe, Gabourey Sidibe, Jamie Brewer, and Angela Bassett have yet to officially confirm their involvement, though their returns are definitely possible. Either way, this is shaping up to be one American Horror Story season fans won't want to miss.