Why People Are So Upset About Bernie Sanders Headlining The Women's Convention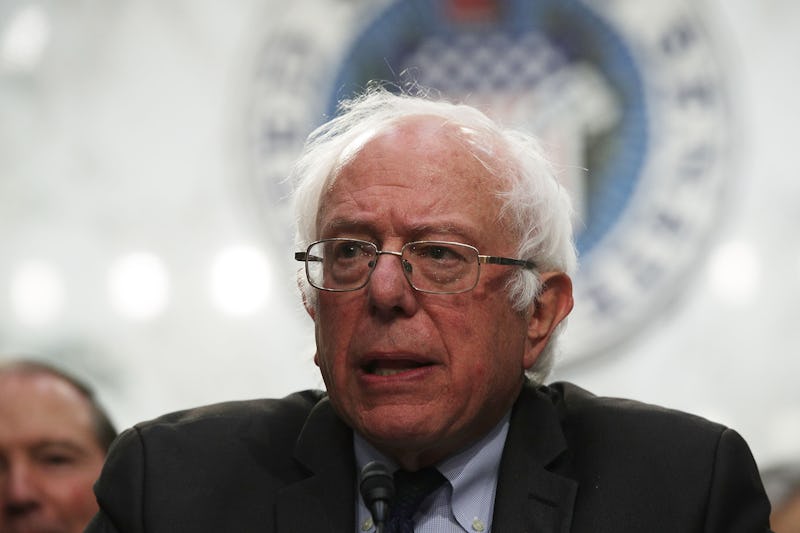 Alex Wong/Getty Images News/Getty Images
On Thursday, the Women's March organizers announced what, for some, is exciting news: Bernie Sanders will be headlining their conference in Detroit, Michigan, this fall. For some, that could be seen as an attempt to build bridges between a fractured Democratic Party following a brutal election. But for others, the choice of Sanders to open the Women's Convention is a mistake, one that they roundly criticized on Twitter.
Responding to the news, many called him everything from simply, a "man" and a "white dude," to a "grifty misogynist." Feminist writer Sarah Lerner even tweeted a GIF showing instances in which Sanders physically takes up women's space, whether through a hand gesture or by brushing past a female colleague on the Senate floor. Much of the online reaction has not been kind to the Vermont senator or the decision to put him on stage as the main speaker.
The announcement that Sanders' is headlining the Detroit convention was put forward by the Women's March as a big asset, especially to mobilize younger generations. "I think that right now, no one can deny that Bernie Sanders is probably one of the most powerful U.S. senators ... on progressive issues, women's issues, mobilizing millennials. He is really in line with the principles of the Women's March," Women's March co-founder Tamika Mallory told USA Today in an exclusive interview.
Some American women disagree. Calling it "insulting [and] outrageous" that a man was headlining a national women's conference, Twitter user Apt814F wrote, "Glad I didn't buy a ticket."
Others added additional lenses of critique. "Done w/ @womensmarch. A white man who has proven he has no intersectional lens opening the Women's conference? Nope," Shelby Knox, a self-described intersectional feminist and outreach director for Audrie & Daisy, a Netflix documentary on sexual assault, tweeted.
Others still took issue with Sanders given the demographics of Detroit, a city which is more than four-fifths black. Twitter user @leftjennyc, a #HillaryClintonDemocrat wrote, "Also amazing is that this Women's Conference the old grifty misogynist is headlining is in Detroit, Michigan, a city which is over 85% black. That's the demographic Bernie Sanders the least time or respect for."
Critics have lobbed claims of misogyny at Sanders before, particularly in regards to his loyal male base, dubbed "Bernie Bros" during the election.
Plenty of the criticism wasn't even directed at Sanders himself, but rather the organizers of the conference. "The organizers of the 1st women's conference who put Bernie Sanders as opening speaker should resign," wrote @queensue31954 on Thursday. Twitter user @thisisroxanne tweeted, "I have nothing against Sen Sanders, but no way should a white dude be headlining a Women's Conference." Writer Aruna D'Souza concurred, tweeting, "I have nothing against Sanders, but the choice of a man to open a Women's Convention is just bad optics. My interest level is dialed down to 0."
In a statement to Bustle, a representative from the Women's March states:
We invited many elected officials to our convention that align with the purpose and mission of our existence – to harness the political power of diverse women and their communities to create transformative social change. We are thrilled that Rep. Maxine Waters and Senator Sanders will be speaking at the Women's Convention. We all know how busy women leaders are, and we are grateful for the support of women like Secretary Clinton along with Senators Harris, Warren and Gillibrand. Although their schedules did not allow them to join us in Detroit the weekend of October 27, they will be fighting for our shared values, as they do every day. Our program features more than 60 women leading in activism, organizing and advocacy, as well as grassroots leaders running for and serving in office across the country. We are excited to come together, to unite across our differences and to fight for the future we all believe in.
That will be a disappointment to the Women's Convention organizers, who have stated that their goal is to empower the next generation of activists in the age of Trump. "We believe as women ... that we ought to have more than just women at the Women's Convention," Mallory told USA Today. "People want to hear from the leadership from within our government who can give us some insight about what's happening ... so we can know what we need to do to be able organize."
As for Sanders, his statement to Bustle notes that he's "honored" to be there, especially given the "unprecedented display of power and resistance" at the Women's March in January. "Now more than ever, we must support the leadership of women across the country and fight together to advance our progressive agenda," he adds.
The split between organizers and some women, especially those who feel Sanders had a role in Hillary Clinton's defeat, may be hard to mend. But for Democrats to win in 2018, that needs to happen. There's therefore a lot riding on his opening talk.