This 'Justice League' Character Could Change The Future Of Superhero Movies For Good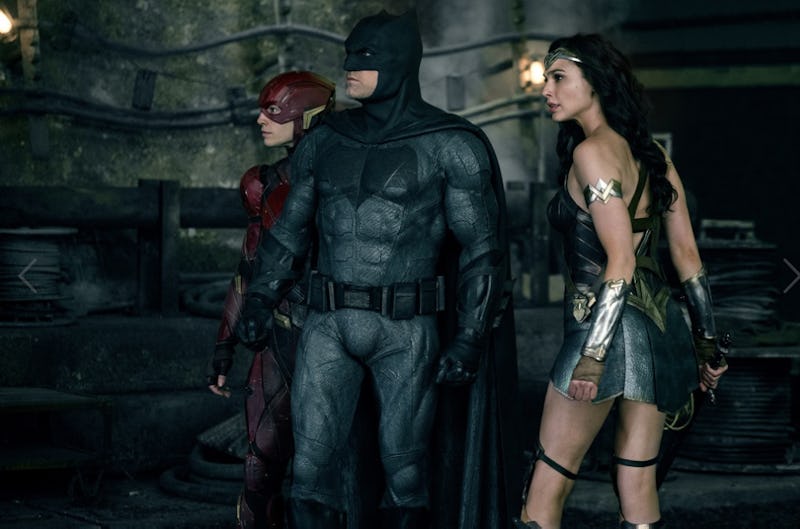 Warner Bros.
Spoilers for Justice League ahead. Justice League is exploding across scenes, giving audiences an action-packed spectacle of five (perhaps six, Superman?) major "metahumans" battling it out across Earth against hostile alien god Steppenwolf and his invading horde of parademons. Between introducing Aquaman, Cyborg, and an entirely new god-level supervillain, interweaving the plot lines of four different DC films, and illustrating the pain of a world without Superman, it's an understatement to say Justice League has a lot going on. So audiences can be forgiven if they missed a small but vital scene after the credits rolled, which saw a newly released Lex Luthor meet with a famed, evil-seeming man. Here's what to know about who the guy in Justice League's post-credits scene is, and how he'll change the game going forward.
In the briefest of moments, the scene introduces and confirms a major villain fans have known for awhile was on the DC horizon — Deathstroke. First introduced as an enemy of the Teen Titans in 1980, Deathstroke is a super-soldier assassin, genetically altered by an Army medical experiment to surpass all human limits in strength, stamina, speed, and senses. While he later clashed with superheros and gods alike, he took on the mercenary alter-ego of Slade Wilson, family man. Stuck at a boring Army desk job after his medical experiment seemed to go awry, Slade soon realized it had actually worked, and sold his new powers to the highest bidders for international espionage.
And so, dressed in distinct blue-orange body armor and mask, Deathstroke became world-famous for his assassin abilities, but his family remained clueless about his side gig. That is, until his son was kidnapped and nearly killed, and Slade had to spill his secret. That eyepatch he wears? Wilson's own wife was so angry at discovering her husband had gambled their son's life against his personal code of honor, she shot him. Admittedly she shot to kill, and Deathstroke mostly dodged it, catching the bullet in his eye.
That same code of honor has led Deathstroke to occasionally team up with his foes, but mostly he's been a major thorn in the side of the Teen Titans and Justice League, guarding their enemies and nearly taking out all of a later Justice League incarnation that included Green Lantern. Fans first had a hint of Deathstroke's addition to the DC Universe on Aug. 29 2017, when Ben Affleck tweeted a video of a familiar-looking full suit of armor stalking around an unknown set. Rumors of the villain hitting the big screen were confirmed on September 8 2017, when Entertainment Weekly confirmed not only that Deathstroke was in, but that actor Joe Manganiello would play him in the upcoming Batman movie.
His appearance at the end of Justice League suggests The Batman won't be the only film the super-soldier makes an appearance in. With a solo Cyborg movie slated for 2018, and Deathstroke's long history of tormenting Teen Titans (which include Cyborg, as well as Batman's Robin), odds are high that Deathstroke might drop in to make trouble for the other man of steel. And while no official deals have been made, The Raid director Gareth Evans has been in early talks to helm a Deathstroke solo feature, according to THR, and Evans recently posted a picture of the comic on his personal Instagram.
Deathstroke was originally rumored to have a larger role in Justice League than just the post-credits tease, but that was before director Zack Snyder stepped down for personal reasons. The DC Extended Universe features slated for 2018 and beyond are heavily dotted with superheros who have Deathstroke front and center in their rouge's gallery, including Green Lantern Corps (slated for July 2020), and a Nightwing movie (after Robin left the Teen Titans, he changed his persona to Nightwing, and ended up fighting a lot of the same battles).
Comic fans should be pumped to see Mangianello play an ice-cold comic assassin and have Deathstroke enter the DCEU. Though the character's appearance was brief, we're sure to be seeing more of Deathstroke very soon.