Meet The Toughest Coach In College Dance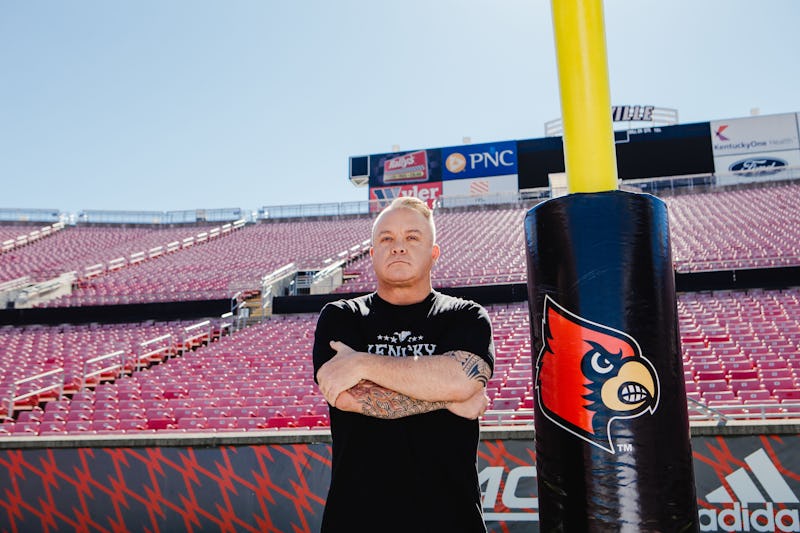 Most athletes will tell you that a team is only as good as its coach, and for the University Of Louisville Ladybirds, that's coach Todd Sharp. He and the dance team are the subjects of the Lifetime docuseries So Sharp, premiering July 26. The series will let the world outside the dance team realm know about Sharp's track record of taking potential and turning it into championships. His career has already made him a local legend in Louisville, where he works as a college and high school coach and also co-runs his own dance studio, Planet Dance All-Stars, according to his Lifetime bio.
In a profile in Extol Mag, Sharp explained that after graduating with a musical theatre degree, he stumbled into guest-choreographing for the Floyd Central High School Dazzlers — his own high school — at the age of 25. "This originally was supposed to be a one-time thing," he said. "Eventually, a position opened up, and it was suggested that I apply, and the rest is history." The coach wasn't expecting for this to become his career, but success and his love for the sport kept him moving forward.
"I thought maybe I would coach for a year or two. Twenty years later, this is one of the greatest things that has happened to me," he told Extol. But being an elite coach seems to have affected Sharps personal life as well. The interview also touches on his divorce from his wife, Lisa. "I don't know a head coach whose personal relationships have not been incredibly challenging," he said.
Clearly, Sharp lives and breathes his work. And the coach's achievements in the field of competitive dance are impressive: according to the Ladybirds' Facebook page, under his tutelage, the team has won 17 National Championships. He expects nothing less than the best. According to Lifetime, Sharp is known as a "gentle tyrant" for his demanding nature.
Part of Sharp's success is that he treats his team like any other group of athletes. According to Extol, Patrick Mahoney is the team's full-time strength and conditioning trainer. "If you are able to make it through one of Todd's programs, then you are that much more prepared for the real world," Mahoney told the publication. "You should consider yourself lucky to be coached by Todd Sharp."
While he trains them hard, the man knows how to have fun, too — in addition to appearing at many a Ladybird wedding this summer, Sharp isn't too tough to be caught by the pool with a Instagram-ready inflatable unicorn. He's also credited on his University Of Louisville employee page as "spirit leader" in addition to coach. He appears to have a sense of humor in addition to a set of very high standards.
Being a coach sometimes means helping your teammates with other issues, and Sharp is prepared to lend a hand in that way too. "Todd will come and pick you up if you have a flat tire, pay to get it fixed if you can't afford it and make sure you get home safe," his former dancer Brittany Wright told Extol. "He can make you bawl your eyes out and have you laughing in the next 5 minutes." And when the local ABC affiliate reported that members of the Ladybirds were suspended for allegedly posting inflammatory tweets after the 2016 presidential election, Sharp spoke out to clarify his team's values. In a statement to WHAS-11, Sharp said, "We have worked very hard to build a successful and incredibly diverse spirit program here at the University."
He may have started coaching as a bit of an accident, but Sharp is now renowned as the best in the business. You can see how he pushes his teams to be their best as the Lifetime series unfolds.