The 'Kimmy Schmidt' Midseason Finale Sets Up A Showdown Involving An Ominous Mystery Man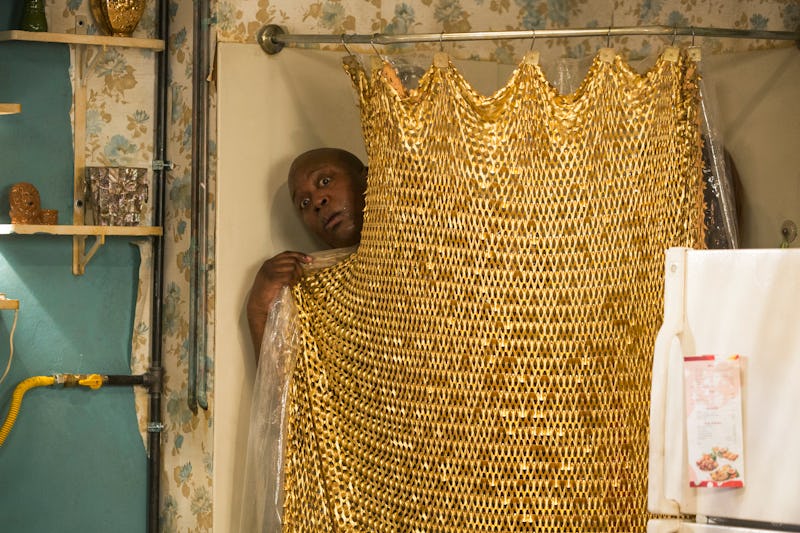 Eric Liebowitz/Netflix
Spoilers ahead for Unbreakable Kimmy Schmidt Season 4 Part 1. Unbreakable Kimmy Schmidt may be a comedy, but the cliffhanger at the end of the first half of Season 4 is exceptionally dramatic. When the show returns, your favorite characters are going to have to watch their backs. Who's watching Kimmy on Unbreakable Kimmy Schmidt? A mysterious voice says in the Kimmy Schmidt finale that "Phase Two" is about to begin — but what does it mean?
Voiced by Jon Bernthal, The Punisher himself, the voice is speaking a language that's decidedly not English and taking pictures of Kimmy, Jacqueline, Lillian, and Titus from outside of Kimmy and Titus' apartment. It a tableau straight out of Big Little Lies, but decidedly more sinister. "I have eyes on the target," the voice says, according to the subtitles. "Moving to Phase Two." What was Phase One, just finding her? (If, in fact, Kimmy, not one of the other characters is the target.) Is someone trying to kill Kimmy Schmidt? She also mentions midway through the season that someone has been watching her while she was dancing like nobody is watching. Could that be a clue?
Clearly this situation has something to do with the Reverend, who is trying to get out of jail and recently got some streaming fame when a documentary called Party Monster attempted to expose her as a liar and discredit her testimony. Kimmy refuses to divorce the Reverend so that he can remarry. She's holding that power over him. She's also one of the most active bunker survivors when it comes to spreading the truth about the man who kept her captive. It makes sense that Jon Hamm's ridiculous character might go to ridiculous means to get rid of her.
Could this mysterious man possibly be related to the Innocence Bro-ject, the men's right activist group lead by Bobby Moynihan's character Fran Dodd? He's trying to take down Kimmy just as hard as Richard Wayne. Does he have the resources to hire a private detective and/or assassin to track the woman who he thinks wronged his friend? Probably not.
The mystery man is definitely not the goofy DJ Fingablast (Derek Klena), however the documentary must have some clues. If Kimmy Schmidt is going to drop a conspiracy into the final season, every wild option should be considered. What about that other DJ who died? What about the man who ran off with Fingablast's fiance?
Then again, there's also the muppet in the room. At the end of the first episode, the same mysterious voice received a briefcase full of cash from a felt orange hand attached to an unseen but most likely also felt body. Could this be Lonny Dufrene and/or Mr. Frumpus (Bill Barretta), the Sesame Street producer who sexually harassed Titus at an audition? That incident was referenced in the Season 4 premiere as well, after Kimmy faced accusations at her own job.
Maybe this person isn't after or watching Kimmy at all. Maybe her roommate is the one that person is tracking. Maybe it's all connected. A Sesame Street producer could easily have hooked up with Reverend Richard Wayne Gary Wayne in the mixed-up world of Kimmy Schmidt. Plus, Kimmy and Titus have gone on many wacky adventures during their brief time together. Someone could easily be after both of them. They have enemies.
The cliffhanger is setting up quite the mystery for the final season's return. Kimmy has to face off against her abuser before the show is over, so it makes sense that whoever is watching Kimmy might be connected to the central conflict. She's already trying to fight back against the documentary and tell her story on her own terms — even those terms are a young adult fantasy meant to raise better boys. When Season 4 of Unbreakable Kimmy Schmidt returns, she'll have this mysterious peeper to deal with as well.