This DeVos Pizza Protest Is Actually Depressing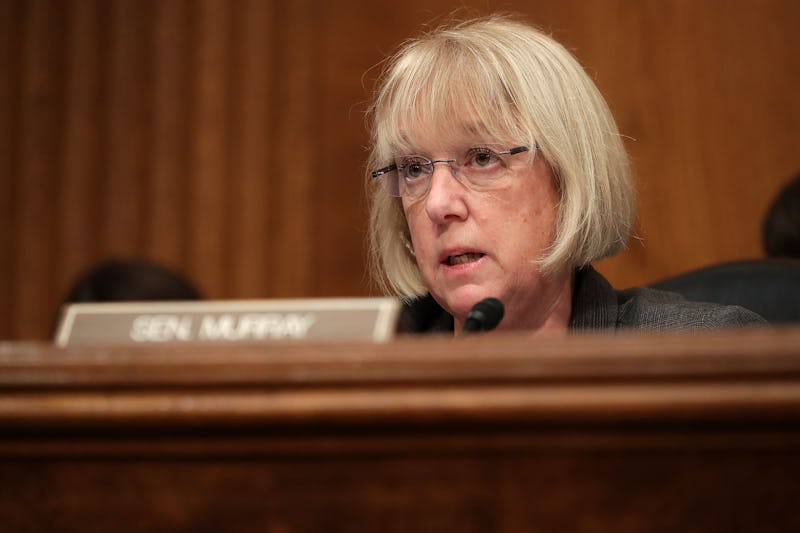 Chip Somodevilla/Getty Images News/Getty Images
There's the old adage that the way to a man's heart is through his stomach. But I don't think that was meant to specifically apply to how constituents communicate with their senators. Yet, one very determined Utah woman attempted to contact Sen. Orrin Hatch through pizza delivery last week after calls to his office went unanswered. But while this story comes off as a silly break from the crushing depression that so often seems to dominate the news as of late, it really highlights a larger problem with how our congressmen and senators operate.
Julia Silge had tried for weeks to call Hatch's office to voice her opinions on the nomination of Betsy DeVos to head the Education Department. After not being able to get through to anyone in his Salt Lake City office, Silge decided to try an unorthodox method of communication. As she outlined in a series of tweets on Jan. 30, Silge ordered a pizza to be delivered to Hatch's office, with her comments on DeVos attached. According to the screenshot of her online order that she shared in a tweet, Silge stated in the special instructions section:
Please deliver to Orrin Hatch's office, #8402 and attach the following note: "From a Salt Lake constituent in 84105: Please vote NO on Betsy Devos. She is an inappropriate choice to lead our public schools."
While there is more than a small element of comedy in this story of pizza delivery becoming a vehicle for constituents to reach their elected officials, there's a larger problem here. How is it remotely acceptable that American citizens have to rely on food delivery services to even voice concerns to their government representatives, especially in times of polarizing debate?
According to a report in the Washington Post, Hatch's office said that their phones have been overloaded, which it attributes to a large number of out-of-state calls. To me, that's an explanation but not a justification because it follows that the more constituents are getting involved, the fewer calls — and constituent voices — are getting through. It's counter-intuitive to how a healthy democracy should function.
This situation reminds me of the recent series of tweets from former congressional staffer Emily Ellsworth, which laid out a path to follow for people who wanted to actually be heard by their congressman. Ellsworth's advice boiled down to: call, don't email show up with a large group to be heard; and accept that you will be working with staffers, not your congressman him or herself.
While I very much appreciated Ellsworth's tips, it also made me realize how much persistency and energy is involved just to reach your representative. I just don't think it should be this difficult. Yes, they have a lot of people that they represent, and yes, there needs to be some way to streamline that process, but there shouldn't be some kind of trick or playbook involved. You shouldn't need to show up in a large group to be taken seriously by your representative. These people are called representatives because they are tasked with representing our opinions in government. They can't ducks us when we have something we need them to hear.
Maybe if Congress members didn't spend so much of their working time on fundraising calls and meet and greets, they might have more time to do the work they were actually elected to do. Maybe they could spend more time listening to the concerns of their constituents and making decisions based on their desires. Dare to dream, America.