3 Ways A Government Shutdown Especially Punishes Women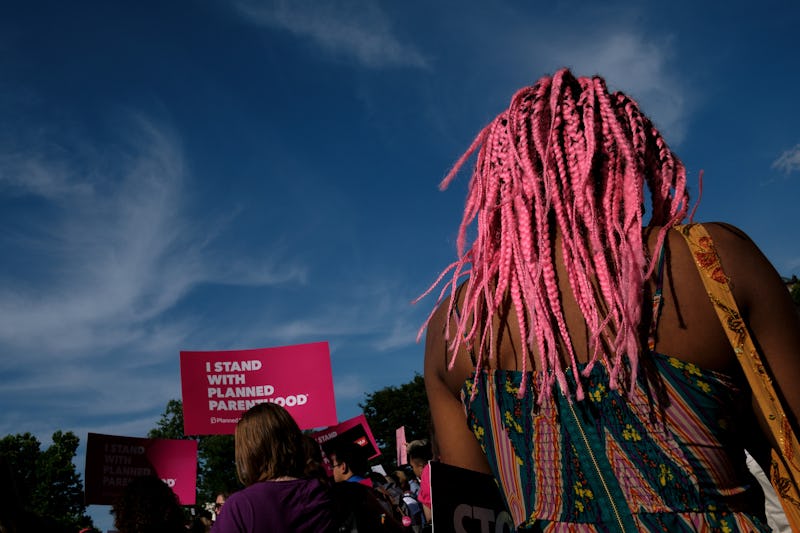 Drew Angerer/Getty Images News/Getty Images
In 2013, a partial government shutdown led to chaos in the Capitol. The shutdown, the first since the 1990s, lasted for more than two weeks. This week, yet another government shutdown is looming — and women would be disproportionately affected if Washington came to a grinding halt.
According to The New York Times, House Republicans are currently trying to advance a plan before Friday's deadline that would keep the government funded until Jan. 19. As part of this plan, Republicans want to provide short-term funding for the Children's Health Insurance Program, following the expiration of its funds, and disaster aid funding in response to wildfires and hurricanes across the country.
However, Republicans are attempting to delay addressing issues like immigration until next year; immigration is a top priority for House Democrats, who don't want to support a stopgap bill that would neglect this and other issues. Moreover, the two parties are unable to agree on where to obtain funding for CHIP, and a stopgap bill would definitely need Democrats' support in the Senate in order to pass and avoid a government shutdown. But if a shutdown does happen like it did in 2013, here are some of the possible consequences that women may face.
Financial Strain For Female Federal Contractors
It's not the first time in 2017 that the possibility of a government shutdown arose. Back in April, there were murmurs of a possible shutdown in Congress, and though this didn't happen, Forbes used the occasion to assess how women were particularly affected the last time a government shutdown took place. According to Forbes, the 2013 government shutdown had a significant negative impact on female contractors, their employees, and the economy.
Federal contractors rely on the government to get paid, but when the government shuts down, they don't receive their money in time. As a result, they are forced to lay off employees, and their businesses are at risk of failing. This burden is even greater for minority- and women-owned businesses, which are often under-utilized and don't have as many resources.
According to the Department of Commerce, women-owned businesses only get 5 percent of the funds that the government allocates to small businesses. They are also 21 percent less likely to win a government contract than men-owned businesses. For female business owners and contractors, a government shutdown could threaten the existence of their businesses, and make it even more difficult for them to obtain adequate resources.
Lack Of Funding For Crucial Programs
In 2013, the government shutdown also left the Special Supplemental Nutrition Program for Women, Infants, and Children, or WIC, temporarily unfunded. WIC is a supplemental nutrition program that provides breastfeeding support, vouchers for healthy food, and nutrition education to roughly 9 million low-income women and their infants.
When the government stopped funding the WIC program during the previous shutdown, the consequences were immediate. Pregnant women were worried about how to feed their families, while women with children were unable to obtain baby formula for them. A new government shutdown could pose similar risks.
A Delay In Public Health Research
The 2013 government shutdown posed significant public health concerns, namely because the Centers for Disease Control and Prevention, or CDC, had fewer resources and workers, and thus a reduced capacity to track and investigate disease outbreaks. At the time, The Atlantic's Brian Resnick provided the following explanation for why this was so dangerous:
Let me take you back to February 2009. Out of nowhere, a few unusual respiratory illnesses appeared in a rural part of Mexico, and then a few of those cases in Texas, and then a bunch of those cases in the Northeast states. Within a couple of weeks, CDC investigates, sequences the viruses and pushes the button. "Nation: We've got a novel pandemic virus." What would happen if that happened now? There would be delayed recognition, thousands more would get ill, would die. We would be flying blind. It would be delayed development of a vaccine to cover it; we wouldn't know what antivirals to use.
The best case scenario, Resnick pointed out, would have been that no new virus or infectious disease appeared and the only concern is producing enough vaccines.
But what if a government shutdown had happened when the CDC first detected the Zika virus, for example? Pregnant women would have been in significantly more danger because they would not have known about the virus' presence on U.S. soil, and research on how to treat the disease would have been conducted at a slower pace due to limited resources. This is just one example; as it happens, the annual influenza program — which in part helps people get flu shots — was shuttered during the last government shutdown.
Although a government shutdown currently seems unlikely, it is important to keep in mind the severe effects that such a political stalemate could have on women. A shutdown doesn't affect lawmakers in D.C.; it affects everyone who relies on the government's resources — especially women.