Why Alicia Witt Isn't Afraid To Ask For Help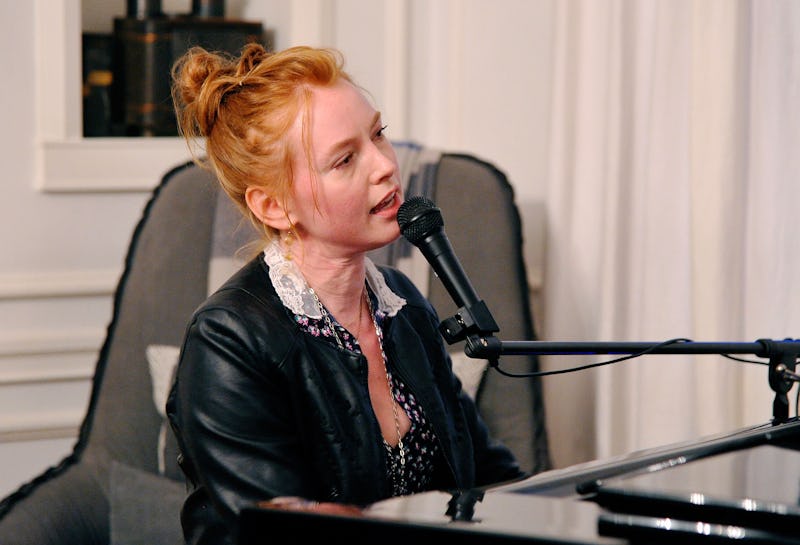 John Sciulli/Getty Images Entertainment/Getty Images
Though you may best recognize Alicia Witt as an actor from major shows like Nashville and The Walking Dead or films like Two Weeks Notice and Mr. Holland's Opus, she's also a talented singer. Witt has been releasing music for nearly a decade and has performed at the iconic Grand Ole Opry. So no, her latest endeavor, the upcoming album 15,000 Days, isn't her first rodeo. But there is something that makes this passion project unique: Witt used a Kickstarter campaign to help fund 15,000 Days and, in an interview with Bustle, isn't afraid to talk about the financial "elephant in the room."
Witt knows that as someone who's spent years working in Hollywood, people may be skeptical about her use of crowdfunding. In fact, a section of the Kickstarter page is titled, "A NOTE ON THE ELEPHANT IN THE ROOM (AKA: ACTORS ARE WEALTHY, AREN'T THEY?)," and as grateful as she is for her success, Witt tells Bustle, "The truth is, I don't have the funds to do this on my own." Plus, there's more to her campaign than money, which is why she was willing to deal with people's criticisms.
"I knew that when I put out this Kickstarter, there would be those people that would say, 'Oh, come on. Why would you be asking for money?,'" she explains. "I've still gotten responses like that and those comments made. There's nothing I can do about that."
There are resources Witt needs to make this album a stand-out, namely King's help. "Passing up the opportunity and finding someone who will do it for a lot less, [they] wouldn't have the pedigree and that magic and ability," she says. But she also wants fans to feel like they've contributed more than money to 15,000 Days.
"You're not just saying, 'Hey, give me money.' You're saying, 'Come be a part of this incredible thing, let's do it together,'" Witt says. Because the album is so personal to her, she wants to offer that same personalized experience she couldn't without the Kickstarter. "Whether it's dinner in person or cooking dinner for them at their home or doing a house concert. I can give them things that are unique, Walking Dead, Supernatural scripts," she says.
It all goes back to from Witt's personal connection with music. "I truly think that music is the way in this life that I can connect with people most directly. That's why 15,000 Days feels so important to me." she says. "A lot of songs are about what it feels like to know that the time is now. Also unrequited love, trying to sort out the mysteries of life in a way. Recogniz[ing that] we all sort of want the same thing."
You'll be able to hear at least some of those songs soon, as Witt's Kickstarter has already surpassed the initial goal of $60,000 to make the EP. It currently has over $80,000 and if it reaches $130,000 by Thursday, Feb. 16, she'll be able to make a full album. Hopefully, hearing the result of her hard work will be enough to prove anyone who doubted Witt wrong.