April Ryan Thinks Sarah Sanders Should Foot The Bill For Her Bodyguard — Here's Why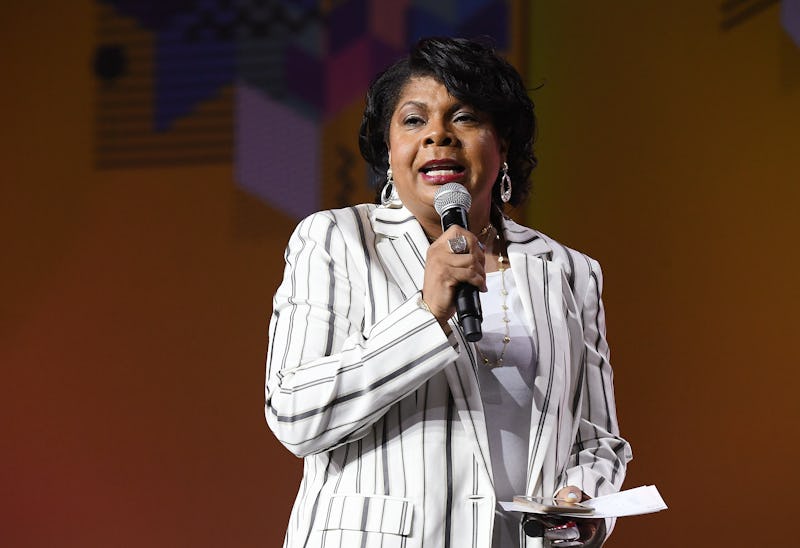 Paras Griffin/Getty Images Entertainment/Getty Images
The Trump administration has a relatively rocky relationship with the media, to say the least. Indeed, one reporter says the administration has so inflamed hostility toward the press that she has had to hire personal protection. This supposed Trump-induced press antagonism is why April Ryan wants Sarah Sanders to pay for her bodyguard, according to The Hollywood Reporter.
Ryan is a longterm member of the White House press corps and has worked as the White House correspondent for the American Urban Radio Networks since 1997. As The Washington Post reported, she is known for her very direct questioning style as well as for her somewhat tense relationship with Sanders.
Ryan discussed Sanders in an interview with The Hollywood Reporter last week. In the interview, Ryan asserted that both Trump and Sanders are to blame for perpetuating negativity toward the media. Of Sanders, Ryan noted, "She should be ashamed of herself for going out there, saying some of the things that she's said. She tries to insult my intelligence. And not just my intelligence, the world's intelligence."
Ryan then insisted that Sanders should be held financially responsible for the veteran reporter's protection, saying:
I've had some people wait for me outside the White House. ... There is a concern now. I mean, I've had death threats, I've had craziness, so I have a real concern. An honest, real concern. ... Do I have a bodyguard? Yes, I do. Am I paying for it? Yes, I am. And, I think [Sanders] should have to pay for it, especially if she's stirring it up with her boss. ... I did not sign up for this. I was just doing a job.
The White House has not commented publicly on Ryan's claims.
Ryan's interview with The Hollywood Reporter reflects some of the topics she addresses in her forthcoming book, Under Fire: Reporting from the Front Lines of the Trump White House, which will be released on Sept. 1.
In her interview, Ryan asserted that she penned her book because she wanted to share her personal take on how she believes the Trump administration has treated the media. As she told The Hollywood Reporter:
What's happening is unprecedented. I am a member of the press corps, one of the deans of the press corps now ... and I've been under attack. And lied on. Treated terribly. And if I don't tell the story, you won't get it. So, I'm putting it out there, because people see one side of it. I'm giving you the whole thing. ... The way they've treated me for asking questions that are fair and logical...
Ryan also indicated during her interview that she and Sanders have repeatedly tried to improve their relationship, including through a "reset" dinner, to little avail.
Overall, it is clear that Ryan strongly believes that Sanders and the Trump administration are responsible for inflaming public-press tensions and for causing her to need personal protection. It's a good bet that Ryan will likely discuss this topic further as she conducts more interviews ahead of her book's release. It remains to be seen whether Sanders will comment on the issue or remain mum.