I Decided To Find Out Why Top Beauty Products Are Discontinued & The Truth Is WILD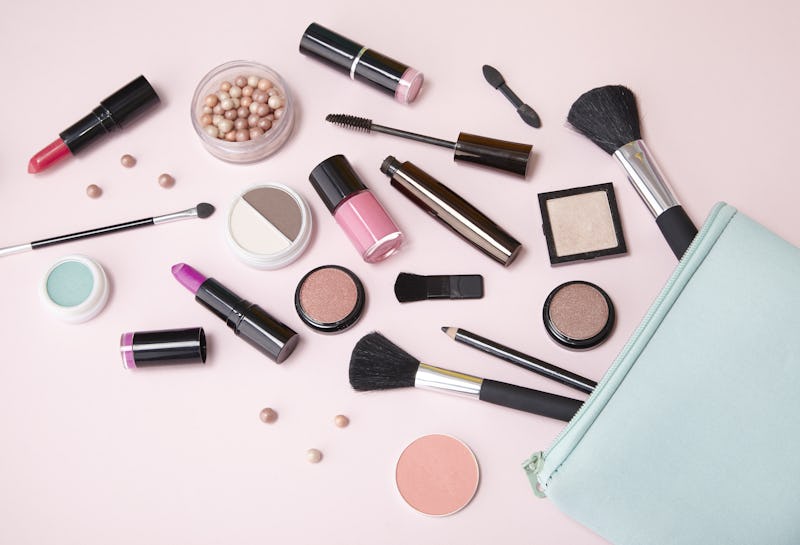 Shutterstock
"'Sorry, this has been discontinued.' The dreaded words when you go to get your favourite lipstick or foundation," says Karen J. Gerrard, founder of SEAMS Beauty. You don't have to be a beauty fanatic to relate. Having the goop of your dreams snatched away from you is the bane of any person who regularly uses skincare, makeup, or hair products. But why this happens is still a mystery that many would love to solve. As a budding Nancy Drew, I set out to find why the cycle of discontinued beauty products repeats itself and how the industry can quickly go from a reliable friend to your worst enemy.
In the past year alone, several discontinuations have caused uproar. Urban Decay's famed original Naked palette was swapped for supposedly bigger and better shades. (A courageous business decision to take considering the product was responsible for over $1 billion in sales, according to Stylist.) Iconic high street brand Seventeen was also phased out, leaving many bereft.
Beauty fans each have an arsenal of long-lost favourites. Jayna Mistry, a PR executive at Datadial, religiously used Simple's Oil Balancing Moisturiser for around three years before it was discontinued. "I have yet to find a moisturiser that keeps my skin clear!" she notes. In a statement sent to Bustle, Simple said the product had been reformulated into the new Daily Skin Detox range.
Student and journalist Georgia Davies used Kiehl's BB cream for a similar amount of time: "It was just the right colour for my complexion [and] was the perfect cover for anyone with sensitive skin." The brand told Bustle it was replaced by a CC cream that "has new benefits" like anti-pollution ingredients.
Hair products don't escape the discontinuation curse. John Frieda's Ocean Waves Sea Salt Spray was a daily staple of Xtreme Events event coordinator Emma Kowalski. She describes its disappearance as "a huge stress," adding by the time it returned a few years later, she had "given up on sea salt sprays." This isn't the only problem Kowalski's faced. "In 2019 alone, I have had to change two different items, with my lipstick no longer being part of the range," she explains.
Many have noticed discontinuation trends, particularly relating to products aimed at those with sensitive skin or acne. Even a small formula change can result in a breakout, let alone being forced into adopting a brand new routine. Marian Kwei, a celebrity personal stylist and blogger, thinks lipsticks are regular targets too. "Women are loyal to the lip colours they wear," she says, "so it feels like you lose a part of you when, all of a sudden, your go-to shade is no longer available. It is devastating."
Brands tend not to take these decisions lightly, says Colorescience UK's lead product developer and skincare specialist Patricia Boland. Often, they have "multiple reasons for discontinuing a cherished beauty product."
Some are more common than others. Some are even legally necessary. "Changes in law," explains Boland, "may mean that the product needs to be reformulated, but it could remain the same in another country." Wanting to "generate industry buzz for an upcoming product release" is also a standard reason.
"Naturally, taking away a cult favourite will draw attention to the brand, giving them the opportunity to broaden their customer base," Boland says. "So, when a replacement beauty product is released, it will have a higher response rate from old and new consumers alike. Not only will this hopefully translate into higher sales, but it maintains the brand's artistry and allows them to stay current."
At the end of the day, beauty is a business. When a product isn't performing financially, companies have no choice but to find an alternative. They may also be forced down the same path if a product ingredient is no longer available, states Gerrard. "The company works hard to replicate it but sometimes it's not possible and the product is discontinued."
Something that is easily forgotten in the discontinuation row is the influence of science. Makeup artist Joyce Connor has worked as a stockist and trainer for some big names. She says that "science and innovation is moving so quickly. New formulations are produced frequently and if the new formulas are superior to the existing stock, [existing products] will be discontinued."
And while bigger brands may be able to house a huge array of products, smaller ones often struggle. "In order to afford production of new ranges, they will have to discontinue old formulas and colours," notes Connor. This "making room" notion is backed up by Abbie Oguntade, founder of anti-pollution skincare brand Freya + Bailey. Ideally, when brands do this, "they're also considering worthy replacements to alleviate consumer pain," she says.
Some customers, however, are cynical. "I think this is an arrogant act to keep things fresh while tarnishing your reputation with loyal customers that are happy to use your product for the long term," says Kowalski. "I have no issues with new products being pushed, but they shouldn't replace old stock unless there is valid reason to do so."
"Why remove popular products to make room for products that are yet to be tested on the market?" Kwei questions. "It makes no sense."
Understanding why beauty fans feel this way is easy. A discontinued product often results in consumers having to fork out more cash. When a brand takes the time to notify customers of a product's tragic fate, customers often instinctively buy in bulk. Worse, they may be pushed into buying it for heavily inflated prices on sites like Amazon or eBay. And if really desperate, a custom cosmetics company may be utilised to recreate a treasured shade.
A few brands have responded to the misery. Estée Lauder's Gone But Not Forgotten initiative will search for any remaining stock of products that have been discontinued within the past 24 months. A huge range of brands fall under the Estée Lauder umbrella, including Bobbi Brown, Clinique, Jo Malone, MAC, and Tom Ford Beauty. Very occasionally, companies will take to social media to ask customers which products they would like to bring back. Discontinued beauty sites also exist to sell forgotten formulas.
Oguntade believes there is power in the consumer vote. "Consumers should remain open to trial, but also [be] vocal in their feedback," she says. Boland agrees that a great deal of public pushback may encourage brands to reintroduce a much-loved product.
Customers themselves believe there needs to be better dialogue between beauty brands and the people they serve. "They should value their loyal customers and ask them their thoughts," Mistry says, adding: "It is now easier than ever to connect with the public via social media." Davies feels that brands, "particularly more upmarket skincare brands which often rely on repeat customers, need to consult their market more."
Every person I spoke to understood that the realms of makeup, hair, and skincare are businesses. But it's easy for CEOs and other corporate officials to forget that one simple swap can have a deep impact on a person's life.
Replacing frustration with optimism may be the only solid solution. Like Davies says: "It's a shame when something you love is taken off the shelves, but I suppose it gives you the chance to find something else."