Why Conservatives Are Boycotting Bill Maher Because Of Roseanne Barr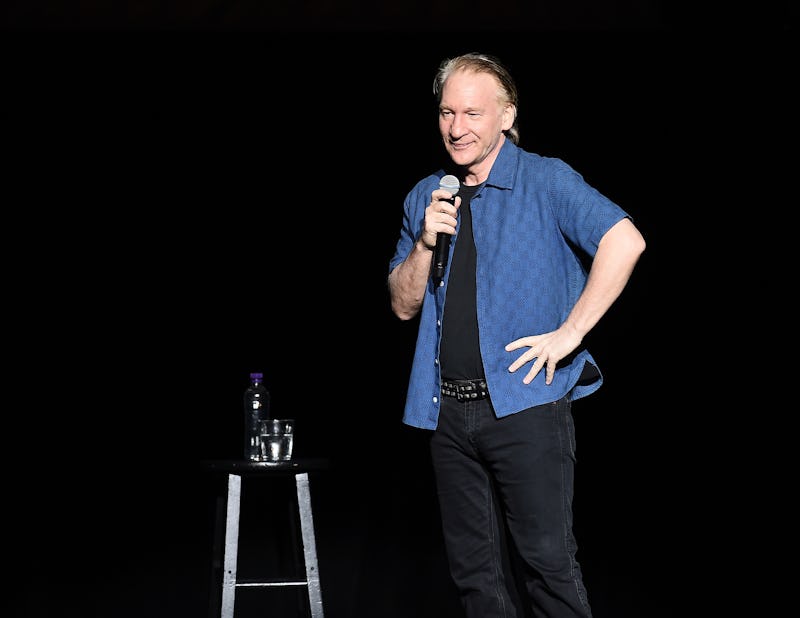 Nicholas Hunt/Getty Images Entertainment/Getty Images
In the wake of a sudden ABC decision that's rocked America, you might be wondering why there's a Bill Maher boycott now that Roseanne Barr's show has been cancelled. Some conservatives are arguing that if people are going to criticize Barr's "ape" tweet about former Obama-era aide Valerie Jarrett, then Maher should be fired for calling Trump an "orangutan."
According to Newsweek, several conservatives have rushed to argue that the canceling of Barr's show isn't a result of her racist tweet about Jarrett. It's more so, they claim, because she's a Trump supporter. However, Channing Dungey, the President of ABC Entertainment, confirmed the cause of Barr's show being canceled in a statement, saying that Barr's tweet was "abhorrent, repugnant and inconsistent with our values."
Still, Charlie Kirk, the founder and director of Turning Point USA, a conservative youth organization aimed at educating and supporting young conservatives, tweeted that the only difference between Barr's situation and Maher's is that Maher is a liberal, and Barr is a "free-thinking Trump supporter".
Barr's racist tweet about Jarrett claimed she was what would happen if a "muslim brotherhood & planet of the apes had a baby". What's more, there is a long, storied history of animal and monkey-specific insults being aimed at people of color.
Later, Barr apologized on Twitter to Jarrett and American citizens alike for her comment. "I am truly sorry for making a bad joke about her politics and her looks," Bar tweeted, adding, "I should have known better. Forgive me-my joke was in bad taste." Barr has come under fire several times over the course of her career for her opinions, such as her labeling of Israel as a "Nazi state" and for her belief that Bernie Sanders was involved in a corruption scandal with the Catholic Pope during his presidential run.
As for Maher, his insult of President Trump resembling an orangutan was aimed at the president's supposed fake tan and his lack of intellect. According to CNN, Maher originally said he would donate $5 million dollars to a charity of Trump's choice if the president could prove he wasn't the lovechild of his mother having sex with an orangutan. Trump sued Maher for his comments, then subsequently dropped the case.
Maher has previously defended his comparison of Trump and an orangutan, saying, that "[After Trump's comments about Obama needing to provide a birth certificate], I joked about Trump needing to show me his papers to prove he wasn't hiding a bad secret about his birth...this is known as parody, and it's a form of something we in the comedy business call a joke."
At time of publication, Maher's name has been tweeted over 54,000 times in the last day, though Maher himself has not weighed in on the matter. While conservatives might be railing against what they understand to be hypocrisy, many liberals are taking to Twitter to comment on how humorous it is for conservatives to view Maher as a liberal influencer, in the first place.
After all, Maher hasn't exactly had a consistently positive relationship with liberal viewers in the last year, The Daily Beast reports. In one segment, the outlet reports that Maher tore into what he viewed as the flaws of the liberal agenda:
...While you self-involved fools were policing language at the Kids' Choice Awards, a madman talked his way into the White House. What matters is that while liberals were in a contest to see who could be the first to call out fat-shaming, the Tea Party has been busy taking over school boards. Stop protecting your virgin ears ....
Other liberals are pointing out that Maher has been punished in the past for his comments. In 2002, Maher's show Politically Incorrect was dropped by ABC after he made pointed comments about 9/11, claiming that the labeling of terrorists as "cowards" was hypocritical, and that "we have been the cowards, lobbing cruise missiles from 2,000 miles away.''
On Tuesday Evening, Jarrett weighed in on Barr's comments during MSNBC's "Everyday Racism" town hall, giving an eloquent summation for why Barr's comments have such potential for damage:
"I'm [more] worried about all the people.... who [are walking down the street], minding their own business, and they see somebody cling to their purse...or every black parent I know who has a boy who has to sit down and have a conversation, 'the talk', as we call it...those ordinary examples of racism that happen every day."
President Trump has yet to comment on the matter, but you can bet he's a bigger fan of Barr than Maher.