This Is Why Most Mass Violence Is Committed By Men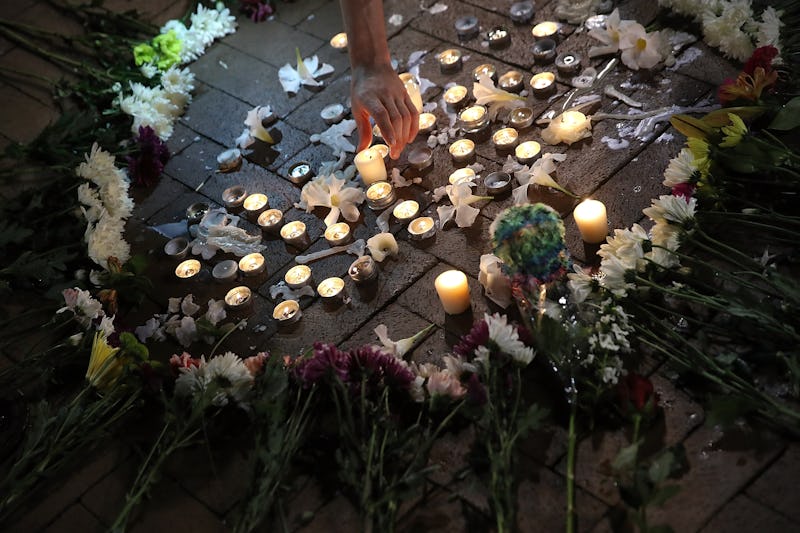 Win McNamee/Getty Images News/Getty Images
Saturday's white supremacist rally in Charlottesville went from violent to deadly when 20-year-old James A. Fields allegedly drove a car into a crowd of protesters, killing one and injuring at least 19. The same day, half a country away, 23-year-old Jerry Drake Varnel drove what he believed to be a bomb to an Oklahoma City bank, according to a criminal complaint. The bomb was a fake, set up by law enforcement investigators who had spent months following Varnel's plans; Varnel was arrested soon after.
Though there are a few differences between Fields and Varnel — they allegedly adhere to different far-right philosophies — the things they have in common, both with each other and with the vast majority of people who commit terrorism, mass killing, and other major acts of violence, are numerous. Both, like most terrorists in the U.S., supposedly hold right-wing political beliefs (right-wing terrorists are responsible for over 300 violent domestic attacks each year, according to PBS). Both are young, which according to Vassar College psychology professor Abigail A. Baird, Ph.D., is common among those who commit mass violence. And both are men.
While white supremacist women were present at the rally in Charlottesville and are a part of most white supremacist and other terrorist organizations, it is notable that the vast majority of large-scale violence — from mass shootings to organized domestic or global terrorism — is committed by men. A 2013 report held that 98 percent of all mass killings in the U.S. are perpetrated by men, a fact that some wave away with claims that men are simply inherently "violent" by nature, due to testosterone or other biological causes. But many experts believe this is not the case — instead, they posit that men's impulses towards violence are often fueled by a complicated patchwork of social expectations and pressures regarding what it means to be a man. Cultural standards often tell young men that violence is the only way to get respect or power, or to prove one's own masculinity, period — standards which have deadly consequences for people in the U.S. around the world every day.
Bustle spoke to academics, experts and millennial men to learn more about how cultural ideas about manhood can produce violence — and what societies can do to change it.