Why Trump's Comments About NFL Players Could Change Everything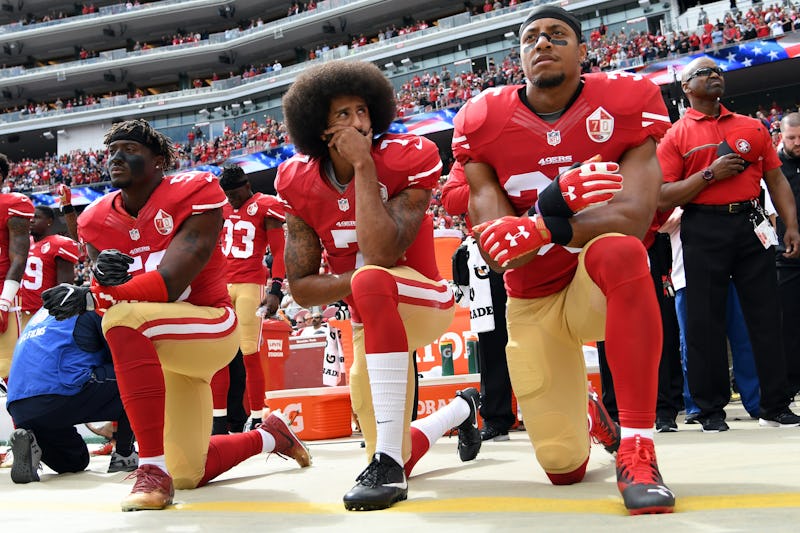 Thearon W. Henderson/Getty Images Sport/Getty Images
On Saturday, a slew of professional athletes spoke out on social media, criticizing President Donald Trump's inflammatory statements about national anthem protests, and it sounds like disdain for the president among NBA and NFL players is hitting new heights. In short, countless other athletes have weighed in with blunt, impassioned, and downright savage takes. Which is why when Sunday rolls around, a lot of people could be staring at their TVs and wondering: why are so many NFL players protesting?
It all started when Trump, during a rally in Alabama ostensibly about supporting Republican senator Luther Strange in his reelection bid, went on a minutes-long digression about the NFL. In addition to criticizing the league for implementing new rules to protect defenseless receivers from gratuitous hits ― part of an effort to reduce the number of debilitating concussions and other injuries players receive ― Trump touched on the national anthem protests begun by former San Francisco 49ers quarterback Colin Kaepernick last year. He was not subtle about his feelings, calling for NFL owners to fire players who protest during the anthem.
Wouldn't you love to see one of these NFL owners, when somebody disrespects our flag, to say "get that son of a b*tch off the field right now?" Out. He's fired. He's fired!
The diatribe was clearly predominantly in reference to Kaepernick, although after he started kneeling during the anthem last year, many other players throughout the league followed suit. That's continued this year, even as Kaepernick has found himself without a job, despite being just 29 years old, and having a record of on-field achievements that puts at least a few of the league's starting quarterbacks, and virtually all of its backup quarterbacks, to shame.
In fact, that's something that's being overlooked amid the tumult around Trump's comments: what he's calling for, for all intents and purposes, has already happened to Kaepernick. Unless some team decides to sign him mid-season ― based on merit and the relative skills of his colleagues, he ought to have a job already ― he has effectively sacrificed his career for his ideals.
Whatever Trump and the 32 NFL team owners who refuse to give him a job think of Kaepernick, however, his fellow players have routinely expressed respect and admiration for him.
That's borne out by the fact that he won an annual teammate-awarded honor while with the 49ers last year, for courage and inspiration, and was named the NFL Players Association Community MVP for week one of this year's season, despite not even being signed to a roster. Since beginning his protest last year, Kaepernick has donated nearly $1 million of his own money to a variety of charities and causes, many benefiting low-income and minority communities.
Trump followed his inflammatory attack on NFL protesters with a tweet on Saturday morning cancelling the NBA champion Golden State Warriors' invitation to the White House, citing star point guard Stephen Curry's stated reluctance to attend. For the record, it wasn't just Curry who was dim on the idea of visiting Trump at the White House; fellow Warriors stars Draymond Green, Kevin Durant, and Andre Iguodala all voiced similar sentiments.
This spurred superstar NBA icon LeBron James ― who plays in Ohio, a state that broke for Trump by eight points in the 2016 presidential election ― to call Trump a "bum" on Twitter, and comment that the championship White House visit "was a great honor until you showed up!"
In short, when you mix all these things together ― a commander-in-chief using his platform to call dozens of NFL players "son of a b*tch," an already teeming current of protest within the league, the apparent ongoing exile of Kaepernick from any NFL field or sideline, and NBA players voicing their disgust too, the stars could be aligning for widespread demonstrations. Of course, what actually happens remains to be seen, but you won't have to wait very long to find out; Sunday's slate of NFL games are less than 24 hours away.