Here's Why People Are Boycotting FedEx After The Parkland Shooting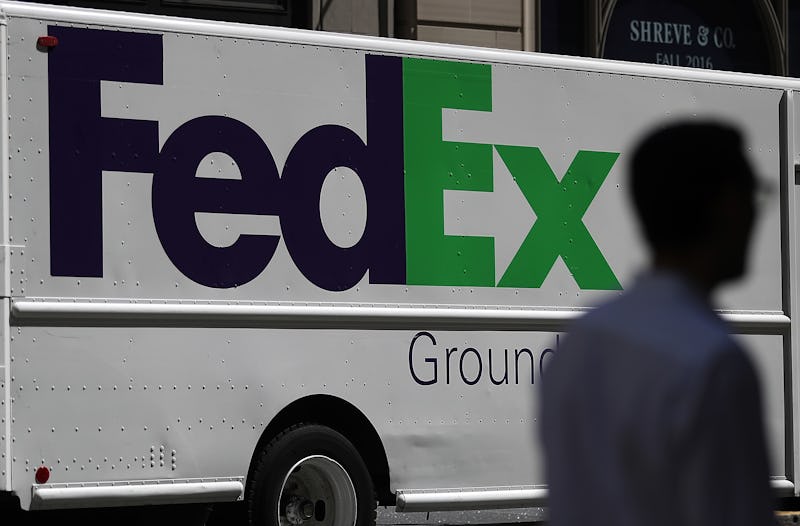 Justin Sullivan/Getty Images News/Getty Images
In the wake of a mass shooting which left 17 dead at a Parkland, Florida high school, gun control advocates have doubled down on calls for increased and revised firearms regulations. Marches, walkouts, town halls, and boycotts of NRA-associated corporations have ensued. As protests have ramped up in recent weeks, no company has been safe from the boycotts, including brands like FedEx, which offers discounts to certain NRA members.
Boycott proponents believe that where they put their money is a political act, and that refusing to give money to corporations that work together with the NRA could weaken the group. At the very least, it would send a message that conscious consumers are no longer interested in inadvertently supporting gun rights advocacy.
While some companies have bowed to the pressure of boycotts and potential public relations crises, many others have not. As of Sunday evening, that includes FedEx. According to its website, the company offers up to a 26 percent discount on shipping-related costs for NRA Business Alliance members. The company has not yet publicly responded to requests that they cease those special offers. However, the Huffington Post did report that the page on the NRA site explaining the deal through FedEx has been taken down. Still, as certain companies choose to remain quiet, battlecries have continued to rage across the internet.
"FED EX = NRA," tweeted comedian Billy Eichner. "Since @FedEx refuses to cut ties with the NRA, we must #BoycottFedEx immediately. Whether ur a small business or major corporation, the only thing they care about is $$ so u have to hit them where it hurts."
Since President Trump was elected, Eichner, in particular, has emerged as one of the loudest liberal voices on social media. As of Sunday evening, that tweet alone had garnered nearly 2,000 retweets. Other Democratic influencers followed suit.
"Well, @FedEx continues to say it will remain partners in death with the @nra," tweeted writer Kurt Eichenwald. "Most sane companies have ended it. Not Fedex. So remember: boycott. Use @UPS or @USPS or carrier pigeon. No more patronizing those who aid in the endless slaughter of innocent." As of Sunday evening, more than 22,000 users had shared his message.
Conservatives, on the other hand, described calls for boycotts as partisan hysterics. On Twitter, some thanked the shipping company for not giving in to Democratic demands.
But boycott advocates were largely undeterred, and continued organizing under the hashtag #BoycottFedEx well into the night. The hope was that eventually the company would give in and cease any business relationship with the gun rights organization. Others, like MetLife, Hertz, United Airlines, and Best Western swiftly cut ties, effectively increasing morale among would-be protesters.
The NRA, for its part, has vocally opposed recent protests against its business partners. In a statement, the group decried the protest, and characterized recent anger directed at the NRA as misguided:
The law-abiding members of the NRA had nothing at all to do with the failure of that school's security preparedness, the failure of America's mental health system, the failure of the National Instant Check System or the cruel failures of both federal and local law enforcement.
Despite that, some corporations have decided to punish NRA membership in a shameful display of political and civic cowardice...
Let it be absolutely clear. The loss of a discount will neither scare nor distract one single NRA member from our mission to stand and defend the individual freedoms that have always made America the greatest nation in the world.
Whether or not FedEx will respond to the boycott remains unclear. While several major brands have withdrawn partnerships, others, like most major video streaming companies, some of which carry NRA content, have largely ignored the outcry.