This Is Why Some Conservatives Have Decided To Boycott Keurig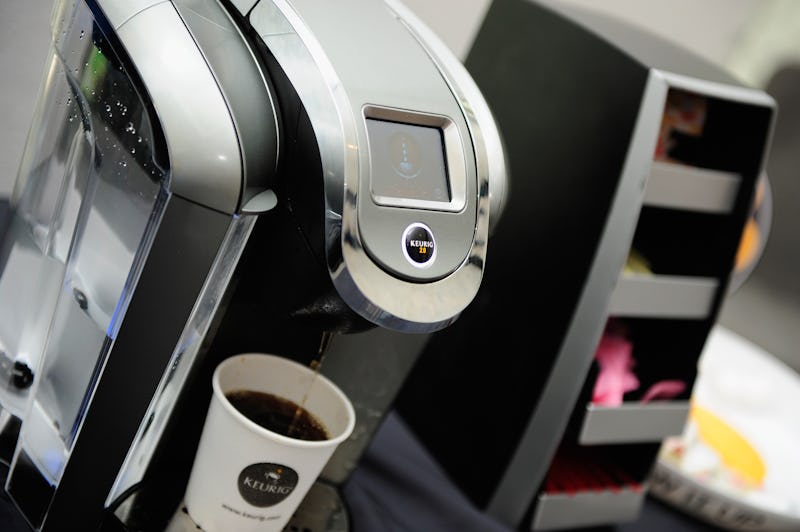 Sergi Alexander/Getty Images Entertainment/Getty Images
If you logged onto Twitter today, you might have noticed that a number of users are calling for a boycott of Keurig. That's because the coffee company decided it would pull ads from Fox News's Hannity following the pundit's coverage of Alabama Senate candidate Roy Moore. In response, some conservatives have gotten the hashtag #BoycottKeurig trending.
Keurig made the announcement Saturday. Angelo Carusone, the president of Media Matters for America, tweeted "Good afternoon @Keurig. You are currently sponsoring Sean Hannity's show. He defends child molester Roy Moore and attacks women who speak out against sexual harassment. Please reconsider." In response, Keurig tweeted back that it had worked with its media partner and Fox News to stop its advertising from running during The Sean Hannity Show. Another company, Realtor.com, also announced that it would no longer advertise on the Fox show, as reported by The Hill.
It was no surprise that embattled Republican candidate Roy Moore chose to go on "Hannity" to defend himself after The Washington Post published a bombshell report detailing the accounts of four different women who say that Moore made sexual advances toward them when he was a 32-year-old assistant district attorney. One of these women was only 14 years old. Moore denies the allegations.
Hannity, a conservative pundit, has the support of President Trump and strong ratings among American television viewers. In a radio interview with Moore following the Post report, Hannity asked the Senate candidate whether the allegations were true. In the interview, Moore generally denied the allegations, claiming that he dated a number of young girls at the time, and saying he would "never have had any contact with" a 14-year-old minor.
While many conservatives praised Hannity for pressing Moore on the allegations, liberal activists such as Carusone criticized the pundit for defending the Alabama judge. This was evidently enough to prompt Keurig to pull its ads, and it took no time for Hannity fans to call for a boycott of the company.
In r/The_Donald, a popular subreddit where supporters of the president express their views, a top commenter wrote, "Keurig decided to pull their ads from Hannity because of ONE rando on Twitter. Unbelievable." Although this is not entirely true — Keurig responded to complaints from multiple Twitter users — other members of the forum also criticized the decision. Another commenter wrote, "As a business-owner myself, I am incredibly disappointed in how businesses are running themselves. I wonder if I could be the first person to perform a hostile takeover of a company via a single tweet."
This is not the first time that advertisers have pulled their messaging from Hannity in response to concerns about his show. Back in May, when the Fox News host perpetuated a conspiracy theory that DNC staffer Seth Rich had been murdered for leaking WikiLeaks emails related to the Clinton campaign, Variety reported that a number of small advertisers had asked to pull their commercials from Hannity's slot. The Fox News host immediately spoke out against the advertisers who had taken steps to distance themselves from him, saying "There's nothing that I did, nothing that I said, except they don't like my position politically," and claiming, "This is an attempt to take me out. This is a kill shot."
Since Trump was elected a year ago, consumers on both sides of the aisle have shown that they do take politics into account when deciding where they spend their money. After Nordstrom announced it would pull Ivanka Trump's brand back in January, supporters of the president called for a boycott of the retailer, while opponents of Trump said they would make a conscious effort to shop ther. A similar phenomenon happened when Starbucks announced it would hire more refugees in late January. While conservative opponents of the decision announced they would #BoycottStarbucks, the hashtag was quickly co-opted by progressives.