Two Black Men Got Arrested In Starbucks & The Reason Why Has People Absolutely Outraged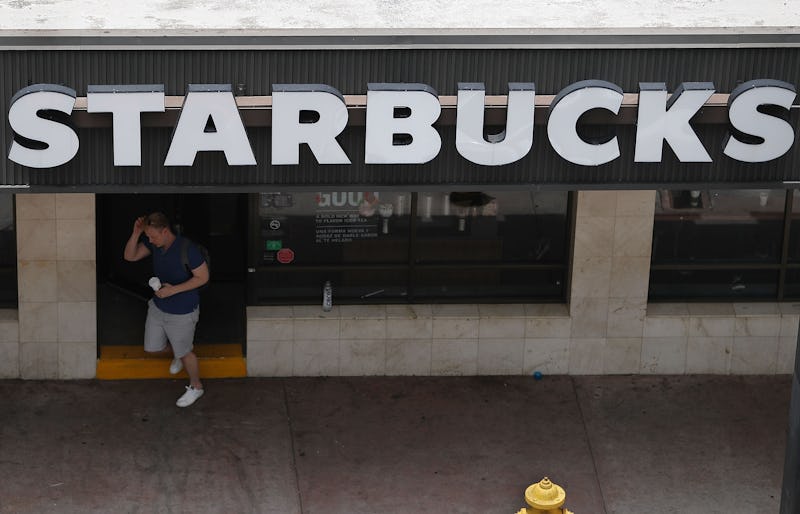 Joe Raedle/Getty Images News/Getty Images
Earlier this week, a video taken from within a Philadelphia Starbucks went viral, and it drew a ton of scrutiny and outrage. It showed a pair of black men being handcuffed and arrested inside one of the locations of the iconic coffee chain, seemingly simply for sitting inside. Now, more information has come to light, and if you're just noticing the tumult on social media, you might be wondering: why are people boycotting Starbucks? What exactly happened, and how has the company responded to it?
For starters, Starbucks has since issued an apology, stating that it was "disappointed" that the two men were arrested. The statement, which was posted to Twitter on Saturday in the midst of an immense backlash on social media, reads as follows.
We apologize to the two individuals and our customers and are disappointed this led to an arrest. We take these matters seriously and clearly have more work to do when it comes to how we handle incidents in our stores. We are reviewing our policies and will continue to engage with the community and the police department to try to ensure these types of situations never happen in any of our stores.
The long story short is that the two men, a pair of real estate agents who were reportedly waiting in the cafe for a friend, didn't seem to do anything that would normally merit having the police called on them.
They were reportedly waiting for a friend to arrive, and hadn't yet ordered anything ― something that's not uncommon for people to do when they're meeting somebody at a coffee shop ― which reportedly led a Starbucks employee to call the police.
The apology from Starbucks has drawn some criticism on social media, mostly due to the fact that it didn't explicitly address any racial aspect to what happened. The two men have not been publicly identified, but their lawyer, Lauren Wimmer, has argued that the video shows them being treated differently because of their race, according to CBS Philadelphia.
"The video, in this case, essentially speaks for itself," Wimmer reportedly said. "These guys were doing what people do every day, they were having a meeting and they were undoubtedly singled out because of their race."
The controversy has led many social media users to call for a boycott of the popular coffee chain, with the hashtag #BoycottStarbucks trending throughout Saturday.
The Philadelphia police have responded to the controversy, with commissioner Richard Ross saying the officers who responded to the call and arrested the two men "did absolutely nothing wrong."
According to The Miami Herald, employees at the Starbucks called the police after the two men asked to use the restroom while they were waiting, but were refused, because restroom use is reserved only for paying customers. Then, the employees reportedly said they asked the men to leave, and when they didn't, they called the police.
The officers who showed up at the Starbucks said they asked the men to leave the premises three times ― telling them that they were "trepassing" before arresting them without incident.
They did a service that they were called to do," Ross said of the officers who arrested the two men, as CNN detailed. "And if you think about it logically, that if a business calls and they say that someone is here that I no longer wish to be in my business, (officers) now have a legal obligation to carry out their duties. And they did just that."
The video of the arrests that led to the calls for a boycott against Starbucks first hit Twitter on Thursday, April 12. As of Saturday, just two days later, it's a trending topic on Twitter, and the subject of a considerable amount of media coverage.