People Are Protesting Betsy DeVos For Many Reasons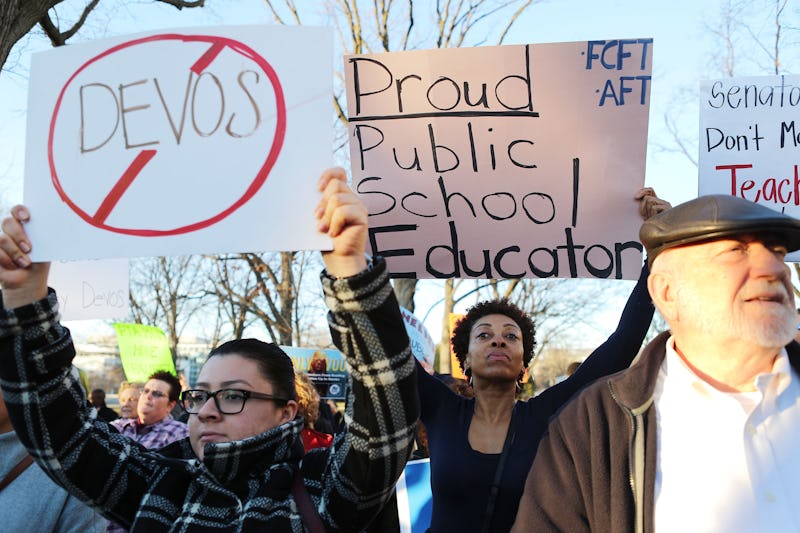 Mario Tama/Getty Images News/Getty Images
Betsy DeVos was narrowly confirmed as the new education secretary on Monday. Like the rest of Donald Trump's cabinet picks, DeVos has been the subject of controversy and protests since being nominated, but she stands out as being perhaps the most resisted among Republicans. Protestors primarily spoke out against her apparent lack of respect for public education, her religious agenda, and her insufficient experience in education.
DeVos never attended a public school or college, and has a record of donating to groups working to divert funds and students from public schools to new, private institutions. Rather than investing in the improvement of failing public schools, DeVos supported (through the Great Lakes Education Project, an organization she created) a piece of legislature that would close schools determined to be failing in Detroit.
Teachers across the country have rallied against DeVos' confirmation. Lily Eskelsen Garcia, President of the National Education Association, gave a sharp criticism of DeVos in a speech in January. "Betsy DeVos is not qualified, and even more than unqualified, Betsy DeVos is an actual danger to students — especially our most vulnerable students," she said. "She has made a career trying to destroy neighborhood public schools, the very cornerstone of what's made our nation so strong."
DeVos' past statements regarding the role of religion in schools are also controversial. "Our desire is to confront the culture in ways that will continue to advance God's kingdom," she said in a 2001 interview. In the same interview, her husband, Dick DeVos, said, "As we look at many communities in our country, the church has been displaced by the public school as the center for activity. It is certainly our hope that more and more churches will get more and more active and engaged in education."
While a spokesman for DeVos told Mother Jones that she believes in the separation of church and state, DeVos and her husband have a record of donating hundreds of thousands of dollars to organizations that work to muddy the lines of this separation. Such groups include Focus on the Family, the Foundation for Traditional Values, and Acton Institute for the Study of Religion and Liberty.
DeVos' lack of knowledge of the education system has also been the source of scrutiny and protests. During her hearing, DeVos seemed not to know what I.D.E.A. — Individuals with Education Act — was or how it worked.
American Federation of Teachers President Randi Weingarten, blasted DeVos for her insufficient experience. "The more people get to know how ill-equipped Betsy DeVos is to strengthen public schools, how disconnected she is from public schools, and how her record is focused on pursuing for-profit charters and vouchers and not on helping children," he said, "the more the people who believe in the importance of public education are joining to oppose her."
After DeVos' confirmation the Democratic Party's social media accounts immediately took the moment to emphasize why those who oppose her need to vote in the 2018 Senate races.