The Boston "Free Speech" Rally Has Put The City On Edge After Charlottesville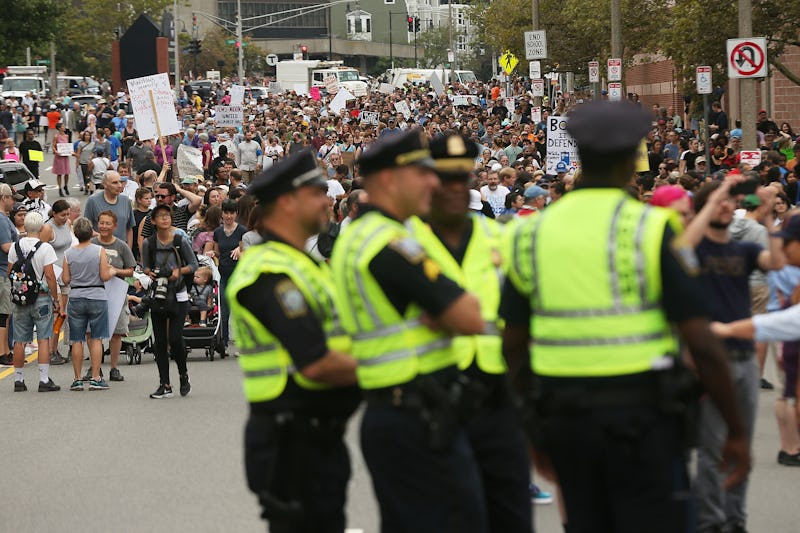 Spencer Platt/Getty Images News/Getty Images
Last week, it was Charlottesville. This Saturday, protestors will swarm Boston for a "free speech" rally. The climate promises to be tense, given the deadly violence at the white supremacist protest in Virginia mere days ago. Scores of counter-protests are planned for the "free speech" rally, raising concerns that the event at the Boston Common, a public park in the downtown area of the city, will turn violent.
Organizers of the Boston "free speech" rally have stated clearly that the event has no connection to the white supremacist rally in Charlottesville, where protestors donned Nazi regalia and chanted gay and ethnic slurs at counter-demonstrators. "While we maintain that every individual is entitled to their freedom of speech and defend that basic human right, we will not be offering our platform to racism or bigotry," the Facebook event description read. "We denounce the politics of supremacy and violence. We denounce the actions, activities, and tactics of the so-called Antifa movement. We denounce the normalization of political violence."
But many are wary. Organizer John Medlar has rubbed shoulders with "alt-right" personalities, and members of the local KKK chapter have reportedly vowed to attend. One of the keynote speakers at the rally, Joe Biggs, has advocated for date rape in the past.
After having consulted the Southern Poverty Law Center, an organization that focuses on monitoring hate groups across the U.S., Boston Mayor Martin J. Walsh gave a statement on Friday urging Bostonians to stay away from the event. "They say that interacting with these groups just gives them a platform to spread their message of hate," he said. "They recommend that people should not confront these rallies. So we're urging everyone to stay away from the Common."
Confronted by questions about why the rally-goers had been granted permits, given some of the controversial groups and speakers expected to attend, Walsh insisted he personally did not want them in Boston but that ultimately, the attendants were within their rights.
"There have been questions about why we granted a permit for the rally tomorrow," the mayor said. "The courts have made it abundantly clear. They have the right to gather, no matter how repugnant their views are. But they don't have the right to create unsafe conditions. They have the right to free speech. In return, they have to respect our city."
He continued, "At the same time, we can't look away. The children of our city are watching, and I want everyone who goes to the Common tomorrow to understand that. The young people of our city are watching TV, are following this. We have to make it clear what we stand for in the City of Boston."
The mayor said 500 police officers would be deployed to the park the rally would be held to maintain order and ensure safety. Gov. Charlie Baker added that 200 additional state police officers would be ready to step in, if needed.