Trump's Muslim Ban Is Already Having Major Effects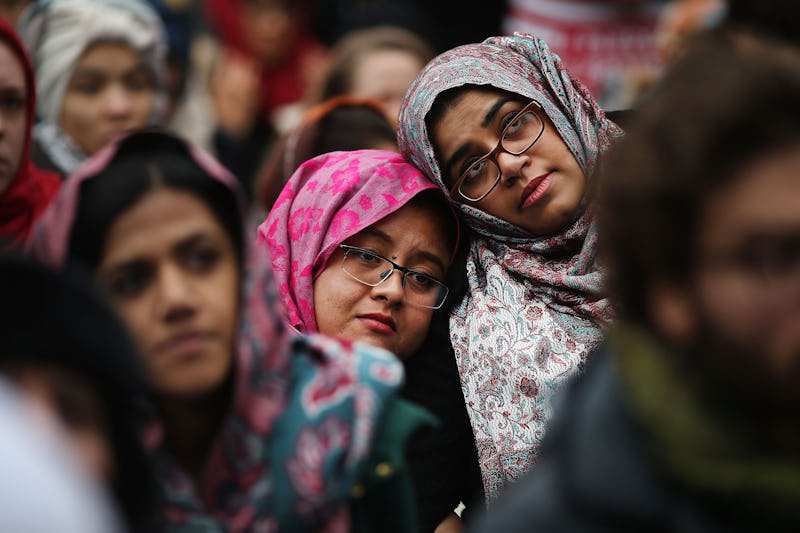 Spencer Platt/Getty Images News/Getty Images
Less than 24 hours after being signed into effect on Friday, President Trump's Muslim ban was already having major impacts on the lives of U.S.-bound refugees, Muslim American permanent residents, and visitors from seven Muslim-majority countries: Syria, Yemen, Iran, Iraq, Sudan, Somalia, and Libya. Social media was flooded with accounts of people being detained and put through long, distressing interrogations at airports by late Friday and early Saturday. One can't help but feel alarmed at just how fast these effects are taking place.
Officially titled "Protecting the Nation From Foreign Terrorist Entry Into the United States," the executive order has suspended the U.S. Refugee Admissions Program for 120 days. During those 120 days, Secretary of State Rex Tillerson, Secretary of Homeland Security Gen. John Kelly, and Director of National Intelligence Dan Coats — assuming Kelly and Coats are confirmed by the Senate — will examine the USRAP's admission and adjudication process "to determine what additional procedures should be taken to ensure that those approved for refugee admission do not pose a threat to the security and welfare of the United States." The program will resume after these four months of review, but only for nationals from countries approved by the aforementioned cabinet members.
A 90-day ban of people traveling from the specified seven countries was also implemented, including U.S. permanent residents. The secretary of state and secretary of homeland security will provide President Trump with a list of countries "recommended for inclusion on a Presidential proclamation that would prohibit the entry of foreign nationals" in 60 days.
Activists and journalists began posting live updates of activity in airports. Author, journalist, and activist Trita Parsi posted the progress of U.S.-bound one green card holder as he/she arrived at an airport and moved through each required step. The person in question was ultimately cleared to enter the U.S. but only after reportedly being put through five hours of questioning, handcuffing, and a body search. A few of Parsi's tweets mentioned confusion among airport officials and U.S. Border Patrol regarding their instructions.
The Guardian published the experiences of multiple Muslim men and women on a live blog. One such case was of Hamaseh Tayari, an Iranian national whose destination wasn't even the United States. Tayari, a UK resident, was returning to Glasgow after a vacation in Costa Rica when her transit visa was revoked as a result of her flight's route including a stop in New York. She will have to find an alternative route to get back home. "We had been saving for months for this holiday and it will cost me a month's salary just to get home," she said.
A Seattle-based Facebook engineer named Murtadha Al-Tameemi was visiting his family in Canada when found himself rushing back to the U.S. after receiving a "frantic call" from his immigration lawyer. "I didn't want to make a big deal because it was a happy night for our family but I told my mum the situation and that I didn't know when I would see her again," he said. "She told me everything is going to be alright and that it would all work out."
Google has reportedly recalled some 120 employees currently in the seven countries included in Trump's list.
One high-profile public figure also found himself among those affected — critically-acclaimed Iranian filmmaker Asghar Farhadi. Farhadi, who won a Golden Globe and Academy Award for his movie A Separation in 2012, will reportedly not be able to attend the 2017 Academy Awards. His film The Salesman is nominated for Best Foreign Language Film.
Trump's Muslim ban has already been condemned by multiple world leaders and U.S. legislators, and protests are being planned across the country. In the meantime, you can make a difference by donating to these Muslim advocacy groups.