Why Baking Bread Has Always Been A Feminist Act, According To 6 Female Bakers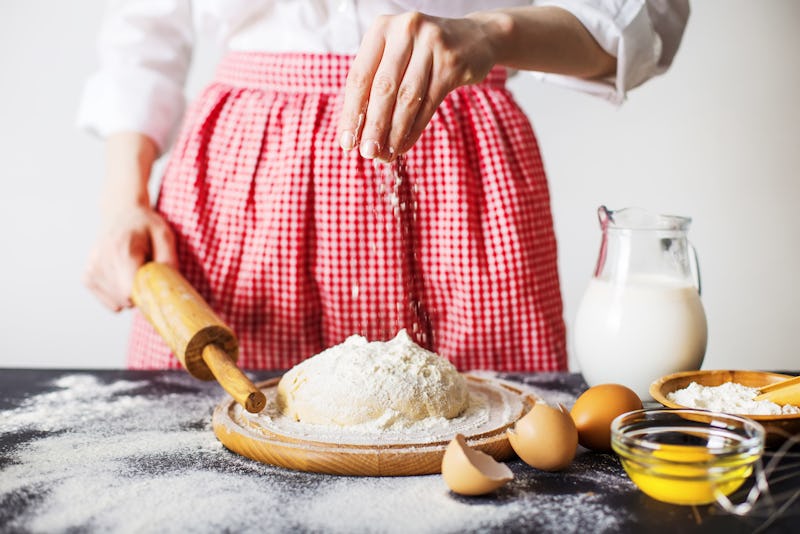 zadorozhna/Fotolia
Thanks to sexist stereotypes, baking and bread making are often reduced to "women's work." Even as recently as 2016, a significant number of people still believe the phrase "women belong in the kitchen," at least according to one study. Meanwhile, commercial pastry-making is often referred to as a "pink dungeon," as it's historically one of the few positions in a professional kitchen where women were accepted. But women are disrupting this systemic sexism by reclaiming the incredibly rich, feminist history of bread making — not because women "belong in the kitchen," but because women can be anywhere they want.
"Bread is one of the oldest prepared foods, and to know how to make this centuries-old art is very empowering," Leah Morrow, the executive pastry chef at Brooklyn Bread Lab, tells Bustle. "I like knowing that because I'm a bread baker, no matter where I go, that bread is a spoken language everywhere."
Dianna Daoheung, the executive chef and head baker of Black Seed Bagels, tells Bustle that bread making has historically brought women together. "Many people don't know this, but each member of a village had a very specific task in the baking process. It was not one singular person who finished one loaf from start to finish," Daoheung says. (Think of how tamales or dumplings are still made, with each member of a family contributing something to the process.) But, just as it was a collective pursuit over which women bonded, Daoheung says, women could have their character subjected to judgment based on how they would bake their bread — in some cultures, women who baked bread on Good Friday were thought to be blessed, and the bread baked on this day would have "magical" qualities. Using fermentation to leaven the bread was considered "not pure" or even "scandalous," according to Daoheung, and in the 19th century, using white flour meant a woman was unwholesome.
In many ways, because of this long history, baking bread has served as a way for young women to bond with the matriarchs of their families. Angela Garbacz, now the owner and head pastry chef at Goldenrod Pastries, tells Bustle the first time she recalls making dinner rolls was at five years old with her Polish grandmother — a formative experience that shaped her perspective as a professional pastry chef.
"I was raised by Italian and Polish women who absolutely knew their way around a kitchen," Garbacz says. "We had our hands in dough every weekend, talking through whatever was happening in our lives. I didn't realize it when I was young, but we were continuing what I see as an age-old tradition of women cooking together, and solving problems while they fed people."
"Part of my rituals every morning is to make my own arepas, or yucca bread. This keeps me close to my culture, and brings back beautiful memories of my childhood."
Passed down from generation to generation, baking bread is also a practice that has allowed some people to feel grounded in their ancestral roots, and connected to the history of their communities. For Adriana Urbina, the executive chef at De Maria, baking bread is a way for her to stay connected to her Venezuelan culture. "Part of my rituals every morning is to make my own arepas, or yucca bread. This keeps me close to my culture, and brings back beautiful memories of my childhood," she says.
Baking bread is something that many women find to be a personal, empowering, and often times uniquely sentimental experience. Daoheung says that when she is making bread — "something that has been around for centuries, and was one of the main products that elongated life" — she feels a sense of contentment, and connectedness with the world that she says she loses at times because of technology. Morrow sums up bread making as "amazing art that is only limited by your imagination."
Despite this empowering history, women who work in professional kitchens have repeatedly spoken out against the double standards female bakers and chefs face, and erasure of female pastry-makers in the culinary world. The website Restaurant Hospitality reported that an upcoming Netflix program called Chef's Table: Pastry recently came under fire for featuring only one female pastry chef — despite the fact that around 85 percent of baking and pastry students at the Culinary Institute of America are women.
"The shift from chore to hobby has enabled women to take back baking as a form of empowerment."
"All around the world, women really are the people who make the bread and do the baking at home, but we are not represented in the commercial sector," says Karen Bornarth, the training program director at Hot Bread Kitchen, a nonprofit that prepares women facing economic insecurity for careers in food. "There are plenty of things that women do unpaid work for, but as soon as there's an opportunity to make some money off of it, it's usually the men who are grabbing those opportunities."
Mallory Cayon, the executive sous chef at Sunday In Brooklyn, tells Bustle that while the kitchen can be a stressful environment, bread making is an activity that ultimately centers her. "Unlike the majority of products in the kitchen, you are working with a living creature" when you work with bread, she says. "Without perfect conditions, you have to continually adjust to what the dough is telling you. It can be a challenge at times, but I enjoy working with bread dough to create something special."
Though bread is no longer the staple it once was for some people, and baking still carries sexist connotations, bread making has been a source of solace and strength for women throughout history. Ultimately, Urbina says, "The shift from chore to hobby has enabled women to take back baking as a form of empowerment, using the process to develop a firmer idea of self, and a place in the world."
Women of all professions, in the kitchen and out, have found comfort, community, and culture while baking. Bread making is a universal language that is so personal for every individual, but it's also a unifying task from generation to generation — a labor of love for the whole community.