DeVos' Flip-Flop On Discriminatory Schools Is Too Little, Too Late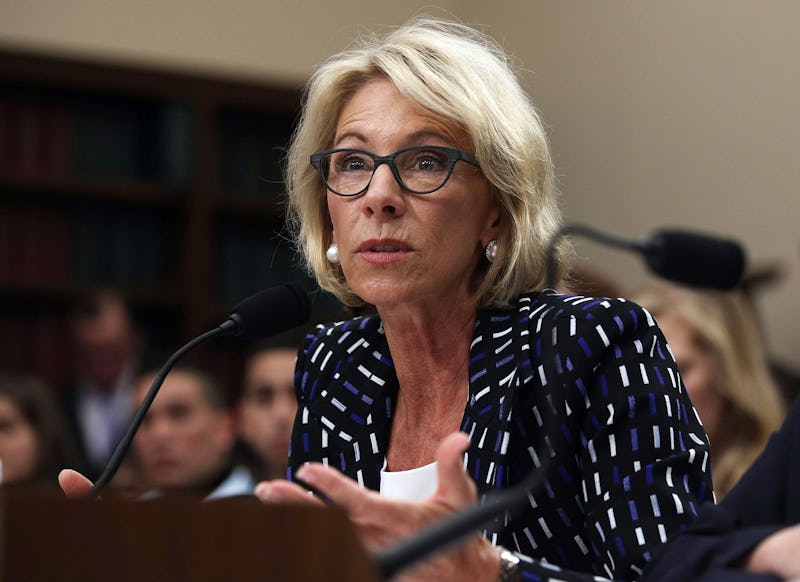 Alex Wong/Getty Images News/Getty Images
Education Secretary Betsy DeVos is no stranger to controversy ever since she was nominated to the position. During a Senate budget hearing on Tuesday, she made headlines for what sounded like a backtrack on one of her most controversial confirmation hearing answers, although on closer inspection, it's unclear how exactly she meant it. Basically, Betsy DeVos' apparent flip-flop on funding discriminatory schools isn't just too late to be taken seriously, it's unclear to what extent it's even a genuine reversal.
Here's the necessary background: During DeVos' confirmation hearings, one of the issues she faced was on whether schools that discriminated against students ― say, religious schools that might have an unkind view of LGBTQ students ― should be able to receive federal funds. The question was raised because some such religious and private institutions could be included in a conservative-minded school voucher program. And DeVos, enthusiastically in line with the Republican Party's orthodoxy on education policy, is a big proponent of vouchers.
Back in January, she declined to say where she stood on that question, sparking criticism from progressive education advocates and activists. Then, in late May, she once again failed to definitively state whether such schools should be able to receive federal funds during another Senate budget hearing, while defending deep cuts to a number of public education programs.
On Tuesday, however, DeVos went further than she ever had before in asserting that schools receiving federal funding must obey "the law," but it's impossible to conclude what that would mean, given that the extent of federal anti-discrimination law is still an open question. When DeVos was asked by Washington senator Patty Murray whether voucher schools needed to uphold the Disabilities Education Act, according to The Hill, she replied with the following statement:
Schools that receive federal funds must follow federal law. Period.
This reportedly spurred Oregon senator Jeff Merkley to question her somewhat more forcefully, asking whether her position would extend to LGBTQ students attending private schools, and argued that some of the relevant laws are vague, leaving uncertainty room for interpretation. DeVos demurred, saying the department wasn't going to be "issuing decrees."
On areas where the law is unsettled, this department is not going to be issuing decrees ... That is a matter for Congress and the courts to settle.
According to The Hill, when Merkley pressed her again, DeVos simply repeated what she said before, making it clear that her stance was fundamentally about deferring these questions either to the Congress, the Supreme Court, or back to the states.
Even though what she said on Tuesday appears more promising than in congressional hearings past, it's unclear whether this is an earnest shift in policy, or a semantic adjustment to avoid some of the blisteringly negative headlines she's already endured. And when it comes to student discrimination, a reluctant, hands-off Department Of Education is something a whole lot of people don't want to see.