Why Bill Cosby Apologized To His Accuser's Mother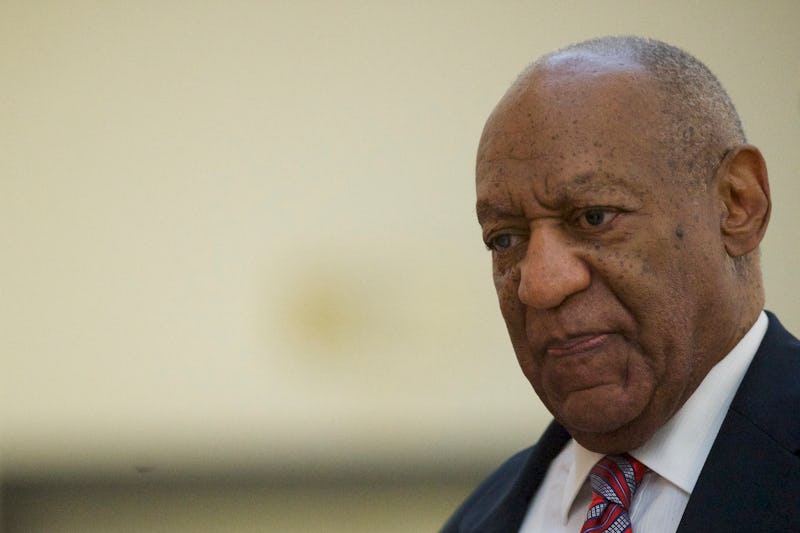 Mark Makela/Getty Images News/Getty Images
Bill Cosby apologized to the mother of one of his alleged victims, fearing she might consider him a "dirty old man," according to a 2005 deposition revealed Friday at his sexual assault trial. The mother of Andrea Constand, the woman he is accused of drugging and sexually assaulting, had called Cosby to ask about the allegations. Although he denies her claim and maintains that their encounter was consensual, Cosby said he apologized because he feared Constand's family would think badly of him — not as an admission of guilt.
Prosecutors from the Montgomery County district attorney's office read jurors in Cosby's sexual assault trial excerpts of a more than a decade-old deposition in which he recounts that exchange. In the deposition Cosby gave as part of a civil suit Constand filed against him in 2005, the entertainer said Constand's mother had called him to discuss an evening he'd spent with her daughter. Constand has alleged that Cosby gave her drugs that left her unable to move or say no and then sexually assaulted her in his home in 2004. Cosby has said he only gave Constand Benadryl and that their encounter was consensual.
"I apologized to this woman. But my apology was, my God, I'm in trouble with these people because this is an old man and their young daughter," Cosby, who is 36 years older than Constand, reportedly said. He also said he was "thinking and praying" the call wasn't being recorded.
Cosby admitted in the deposition to apologizing to giving Constand pills and touching her in a sexual manner because he thought her family was "coming at me for being a dirty old man," The Daily Beast reported.
Constand alleges that Cosby drugged and sexually assaulted her in his home when she was an employee at his alma mater, Temple University. Cosby, however, has maintained that he only had consensual sexual relations with Constand, that she never said "no," and that the only drug he ever gave her was Benadryl.
In May of 2016, a Pennsylvania judge ruled there was enough evidence to charge Cosby with three counts of felony aggravated indecent assault stemming from allegations Constand had made in 2005. Although nearly 60 women have levied allegations of sexual assault against him — all of which Cosby and his legal team have vehemently denied — it was the first time he faced a criminal charge. If convicted, Cosby could spend the rest of his life in prison.