Why Jared Kushner's Russia Testimony Is Happening In Secret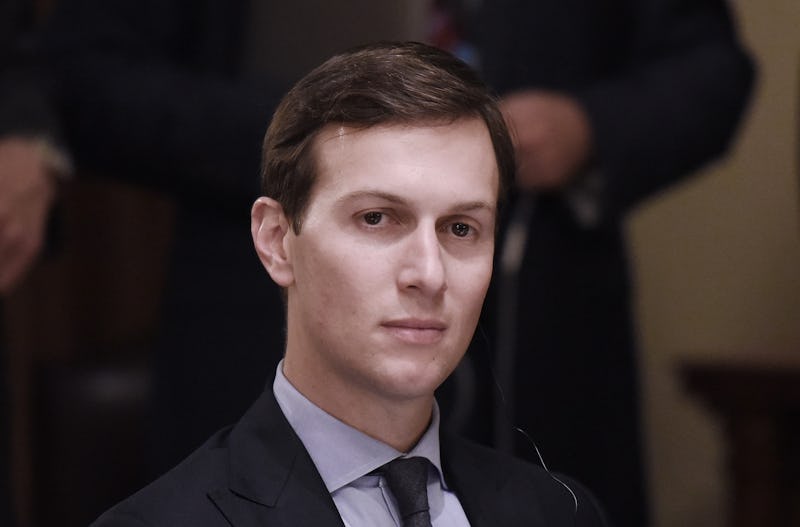 Pool/Getty Images News/Getty Images
On Monday, as part of the ever-expanding probe into the Donald Trump campaign's alleged Russia connections, Jared Kushner testified in front of the Senate Intelligence Committee, but unfortunately the public won't be able to tune in; it will be held behind closed doors. However, Kushner did release a copy of his prepared remarks to the media early on Monday, in which he vehemently denied any accusations of collusion.
I did not collude, nor know of anyone else in the campaign who colluded, with any foreign government. I had no improper contacts. I have not relied on Russian funds to finance my business activities in the private sector.
Kushner's Senate Intelligence Committee hearing comes just days after Donald Trump Jr. admitted that he and Kushner had met with a Kremlin-linked lawyer in June 2016, with the understanding that they would receive damaging information on rival Hillary Clinton's campaign. Also present at the meeting was a Russian-American lobbyist and an associate of a Russian developer with whom the Trump family business had collaborated.
In his prepared remarks, Kushner said that while he was in attendance — he arrived late and left early — the meeting focused on the topic of adoptions.
When I got there, the person who has since been identified as a Russian attorney was talking about the issue of a ban on U.S. adoptions of Russian children. I had no idea why that topic was being raised and quickly determined that my time was not well-spent at this meeting.
Kushner's statement even said that while he was at the meeting, he felt it was such a waste of his time that he emailed someone to get him out of there.
Reviewing emails recently confirmed my memory that the meeting was a waste of our time and that, in looking for a polite way to leave and get back to my work, I actually emailed an assistant from the meeting after I had been there for ten or so minutes and wrote "Can u pls call me on my cell? Need excuse to get out of meeting."
The president has maintained that he was not involved in the highly controversial meeting. He has also said that his son Donald Trump Jr. did not do anything wrong by taking the meeting.
Don is — as many of you know Don — he's a good boy. He's a good kid. And he had a meeting, nothing happened with the meeting. It was a short meeting as he told me — because I only heard about it two or three days ago.
So while the public unfortunately can't watch Kushner's testimony in front of the Senate intelligence committee, it seems likely that Kushner will maintain his innocence, given his prepared statement.
No part of the meeting I attended included anything about the campaign, there was no follow up to the meeting that I am aware of, I do not recall how many people were there (or their names), and I have no knowledge of any documents being offered or accepted.