Why Colin Kaepernick & The Dreamers Didn't "Lose" TIME's Person Of The Year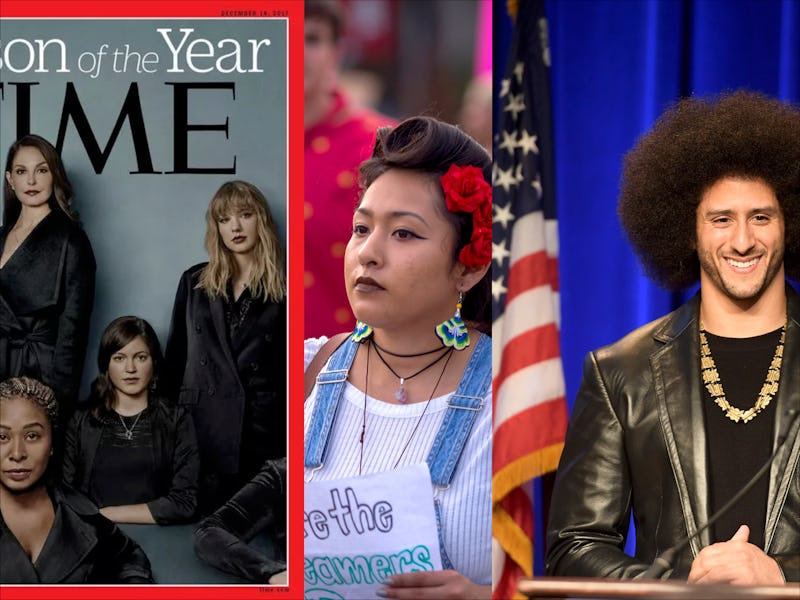 TIME's Person Of The Year honor is designed to recognize the figure or figures who made "the greatest impact on the news" this past year. Even so, it's often viewed as a popularity contest, most famously by President Donald Trump, who in 2015 tweeted sulkily, "I told you @TIME Magazine would never pick me as person of the year despite being the big favorite." (Other 2017 "winners" included Kim Jong-un, who is nobody's favorite.) The Person Of The Year is intended to be the year's biggest newsmaker — and Colin Kaepernick and The Dreamers not winning TIME's top spot does not mean they lost.
Both Kaepernick and The Dreamers (the name bestowed upon DREAMers by TIME) were nominated, along with Jeff Bezos, Patty Jenkins, Robert Mueller, and more. Kaepernick was shortlisted for the winning title, but The Dreamers were not; in fact, The Dreamers were one of only three nominated figures that didn't even make TIME's shortlist.
If you argue that one movement should "win" over another, you're tacitly suggesting that the rights of one protected group is more important than another.
This isn't a knock on The Dreamers, on Kaepernick, on the Silence Breakers, or on TIME. If a person or a movement had deserved to be named Person Of The Year and wasn't, that's on us — for not elevating them to those heights in the national conversation. This is why the Silence Breakers' win is so monumental: By naming these women (and men) the chief newsmakers of the year, TIME is tacitly acknowledging that #MeToo will beat out Trump in terms of historical significance.
What TIME is also admitting by crowning the Silence Breakers the winner is that the #MeToo movement superseded #TakeAKnee, as well as the movement to give DREAMers back their rights. Again, this is not a misstep by TIME, because TIME set out only to name the most impactful figures of the year. If you believe that #TakeAKnee should have been the defining movement of 2017, then you can and should find ways to elevate the rights of minority Americans in 2018.
It's also ethically problematic to pit the rights of minority groups — women, black Americans, undocumented immigrants in America, and Americans of color — against one another. If you argue that one movement should "win" over another, you're tacitly suggesting that the rights of one protected group is more important than another. Fundamental to equality is the notion that we must all be equal, or nobody is free at all.
Perhaps we should approach TIME's Person Of The Year as less of a competition, and more of a lens by which to view the defining themes of the past year. In that way, all of the "winners" and "losers" become talking points: Why wasn't #TakeAKnee given the headlines that Kim Jong-un was? Why weren't DREAMers a national talking point to the extent that Xi Jinping was? If a critical issue didn't get the attention that others did, how can we seek to change that in 2018?
It's easy to blame TIME for elevating certain figures and movements above others — it absolves us, as a society, of blame. Don't be fooled: It doesn't help to shoot the messenger. If Trump beat out Kaepernick, in spite of showing not even half the grace and grit Kaepernick did in 2017, then do something about it in 2018. If you're angry that DREAMers lost ground in 2017 because they lacked public attention, consider TIME's list a wake-up call.