How This Author Is Challenging The YA Status Quo With Her #BlackLivesMatter Novel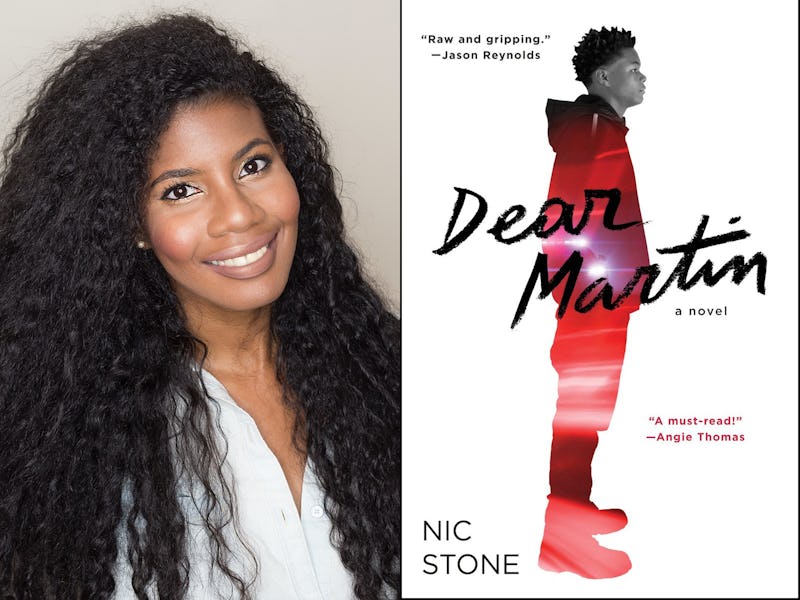 Author Nic Stone, photo courtesy of Nigel Livingstone
Some writers stumble upon inspiration. Nic Stone was "punched in the forehead" by it. Stone's debut novel, Dear Martin, shadows Southern high schooler Justyce McCallister through a year bookended by racially motivated violence. Desperate to make sense of being a black teenager in the current political climate, Justyce begins writing letters to the spirit of Dr. Martin Luther King, Jr. The book hit shelves in mid-October, and it was an instant New York Times Best-seller.
The path to a writing career was not a clear one for Stone. Growing up in a suburb of Atlanta, she tells Bustle she was often the only African-American student in her public school's advanced placement classes. By the time she hit high school, she was struggling to relate to many of the "classics" they were expected to read in English class. After several years spent mentoring teens and a transformative trip to Israel, Stone began writing out of "boredom" from a lack of diverse stories, particularly for young adults.
"I think it's safe to say that historically, literature has indicated who in any given society is expected to be literate," Stone tells Bustle. And subsequently, who is considered "worthy" of attention, of power.
Justyce, a scholarship student at a predominantly white Atlanta private school, faces a similar struggle. He's at the top of his class, a Yale University hopeful. He's president of the debate team. But he's not exempt from the pervasive racial profiling that permeates so much of American culture. In one scene, he's accused by a white classmate of lying about his SAT scores. Stone experienced, and was accused of, the same thing.
Dear Martin by Nic Stone, $12, Amazon
"I had to find out the hard way that there's no 'earning' your way out of racism, that no level of achievement would make me immune," says Stone.
In many ways, Stone sees herself in Justyce, but she also made a considerable effort to capture not only what it's like to be a black teenager on the cusp of manhood, but how they talk to one another. Her process for that element of her book was straightforward, if not a deeply under-appreciated tactic.
"I talked to them for one thing. And I listened," she says.
But because she had sold her book as a proposal, rather than a finished product, Stone says she was writing and researching simultaneously over an intense, eight-week period. It was an emotionally, physically, even spiritually devastating ordeal, one that she has little interest in repeating.
"Looking into American history and having to face some of the stuff my people went through was excruciating," she says. "And mining my own anger and frustration for racism I've personally faced was even worse." She barely showered or slept, and rarely saw her child, describing herself as "a raging, fire-breathing trashcan of a human."
But Stone made it out the other side and brought along with her a book that has already sparked a fire within generations of readers. She points to a particular Goodreads review, from a black teenager named Ezra as evidence of these "humbling" reactions. "Reading this relieved some of my anger," he wrote. "Because I felt seen."
"Just epic," says Stone.
She is quick to point out, though, that Dear Martin is the story of one boy: Justyce. "Black boys aren't a monolith" she says. "It's an important thing to remember."
It's a truth that's becoming increasingly recognized within the notoriously white-washed YA genre, which, in 2017, saw the arrival of diverse mega-hits like Angie Thomas' The Hate U Give and John Green's Turtles All The Way Down. At this point, Stone doesn't see a dominant narrative within YA, and for her next book, she plans on continuing the trend of untold stories.
Though she couldn't relay much, Stone says it centers around a love triangle and explores the question of who we're allowed to love. It's a book, and a lesson, she wishes she had had in her own era of teenhood.