Adele Restarts Her George Michael Tribute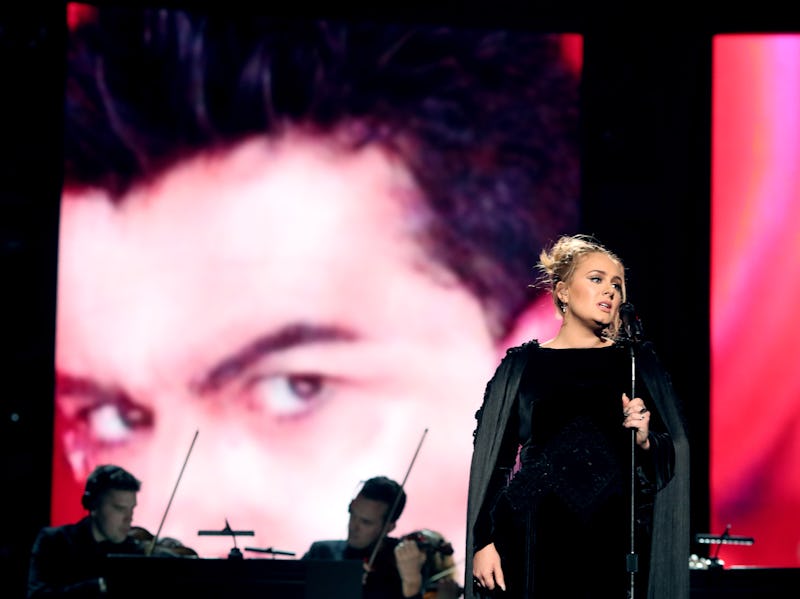 Christopher Polk/Getty Images Entertainment/Getty Images
Last Christmas, pop music lost one of its most beloved icons: George Michael, who died on Dec. 25, 2016 at 53 years old. Fans were devastated, but his hit songs from the '80s and '90s have endured and proved that the British singer/songwriter was a legend. At the 2017 Grammys on Sunday, Adele paid tribute to George Michael with a touching performance of his '90s hit "Fastlove." But she needed to restart to get it right. After starting the song, she stopped, said a bleeped out expletive, and said to the audience: "I know this is live TV. I'm sorry, I can't mess this up for him. I'm sorry for swearing."
Later, Adele apologized again as she accepted her Grammy for Song of The Year. "It's George Michael," she began her speech. "I love him. He means a lot to me, so I'm really sorry if I offended anyone." As a fellow British singer and songwriter, perhaps Adele wanted to make sure she hit all the right notes for the legendary George Michael. Like many people, Adele may have grown up listening to his hit songs and watching his iconic music videos. No matter her reason for restarting her tribute, Adele was amazing as she belted a slowed-down version of George Michele's 1996 dance hit "Fastlove." To refresh your memory, "Fastlove" is a pulsing club song about trying to find some no-strings-attached relations, but in the bridge, the singer admits to missing a lost true love.
And Adele showed that the song can also be applied to one of the most beautiful tributes paid to George Michael.
George Michael's career began in the 1980s when he was a member of the pop duo Wham! with his childhood friend Andrew Ridgeley. Together, they produced hits like "Everything She Wants," "I'm Your Man," "Wake Me Up Before You Go-Go," and even "Careless Whisper," which was released as a George Michael solo single co-written with Ridgeley. In 1987, George Michael released his legendary album Faith, which boasted hit singles such as "I Want Your Sex," "Faith," "One More Try," "Monkey," and "Father Figure." In 1990, his album Listen Without Prejudice, Vol. 1 gave the world his smash hit single "Freedom '90," as well as the accompanying supermodel-filled music video.
Watch Adele's decision to restart her tribute in the video below.
George Michael was definitely a force in pop music that will be missed.