The Meaning Of Cardi B's Daughter's Name Is More Significant Than You Think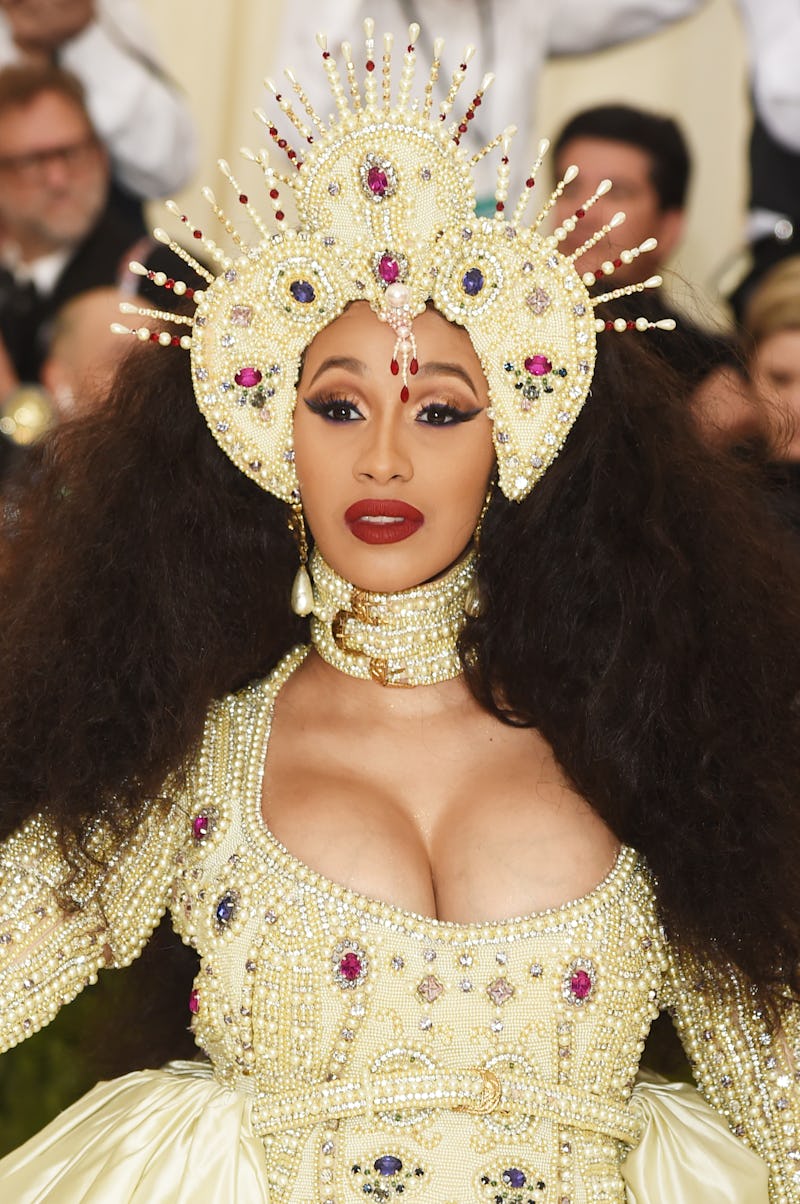 Jamie McCarthy/Getty Images Entertainment/Getty Images
Rappers Cardi B and Offset officially announced the arrival of their baby girl. While they have not posted a photo of the new addition, but they did reveal her name. On Instagram, Cardi B shared that her baby is named Kulture Kiari Cephus. Just like every decision Cardi B makes, her fans can't help wondering why she named her daughter Kulture Kiari. As it turns out, the name holds special meaning for the pair, especially to Offset.
UPDATE: Later on July 11, Cardi B tweeted about why she named her daughter Kulture:
"Kulture [heart emojis] anything else woulda been basic Okrrrrr"
EARLIER: As of this moment, neither parent has officially explained their thinking behind their daughter's first name. Nevertheless, the baby's middle name and last name have a very obvious origin: Offset's given name is Kiari Cephus. That part of the mystery is solved, but what about her first name?
Of course, the newborn's parents are a major part of pop culture, but is there more to it than that? Most likely. At this point, there's only speculation about Kulture's name story, but there are some plausible explanations.
Kulture's middle name is from her dad, but the baby's first name could also be in honor of her father as well. Offset's group Migos released an album called Culture in 2017 and another one titled Culture II in 2018. Offset isn't Kulture's only family member in the group. Offset's cousin Quavo and Quavo's nephew Takeoff are the other members in the trio. Naming the baby after albums made by her father and two other relatives is a nice thing to do.
Those album titles start with the letter "C," but it would be logical to assume that Kulture was named in homage to the group's music. Why did they choose to spell Kulture with a "K"? Sure, they could have just desired to give their daughter a unique name by changing up the spelling a little bit. Cardi B's given name is Belcalis Almanzar, but since her stage name starts with the letter "C," so they could have kept the traditional letter "C" in her honor.
Kulture is the first child that Cardi B and Offset share together, but she does already have siblings. Offset has three children from previous relationships. His oldest son is named Jordan, but his son Kody and daughter Kalea both have "K" names. Maybe he wanted to keep the streak of "K" names going to bond the youngest siblings.
During an April appearance on The Ellen DeGeneres Show, Cardi B confirmed that her husband is the one who chose their daughter's name. The Bronx native told the talk show host, " My dude named the baby."
Obviously, she didn't reveal her daughter's name during that episode, but she did emphasize, "I really like the name." Well, that's good. It would make sense for her to "really like" her own child's name.
During the same interview, Cardi B claimed, "I'm gonna let him say the name since he named the baby." Fast forward a few months and that is not actually what happened since Cardi B was the parent who first posted about Kulture's birth. Nevertheless, that could be considered a fair trade off: he chose the name and she got to do the big reveal.
Even though Cardi B was the first one to post about Kulture's birth, Offset did share a photo on his own Instagram page. He didn't post a photo of his daughter, but he did share a picture of his wife from a maternity shoot. He didn't share any new information in the caption, but he did write, "K U L T U R E 7/10/18 K I A R I C E P H U S."
Now that the baby's name has been revealed, Cardi B and Offset's fans are just waiting to get a first glimpse of Kulture Kiari in addition to some confirmed back story about her unique name.