This Cardi B Tweet Sheds A Little More Light On Why She Named Her Baby Kulture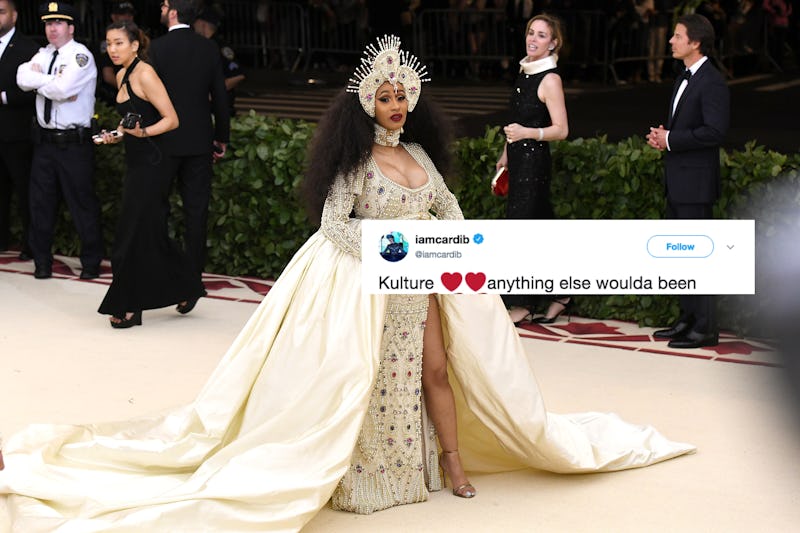 Noam Galai/Getty Images Entertainment/Getty Images
Rapper Cardi B gave birth to her first child with fellow rapper Offset early Wednesday morning, and the name of her baby girl began making wakes immediately. The full name of her baby girl is Kulture Kiari Cephus, which has had people wondering why Cardi B named her baby Kulture, among other things. Kulture is 25-year-old Cardi B's first child.
The last two names Kiari and Cephus are a little bit less mysterious, once you learn what Offset's legal name is: Kiari Kendrell Cephus. But still, that doesn't account for the first name Kulture. On Wednesday evening, Cardi B took to Twitter to explain the name of her baby— sort of.
"Kulture," Cardi B tweeted, followed by three emoji hearts, then added, "anything else woulda been basic Okrrrrr"
So that kind of sheds some more light on Cardi B's intentions. She certainly didn't want an ordinary or common name, and as Britni Danielle tweeted, "Cardi B's name is Belcalis Marlenis Almanza and Offset's name is Kiari Kendrell Cephus, they couldn't just name their baby Jennifer....welcome to the world, Kulture!"
But some people are speculating that there's more to Kulture's name than simply Cardi B wanting her baby to be the opposite of basic.
According to UsWeekly, baby Kulture might have gotten her named from Migos' two most recent albums, Culture and Culture II. Migos is the rap trio of Offset and his two family members Quavo and Takeoff. What's more, UsWeekly notes that baby Kulture and her father Offset have the same three initials: KKC.
Though Cardi B and Offset kept the details of their baby name under wraps until the very end, they knew what they wanted to call her for at least several months. On The Ellen Degeneres Show in April, Cardi B explained that Offset was the one to come up with the name for their baby initially.
"My dude named the baby," she said to Degeneres. "I really like the name." But when Degeneres asked Cardi B to reveal the name, she declined, saying, "I'm going to let him say the name, since he named the baby."
Seeing as how Degeneres' first guess for Cardi B was "Susan," there's no doubt that Cardi B was holding in laughter during the guessing portion.
This isn't the first time that Cardi B and Offset have proven themselves to be total pros at keeping a secret. Last October, when Offset dropped down to one knee during a concert for a public proposal to Cardi B, fans had no idea that the two rappers were already married.
Their secret marriage was only spoiled when TMZ posted a picture of their marriage certificate this June, with the date of the certificate dated in September. At that point, Cardi B took matters into her own hands, tweeting a long explanation in which she explained that their decision to marry one another was sudden, that she didn't have a dress or a ring, and that it was only the two of them and her cousin at the wedding.
There are so many moments that I share with the world and then there are moments that I want to keep for myself! Getting married was one of those moments! Our relationship was so new breaking up and making up and we had a lot of growing up to do but we was so in love we didn't want to los each other, was one morning in September we woke up and decided to get married.
The new parents have yet to post a photo of baby Kulture, but it's safe to say that baby will have some amazing fashion and a larger-than-life personality.