Clare & Benoit From 'Bachelor Winter Games' Broke Up & Were VERY Open About What Happened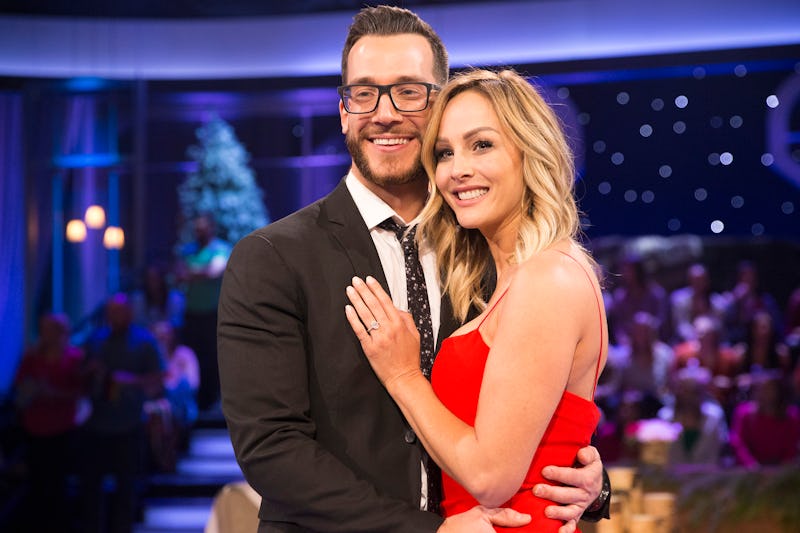 ABC
Another Bachelor Nation couple has unfortunately called it quits. Bachelor Winter Games stars Clare and Benoit have broken up after a little over a month-long engagement. Their joint statement about the matter is sure to leave you emotional for what could have been for the sweet pair.
The two reality stars released a statement together on Instagram to let their fans know about the breakup. Based on their post, it doesn't sound like there were any hard feelings with the split. Clare Crawley and Benoit Beauséjour-Savard first related that they knew that many of their fans were wondering about their current relationship status. They wrote, in part:
It's with a heavy heart that we have mutually decided to end our relationship. We think the world of each other, and we were hoping we could make this work. I'm sorry that this may not be what you want to hear, but it's our truth. Just know there are no negative feelings here, we are simply two people who believed in love, and were open enough to give it a chance.
This news will likely break more than a few hearts of those who were rooting for Clare and Benoit following their whirlwind Winter Games stint.
The last time Clare or Benoit posted about each other on Instagram coincided with the pair's engagement in February. Although, that may not have been a major sign that there was trouble in paradise, as both are pretty private and not incredibly active posters on the social media site.
Benoit did recently joke about his upcoming marriage on March 18 in an Instagram post. In the photo, the Winter Games contestant could be seen kissing his beer with the words "Nouveaux Mariés" (Just Married) framing the shot. He captioned the post "First wedding practice," an obvious joke but still a tie back to his then-upcoming wedding. However, Clare was not included in the snap or tagged in the post.
Clare and Benoit's road to engagement started on Winter Games. The two hit it off almost immediately on the ABC series. Who could ever forget their adorable little cooking session together? It really did seem like there was a spark there. Although, things didn't go entirely smoothly on the show. Clare was torn between Benoit and fellow contestant Christian Rauch during the course of the series. This love triangle eventually led to Clare and Benoit calling it quits on the show.
But, even during the pair's original breakup, you could tell that they cared about one another. The Canadian Bachelorette star even told her that he couldn't stand to be in the house if he wasn't going to be with her. It was such an incredibly emotional breakup.
While the two parted ways on Winter Games, that wasn't the end of their love story. Since both of them walked away single after the show (the whole Clare and Christian thing didn't work out), they reunited and started up a relationship after their time on the show. Their relationship came as a surprise to their fellow Winter Games contestants and viewers everywhere when they appeared on the after-show for the finale. But, that wasn't the only surprise they had in store.
Benoit took Clare aside and told her that he didn't believe in love at first sight until he met her. He told her, "You never gave up on love... And I would never, ever give up on you." Then, Benoit told her that he loved her in French (!!!) and got down on one knee to ask her to marry him. Everything about it was the definition of romantic.
So, for fans of Clare and Benoit and their Winter Games journey, the news of the pair's split may come as a shock. Thankfully though, based on their joint statement about the breakup, it doesn't seem like there were any hard feelings about the way things panned out.