Jennifer Aniston & Justin Theroux Are Being SUPER Honest About Why They Broke Up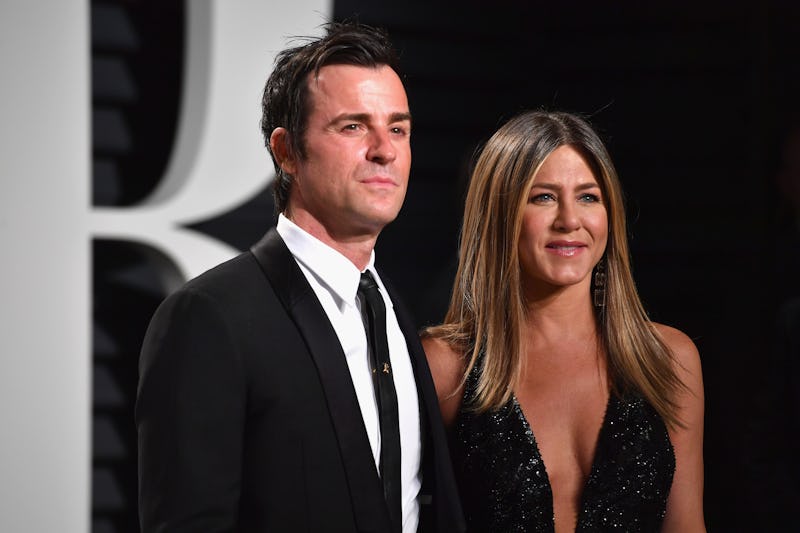 Pascal Le Segretain/Getty Images Entertainment/Getty Images
Just a day after Valentine's Day, one of Hollywood's biggest couples announced that they're going their separate ways. Jennifer Aniston and Justin Theroux are separating, and the two have issued a joint statement about the decision. If you're wondering why Aniston and Theroux split, they've decided to share their side of the story with the public, instead of letting rumors get out of hand.
Here's the statement in full, as provided to Bustle:
"In an effort to reduce any further speculation, we have decided to announce our separation. This decision was mutual and lovingly made at the end of last year. We are two best friends who have decided to part ways as a couple, but look forward to continuing our cherished friendship. Normally we would do this privately, but given that the gossip industry cannot resist an opportunity to speculate and invent, we wanted to convey the truth directly. Whatever else is printed about us that is not directly from us, is someone else's fictional narrative. Above all, we are determined to maintain the deep respect and love that we have for one another."
Based on that, it sounds like there's no bad blood between these two. The statement notes that Aniston and Theroux still consider themselves "two best friends," and that they still have "deep respect and love" for each other. Relationships don't always work out, but their announcement proves that the two of them are trying to make the best of the situation.
Theroux and Aniston got married in August 2015, following a three-year engagement. It's not clear from the statement exactly why they're breaking up, though they emphasize that the separation was a "mutual" decision. The Associated Press was the first to report the split news.
Naturally, plenty of people were heartbroken about the news and decided to tweet about the separation. (And a number of people couldn't resist bringing up Brad Pitt, to whom Aniston was married from 2000 to 2005.)
Aniston and Theroux's statement about their separation and the "gossip industry" goes hand in hand with things Aniston has said in the past, too. In a 2016 op-ed for The Huffington Post, Aniston wrote that she was tired of tabloids speculating about whether or not she was pregnant.
"Addressing gossip is something I have never done. I don't like to give energy to the business of lies, but I wanted to participate in a larger conversation that has already begun and needs to continue," Aniston wrote at the time. The statement about the separation is similar in tone — Aniston and Theroux don't necessarily want other people's noses in their personal lives, but they also know how the celebrity gossip machine works.
Theroux echoed a similar sentiment in an interview with United Airlines' magazine Rhapsody last April. "I think it would be funny to do a compilation of those headlines. Let's assume these characters we play in the tabloids are real people. I would love to take them to a shrink and have them analyzed," Theroux told Rhapsody. "Like, are these people insane? Yes, they fight every day, they're constantly getting divorced, they're hoarding children at this point. Imagine what those people would actually be like!" He makes a fair point — we're constantly speculating about celebrities' personal lives, and that's something he and Aniston hope to avoid with their separation statement.
As The Wrap points out, Aniston and Theroux met on the set of Tropic Thunder, and they started dating in 2011. Fans might not know exactly what happened — their marriage is their own business, and their statement sounds like they want to keep things private — but it sounds like they're parting ways amicably. And, really, isn't that all anyone can ask for from a breakup?