Here's Why John Kelly Wanted Scaramucci Out ASAP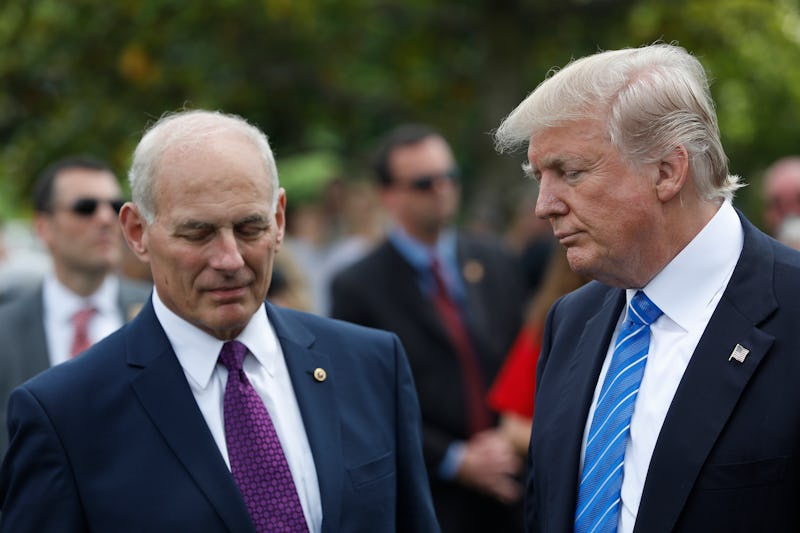 Aaron P. Bernstein/Getty Images News/Getty Images
On Monday, according to The New York Times, President Donald Trump fired his new communications director Anthony Scaramucci at the request of John Kelly, his new chief of staff. Kelly, a no-nonsense former Marine general who had served as secretary of the Department of Homeland Security, was seen as having a style that conflicted with Scaramucci's flamboyant and often-times profanity-laced rants.
"Anthony Scaramucci will be leaving his role as White House Communications Director," White House press secretary Sarah Huckabee Sanders said in a statement Monday afternoon, according to CNN. "Mr. Scaramucci felt it was best to give chief of staff John Kelly a clean slate and the ability to build his own team. We wish him all the best."
A White House official told the cable news network that Kelly felt Scaramucci was not disciplined enough and had little remaining credibility. According to a Politico report from Saturday, Kelly and Scaramucci may have had professional differences that could not be reconciled. "[Kelly] strongly believes in discipline and a strong chain command," President Bill Clinton's Chief of Staff Leon Panetta said of Kelly, who was his military aide, in an interview with Politico. "He has little tolerance for chaos and people who don't follow orders."
After taking the White House communications director 10 days ago, Scaramucci became infamous for his manner of speaking. "The swamp will not defeat him," Scaramucci told New Yorker writer Ryan Lizza, referring to himself in the third person. "They're trying to resist me, but it's not going to work. I've done nothing wrong on my financial disclosures, so they're going to have to go fuck themselves." Scaramucci also lambasted former Chief of Staff Reince Priebus, whom Kelly replaced, in a demeaning, highly ad hominem way. "Reince is a fucking paranoid schizophrenic, a paranoiac," Scaramucci told The New Yorker's Lizza.
A few days ago, when Politico asked a Kelly ally if the new chief of staff and Scaramucci could find common ground, that person said: "They're both Catholic, but that's probably about it." It seems to be the case that Kelly himself did not think the two men could work together given their distinctive personal and professional styles.
According to The New York Times, the president still values Scaramucci — who was so loyal to Trump that he threatened to purge the entire White House communications department to prevent leaks — and hopes to find a new role in the administration for the New York financier and hedge-fund salesman.