Star Wars Fans Think Kelly Marie Tran Was Harassed Off Instagram & They Are FURIOUS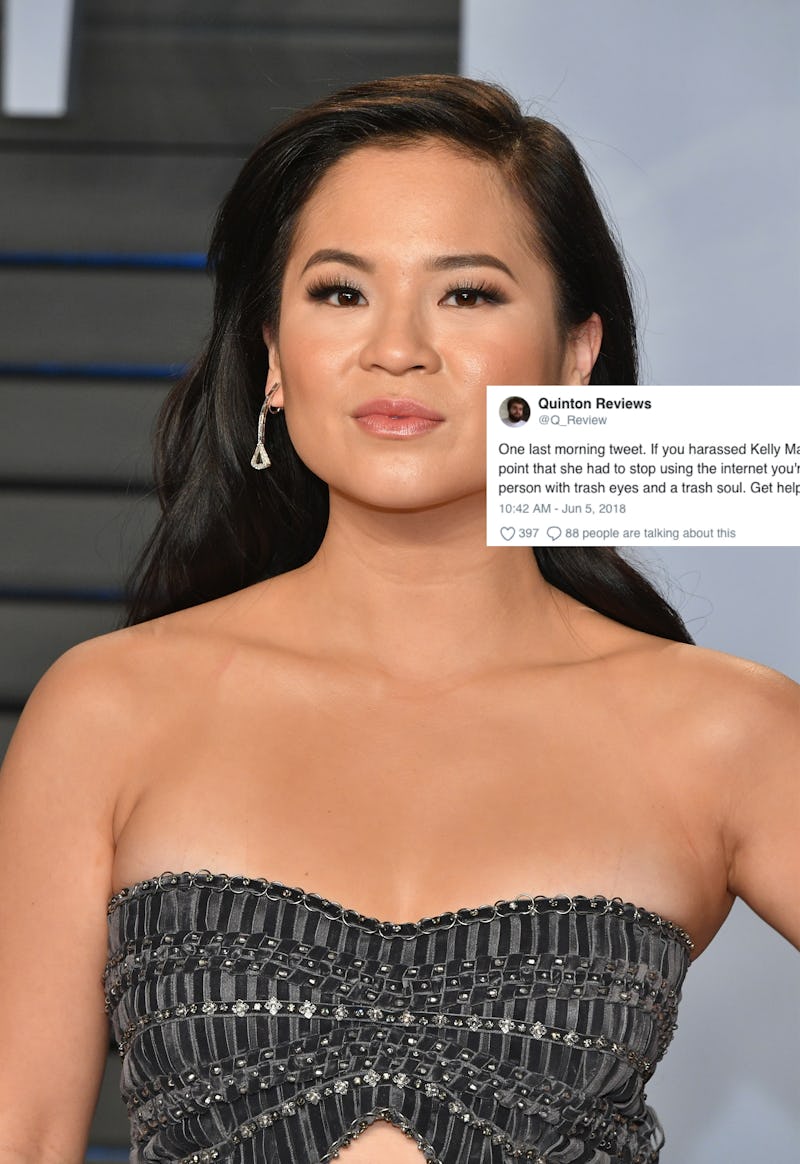 Dia Dipasupil/Getty Images Entertainment/Getty Images
Plenty of Star Wars fans haven't been shy about the fact that they don't love Rose Tico from The Last Jedi, and unfortunately, it's reportedly affecting the actor who plays her. On Tuesday, Kelly Marie Tran deleted her Instagram posts, reportedly due to harassment she's gotten online. Bustle has reached out to Tran's rep for comment, but has not yet received a reply.
Since The Last Jedi hit theaters last December, there have been a lot of mixed feelings about Rose's character, a maintenance worker for the Resistance who lost her sister during a battle with the First Order. Rose ended up fighting alongside Poe Dameron and Finn in the movie, and fans have criticized her character (and the screen time she got) and whether or not she actually needed to be part of the story. But instead of simply focusing the conversation around Rose, Tran herself has ended up receiving the brunt of the hate.
So far, Tran has yet to speak out about her decision to remove her posts, but a Twitter account called Star Wars Facts seems to be where the idea that Tran deleted her posts because of "months of harassment she has received for her character Rose" originated from.
If the replies to their tweet are any indication, this theory behind why Tran would delete all of her posts certainly makes sense. Some fans acted like this was their plan all along, while others simply said that she deserved it. But no one deserves to be the subject of comments like the ones Tran has received, especially after her role in the movie was groundbreaking for the Star Wars franchise. Unfortunately, women and minorities haven't been well represented in Star Wars films, so Tran (and Rose) becoming part of The Last Jedi was a step in a more diverse direction.
However, even though there's a lot of hate out there directed at Tran, even now that she's removed her Instagram post, there's a lot of support, too. Many Star Wars fans are furious at the way she's been treated, and they're missing her posts already.
Tran has opened up about how difficult coming into a beloved franchise like Star Wars has been for her in the past, including all the hate she's gotten. In a March interview with GQ, Tran said:
"When I first started seeing these really acidic, misogynistic, racist comments, I remember thinking how unfair it was and wondering whether to respond. But this has been my saving grace: when it starts feeling like too much, I remind myself to look outward. My biggest coping mechanism is just looking out at the world and realizing none of this is really about me... this would happen to anyone who put themselves out there."
And where it relates specifically to Instagram is something Tran has addressed, too. E! pointed out that one of Tran's deleted Instagram posts from last October (before The Last Jedi hit theaters) included her feelings on social media and her fears about going public online. According to the site, she wrote:
Guys, can I tell you a secret? I avoided public social media for a long time purely because I was afraid. I was terrified of being picked apart, of being scrutinized, of being seen. It took me a year of self-work — and some really amazing, supportive friends — to make me realize that it's none of my business if people like me or not. It doesn't change my goals, my dreams, what I want to do with the opportunities I've been given. YOU ARE ENOUGH. Love yourself and embrace your messiness. That's where your power lies! (I honestly just wrote this in my journal as a reminder to myself, because hey, I'm mostly a strong person, but life happens, and I'm still figuring it out as I go.)
It's OK not to agree with where Star Wars goes as the franchise continues to grow, but it's not OK to let those feeling bleed over and start affecting real people. (And that's in addition to the blatantly misogynistic and racist comments, which are unacceptable for obvious reasons.) It's important to separate the character from the actor, especially since, as Tran has said before, people's words and comments do affect her. Cyber bullying should never be tolerated, whether it's toward a celebrity or not.
Maybe eventually, Tran will return to social media — after all, she did only delete her posts and not her entire account. But until then, it's clear that there are definitely fans who will miss her on Instagram.