Here's What Happened With Meghan Markle's First Marriage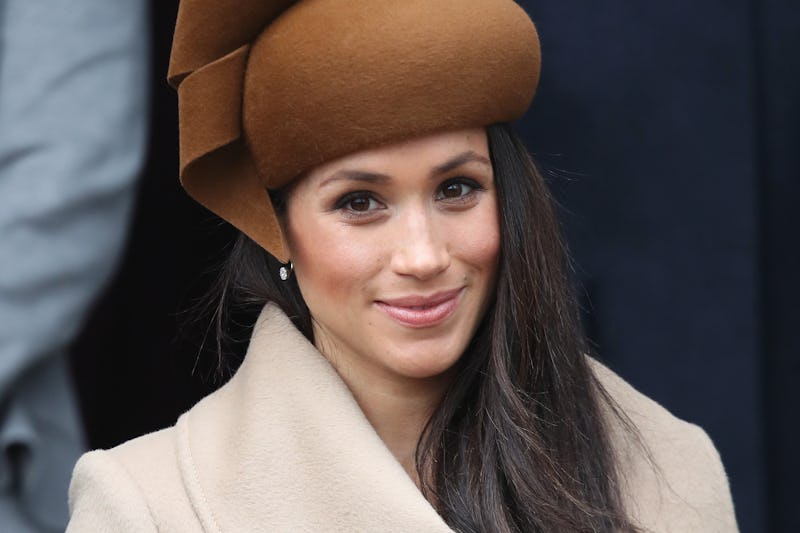 Chris Jackson/Getty Images Entertainment/Getty Images
While walking down the royal aisle in front of millions of people will no doubt be nerve-racking, Prince Harry's betrothed was married once before — so, at least she kind of knows what to expect. But as the wedding gets closer, fans of the royal couple may want to know why Meghan Markle got divorced from her first husband, Hollywood producer Trevor Engelson. And while Markle and Engelson were tight-lipped about their separation when it was announced in September 2013, it appears as if busy schedules and long distance-living may have both been factors.
According to Us Weekly, Markle and Engelson were together for more than six years before getting married at an intimate ceremony in Ocho Rios, Jamaica, in September 2011. At the time, Engelson co-owned Underground Films & Management, which managed clients in the film industry, and produced films like Remember Me (starring Robert Pattinson, Emilie de Ravin) and License to Wed (starring Robin Williams, Mandy Moore, John Krasinski). Markle had only recently been cast as Rachel Zane in Suits when she and Engelson wed, and while the two first met and lived in Los Angeles (where Engelson's company was based), Markle was soon forced to spend most of her time filming Suits in Toronto, Canada.
Anyone who has ever been in a long-distance relationship will tell you that it's far from easy. Pair that with being newly married, the demands of Engelson's Hollywood business, and Markle's budding small-screen career, and it's easy to imagine how they'd face some struggles. An interview with one of Markle's oldest friends, however, paints a bit of a different picture.
According to the Daily Mail, Ninaki Priddy served as Markle's Maid of Honor in her 2011 wedding to Engelson. Priddy spoke to the British tabloid about her life-long friendship with Markle, and said they'd "been like sisters since [they] were two years old." Priddy reiterated the assumption that distance proved difficult for the newlyweds, but said that Engelson "was traveling to Toronto every few weeks and would have walked the earth to make their marriage work."
Markle and Priddy are no longer in contact, but Priddy ultimately blames her childhood best friend for the demise of her marriage to Engelson. "'I don't believe she gave him enough of an opportunity," she said. "I think there was an element of 'out of sight, out of mind' for Meghan. The way she handled it, Trevor definitely had the rug pulled out from under him. He was hurt."
Regardless of how much truth there is to the way Priddy sees things, the couple ultimately cited "irreconcilable differences" in their 2013 divorce, according to E! News. In 2014, Engelson began dating Baywatch actor, Charlotte McKinney, according to AOL, and the Los Angeles Times reported that Markle moved on with celebrity chef, Cory Vitiello, before getting together with Prince Harry in 2016.
Despite having maintained some semblance of privacy in regards to the details of their divorce up until now, we may soon be getting a much bigger glimpse into Engelson's side of the story. In September, Deadline reported that Markle's ex-husband was producing a pilot for Fox, and the premise of the "fictional" comedy sounds awfully familiar: "Divorce is hard. Sharing custody is harder. Sharing custody with the British Royal family when your wife marries a prince, in the unforgiving spotlight of London's tabloid media, is next level."
I don't know about you, but I'd definitely watch that show because — oh, wait — we're pretty much already watching that show happen in real life. Of course, Markle and Engelson never had any children together, so that part is definitely fictional. But the other details of Engelson's as-of-yet untitled project were clearly based on real-life experiences — not that that's anything new for writers to do, but it'll be interesting, at the very least, to see how the show plays out.
While we may never know what actually went down before Markle and Engelson got divorced, hopefully it ended up being a valuable learning experience for the both of them.