Why Sasheer Zamata's Quiet 'SNL' Exit Raised Some Eyebrows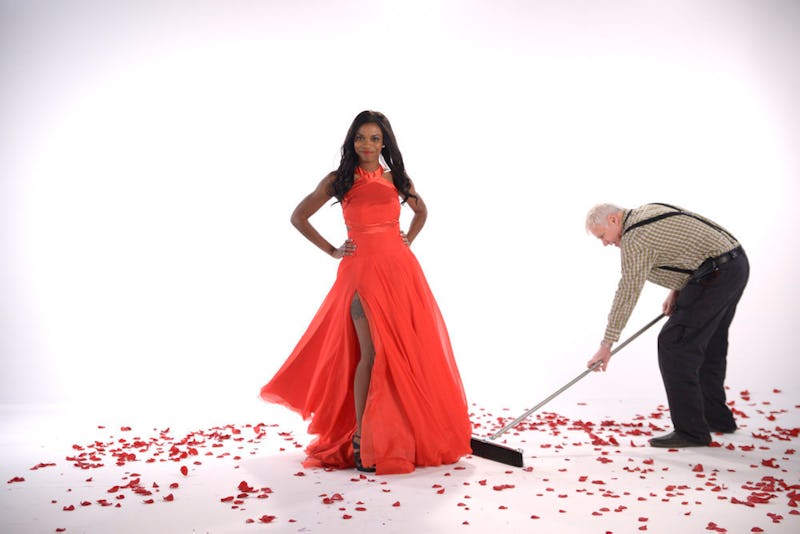 Ralph Bravaro/NBC
In the era of Trump, real life often seems like something out of a really outlandish SNL skit, and the show certainly used this fact to their advantage this past season. Such newfound success makes it even more puzzling that Sasheer Zamata left SNL, and will not be returning for Season 43. With ample material to work with, Saturday Night Live was finally able to turn it's progressively sinking ratings around, according to Variety.
Zamata's quiet exit came at the heels of the departures of fellow cast members Bobby Moynihan and Vanessa Bayer. But while both Bayer and Moynihan had announced their decision to leave the show ahead of time, Zamata had not officially shared her departure by the time SNL aired the Season 42 finale. Moynihan and Bayer were able to bid their adieus during a graduation sketch and reprised their infamous roles of Drunk Uncle and Dawn Lazarus, respectively, on Weekend Update. But Zamata was given no such on-camera farewell. The lack of hoopla around her departure led some fans to wonder whether there was bad blood between the comedian and SNL.
Viewers of the show and fans of Zamata herself will be happy to know that there is no evidence of any hard feelings from either party about the situation. While Zamata has yet to share publicly her reasons for leaving the show, she shared a sweet picture on Instagram that depicts her being carried off the SNL stage by fellow cast member Colin Jost and celebrity host Dwayne "The Rock" Johnson.
The full caption reads:, "Wow. What a fantastic end to a fantastic season, thanks SNL ❤️❤️❤️❤️❤️❤️❤️"
This post seems to be evidence that Zamata left in good spirits and to much celebration, even if that party happened off-camera. Moynihan and Bayer were also carried offstage in celebration of their last episode.
Zamata's exit closes out an SNL run that began shrouded in controversy in 2014. SNL was receiving extensive criticism for the lack of ethnic diversity on the show, as the cast was made up almost exclusively of white performers. Zamata, a black female comic, was hired in the middle of this backlash. In an interview with the Associated Press, Zamata shared that the intense scrutiny surrounding this lack of diversity, and her subsequent hiring, was intimidating. She said:
"[The public attention surrounding her hiring] stressed me out. I kind of just stayed at home a lot. People knew too much. People would text me and be like, 'What's the process like?' 'What's Lorne Michaels like?' I was like, 'This shouldn't even be your business.'"
Yet despite all of the buzz surrounding Zamata's hiring, the comedian's talents were greatly underutilized during her tenure on the show. She was rarely the focal point of a sketch, unlike fellow cast members Kate McKinnon and Cecily Strong, and her social media presence isn't as lauded as fellow black female cast member Leslie Jones. Yet some of her funniest material, such as the sketch questioning where the heck all the parents were on Stranger Things, utilized and commented on her black identity. The show will miss her unique perspective and humor.
Zamata's failure to become an SNL standout sheds light on the bandaid fix that was her initial hiring. It's not enough for Hollywood, and shows like SNL, to hire more diverse actors just to to avoid further criticism. They have to utilize those actors, give them meaty parts, and make them the focus of a narrative or a sketch as often as their white colleagues. In a show like SNL, with its historically majority white cast and white-centric humor, that goal was particularly difficult for Zamata to achieve. As Dave Schilling wrote about Zamata in Variety, "In order to succeed in an environment dominated by white male perspectives, a black woman has to go beyond mere competence and be truly transcendent."
Whatever the true reason for Zamata's exit, the comedian stands as an example of all that movies and television stand to gain by continuing to hire diverse actors and performers, and all they stand to lose if they don't properly utilize those voices.