The Real Reason Sharon Osbourne Won't Be Returning To 'X Factor' Is Pretty Serious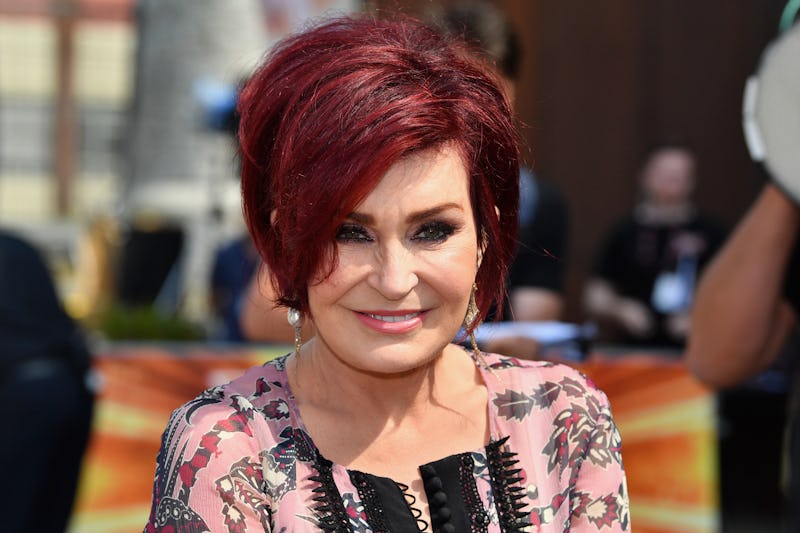 Anthony Devlin/Getty Images Entertainment/Getty Images
The fifteenth season of The X Factor is nearing the long-awaited live shows, and I can't be the only one wondering why a certain fiery-headed, loud-mouthed judge isn't on the panel. Well, turns out there are quite a few reasons as to why Sharon Osbourne left The X Factor this year, and yes, it's as complicated as you'd expect it to be. So prepare yourself, because the reasons behind Osbourne's exit have stirred up a whirlwind of conflicting comments and drama.
Even though Osbourne last appeared as a judge on the show last year — where she ended up mentoring the girls — a source told The Sun in April that "Louis and Sharon [were] both contracted to return this year, but Simon and the producers [had] lost faith," insinuating that producers wanted to "bring in fresh blood."
It would later be announced that the "fresh blood" replacing Osbourne, Walsh, and Nicole Scherzinger would be Louis Tomlinson, Robbie Williams, and Williams's wife, actress Ayda Field. Although, it wasn't all said and done for Osbourne, as she was actually due to return to the panel for the live shows, filling in for Williams while he was on tour.
But in a statement provided by Osbourne via her Facebook page, she revealed that she had declined the offer after seeing "the new judges finding their rhythm."
"Simon was so gracious to find me a spot on the live shows, but at this point I really don't think I'm needed," she continued. "I would honestly feel odd coming in at this point, so I have decided to pass on the series this year.
"I wish the show continued success and as much as I love to get my face on TV, you will have to do without me this season."
While Osbourne sounds graciously thankful for her time on the show and the opportunity presented to her, this all sorta contradicts earlier comments she made during an interview earlier this month Howard Stern on his SiriusXM radio show, which are said to be the real reason why she won't be back on the show.
From condemning contestants in the audition stages of the ITV show to berating Cowell and calling him a "pain in the arse," it begs the question as to whether this exit was totally Osbourne's decision.
I reached out to a spokesperson for the show for clarification, and have yet to receive a reply. Yesterday, a report by The Sun quoted a source who alleged that "after that disgusting interview there was no way Simon Cowell or the executives would have her back on the panel." Nevertheless, while the formal statement didn't comment on these exact claims, it did insinuate that leaving was Osbourne's decision, contradicting the source's statement.
The official statement reads: "The X Factor can confirm Sharon Osbourne has decided not to return to this year's show. Sharon will always be a big part of The X Factor family and we wish her all the best for the future."
This sounds amicable enough, right? Maybe it's as simple as Osbourne appreciating the new judges and not wanting to intrude. Or who knows, this could all be a ploy to stir up drama for a reveal that Osbourne will be appearing in the live shows after all. You'll just have to wait and see.