Tom Price Has Resigned As Trump's Secretary Of Health & Human Services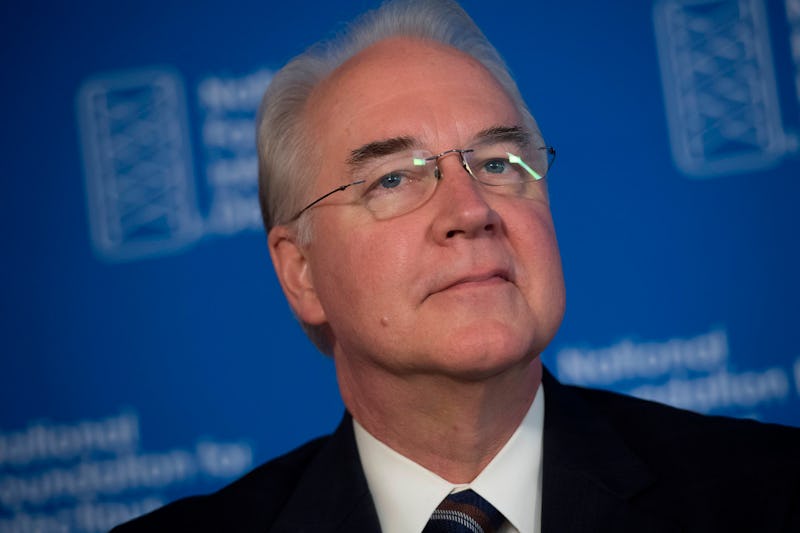 SAUL LOEB/AFP/Getty Images
According to multiple reports, Health and Human Services secretary Tom Price has resigned from the Trump administration, amid an ongoing scandal regarding his use of taxpayer-funded private jets. In a statement released on Friday afternoon, the office of the press secretary kept things very brief, offering no direct explanation for why Price decided to leave, and announcing that Deputy Assistant Director for Health Don Wright will take over as acting secretary just one minute before midnight on Friday night.
Secretary of Health and Human Services Thomas Price offered his resignation earlier today and the president accepted. The president intends to designate Don J. Wright of Virginia to serve as Acting Secretary, effective at 11:59 p.m. on September 29, 2017. Mr. Wright currently serves as the Deputy Assistant Secretary for Health and Director of the Office of Disease Prevention and Health Promotion.
Although the letter makes no mention of why Price decided to resign, it almost assuredly relates to the ongoing scandal surrounding his private jet usage. Throughout his tenure as HHS secretary, Price reportedly burned through more than $1 million in private jet trips, and this week, he offered to pay back a mere $52,000 or so.
On Friday morning, President Donald Trump said a decision on Price would be made before the day was out. The decision, from the looks of things, is that Price had to go. He did, however, call Price "a fine man."
Price, 62, was previously a member of the House of Representatives, but gave up his seat to join the administration in late 2016. His departure from the House spurred the high-profile, massively over-funded special election in Georgia's 6th congressional district, a race in which Republican Karen Handel ultimately defeated Democratic newcomer Jon Ossoff by roughly three points.
Wright, who'll be ascending to the position of acting secretary, has been an official in the department of Health and Human Services for nearly ten years, first joining the agency in December of 2007. It's unclear at this point whether Wright will ultimately stay on as the full-time director, or whether Trump will seek out a new person to appoint to the position.
There's no telling precisely what will be next for Price ― whether he'll attempt a return to government at some point, or whether this resignation represents his final departure from public life. Needless to say, resigning amid a scandal about misuse of federal money is not a great springboard to further elected office.
He's far from the first upper-echelon member of the Trump administration to depart, of course; he joins former national security adviser Mike Flynn, former chief of staff Reince Priebus, former press secretary Sean Spicer, former (but technically never actually official) communications director Anthony Scaramucci, and former presidential advisers Steve Bannon and Sebastian Gorka, among others.
Notably, Price is the first resignation to occur due to a scandal involving seemingly unnecessary, exorbitant expenditure of taxpayer money, despite that fact that similarly extraneous travel-related costs have been run up by the president himself for months.
In fact, compared to the more than a million Price reportedly racked up in chartered plane travel, Trump's travel expenditures are seismic. As multiple outlets reported back in April, Trump's extensive travel throughout his first 100 days put him on-track to outspend Obama's entire eight-year price tag in just his first year in office.
At present, Trump has reportedly spent about $69 million on travel, compared to the approximately $100 million Obama spent throughout his entire presidency. Additionally, the Secret Service reportedly blew past its budgeted salary caps for the year back in August, with months still remaining in 2017.