Twenty One Pilots Went Pants-less At The Grammys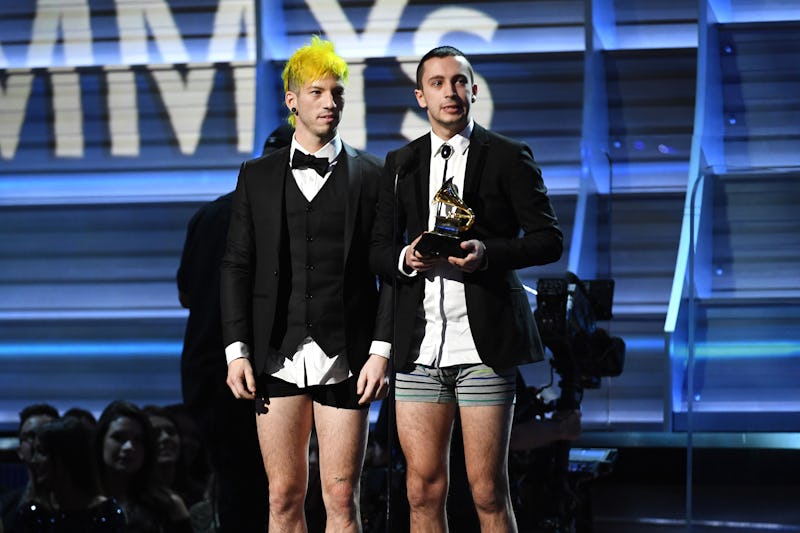 Kevork Djansezian/Getty Images Entertainment/Getty Images
There were a lot of bizarre outfits at the 2017 Grammys, but the pants-less acceptance was up there at the top. After they won their very first award of the night, Twenty One Pilots took their pants off at the Grammys. Yes, you read that right. Why did the band go on stage without pants, you ask? There's actually a really great reason for their outfit choice.
It's been an amazing night at the Grammys. Cee Lo Green wore a golden mask on the red carpet, there was a Trump-inspired gown, and a band took their pants off. While I have no idea why the first two would dress the way they did, Twenty One's Pilot's reason is pretty great. They explained the action in their Best Pop Duo/Group Performance for Stressed Out acceptance speech, and the answer was pretty darn adorable.
Tyler Joseph said that before they were famous, him and Josh Dun watched the Grammys in their underwear together. Joseph said that they promised each other that if they every won, they would accept their award in their underwear. Needless to say that the two kept their promise and stripped down to their undies before taking the stage.
You have to admit, it's pretty awesome that they kept their promise. I'm not saying that this will be the next fashion trend, but it meant a lot to them.
They put their pants on after they went back to their seats, but James Corden, who is the host for the night, jumped on the trend afterwards. Of course, he was joking, but Corden said that if he were to host the awards for the first time he'd do it in his underwear too.
The band is up for two other awards in the night, so this might not be the last time we see them pants-less.