Lala From 'Vanderpump Rules' ACTUALLY Drinks Milk From A Baby Bottle To Go To Sleep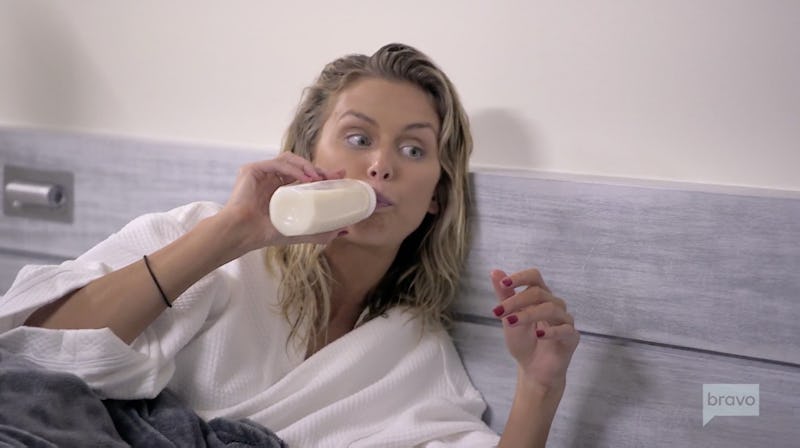 Bravo
As Vanderpump Rules fans have already been made well-aware, when it comes to the often-outrageous onscreen antics of SUR staffer Lala Kent, convention just doesn't seem to come with the territory. Fans can now catch a glimpse of Lala's latest quirk, per People's release of an exclusive clip from Monday night's upcoming episode. In the clip, Vanderpump Rules star Lala reveals that she drinks milk from an actual baby bottle as part of her nightly routine.
The clip, which spans the better part of a minute, opens with a shot of the Andaz Mayakoba hotel, where the SUR crew is shacking up during their group excursion to Mexico for fellow SUR staffer and Vanderpump star, Jax Taylor's birthday. Lala and Scheana are sharing a room, which gives Scheana the unique opportunity to bear witness to Lala's pre-bedtime routine. Suffice to say, the truth of her co-star's nighttime ritual was probably not one she could have expected.
"What are you doing?" Scheana calls out to Lala at the video's start, from across the hotel room. "You're taking forever." The camera focuses in on Lala's neatly-manicured hands, which, at first, look like they might be conjuring up some kind of honey-infused, potion-like concoction. Under her breath, Lala offhandedly replies, "I'm making my baba."
And, for all the wide-eyed Vanderpump enthusiasts out there currently asking themselves if "baba" actually means what they think it means — it does. When Scheana asks for clarification regarding the nature of Lala's milk-and-honey combo, the notoriously self-assured reality star casually sets the record straight. "My baba," Lala repeats before climbing into the bed opposite Scheana. Donning a cozy, ankle-length white robe, she places the offending object on the bedside table between herself and Scheana, revealing that the "baba" is, in fact, exactly what it sounds like: a plastic baby bottle filled with milk.
As Lala continues to casually move through her pre-bedtime routine, Scheana looks on with palpable distress. Clutching a stuffed animal frog in the adjacent hotel bed, her facial expressions range from conceivable disgust to moderate concern. Either way, as tends to be characteristic when it comes to Scheana's judgements of any kind, she certainly doesn't make much of an effort to mask her scrutiny.
Cut to: Scheana's confessional-style interview, recapping the bedtime ordeal. And while she acknowledged that she does engage in some ritualistic nightly routines of her own, Scheana insisted that hers are nowhere near as bizarre as Lala's. "Listen, I bring a stuffed frog with me everywhere," she tells the camera during the clip's brief confessional break, about halfway through. "But that frog has very special meaning to me, and I snuggle that every single night." Still, Scheana says sharply, she's never heard of any "grown women who suck a 'baba' to go to bedtime."
But despite the conspicuous judgement emanating off her rattled vacation-time roommate, Lala seems totally unfazed. "I turn on my favorite show, and then I prop it up like this," she explains before promptly tucking herself into bed, switching on the television, and literally resting the bottle against her chest while she starts to drink from it.
While Lala's bedtime ritual might seem a little unconventional, her rationale for the nightly "baba" actually makes sense. Well, sort of makes sense. Toward the end of the clip, Lala appears in a confessional-style interview of her own. Calmly, the reality star explains her reasons:
"I'm on a very low dose of my anti-anxiety medication, so when I do feel like my heart's beating a little fast, I need my baba and a little warm milk and honey in it. It soothes me, like I'm a baby."
Lala's warm-milk-and-honey routine is an actual anxiety remedy, though Scheana definitely does have a point — the baby bottle is certainly a peculiar twist. Of course, if Lala has taught Vanderpump viewers anything during her time on the show, it's that taking the traditional route (in whatever circumstance) isn't really her thing. And honestly, that's what her fans love about her.
You can check out the full video on People.