This Super Simple Beauty Hack Will Stop Your Foundation Looking Orange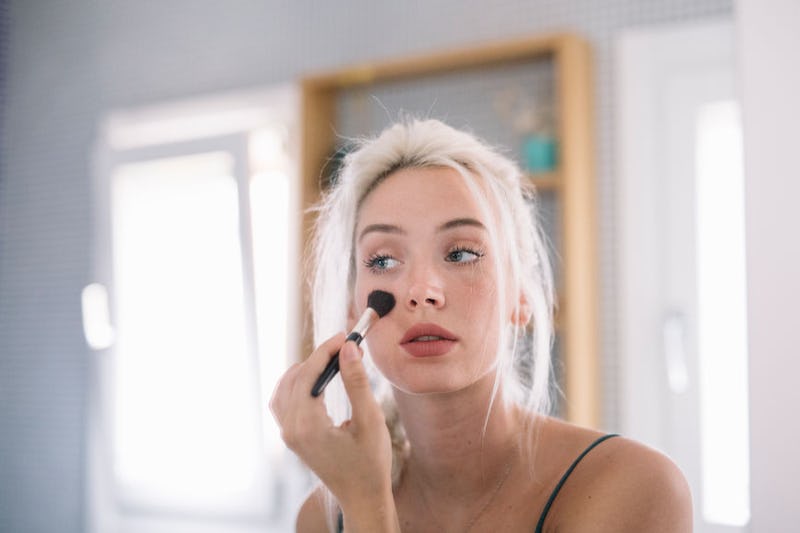 Alberto Bogo/Stocksy
Applying make-up can be pretty time-consuming, can't it? So after you've put all that effort in, you kinda hope your artwork will stay in place. But, as we all know, that's not always the case. Ever caught yourself in the mirror at work and wondered 'why does my foundation look orange?' It didn't look when you left the house, so what's happened? Yeah, me too.
During one of my recent trawls on Reddit (specifically, the r/MakeupAddiction thread), I found a rather interesting post. One woman had discovered that shaking your foundation is actually the key to keeping your make-up looking good all day long.
The Reddit user, who goes by the username of shoreline85, started the thread after noticing that her foundation started to turn orange as the day went on. "A few weeks ago, I used my favourite liquid foundation, Smashbox in colour 3.35. I noticed it looked a bit orange. I applied it on another day and felt I was getting the same orange colour," she wrote.
Instead of doing a me and throwing away the bottle, she decided to give it a good old shake to see if that made any difference. And it did. Posting two photos which showed how the foundation now matched her skin perfectly, she continued: "I decided to shake the hell out of it and saw streaks of various colours, namely white and orange. I shook it for a long time and applied it. I don't know if you guys can tell, but I saw a huge difference."
Unsure whether it was just her Smashbox foundation, she asked other Reddit users whether they had experienced a similar thing. Lo and behold, plenty of them had. Another person admitted experiencing something similar with Rihanna's Fenty Beauty Pro Filt'r foundation:
"It says to shake before use on the bottle. One morning, I was running late and didn't shake it too much, looked in the car mirror later that day (the mirror of truth, am I right?) and was horrified. I was orange! But I wore Fenty so many times so I knew it wasn't right. The next day, I shooked the hell out of it and checked again. No Oompa Loompa for me!"
Several beauty brands do instruct customers to shake foundation bottles before applying make-up to their skin. But, of course, 99.9 percent of us never bother to read it, slathering foundation on our face every morning only to realise that it has turned a completely different colour by lunchtime.
A few Reddit users advised people to shake any form of liquid make-up before using it. I was curious so decided to see if there was any truth to this.
According to a Hello! report, the pigments in any liquid foundation can settle at the bottom of the bottle, leaving you with an "uneven finish." (Note that if you've been trying to squeeze out the last remaining contents of your foundation, oxidation — which can result after around six months — could also be the reason for your orange appearance.)
But what about other forms of make-up? Obviously, shaking nail varnish is a given but there are Reddit threads proclaiming that shaking everything from concealer to eyeshadow primer is the way to get the formula back to the way it should be.
While I couldn't find any hard scientific evidence as to why this is, it's likely that all forms of liquid make-up containing similar pigments to foundation need a little moving about prior to skin application. Plus hardcore make-up Redditors know what they're talking about most of the time. So, if you're finding orange patches appearing on your skin or are becoming disappointed with your purchase over time, a little shake won't hurt.
I've definitely learnt one important lesson, here. Instead of thinking that I know best, maybe I should start taking the time to read the side of every beauty product that I own. It's not the most ideal thing for someone as lazy as me, but I suppose it could save me a lot of complaining in the future.