Patch The One-Eyed Horse Has A Mysterious Story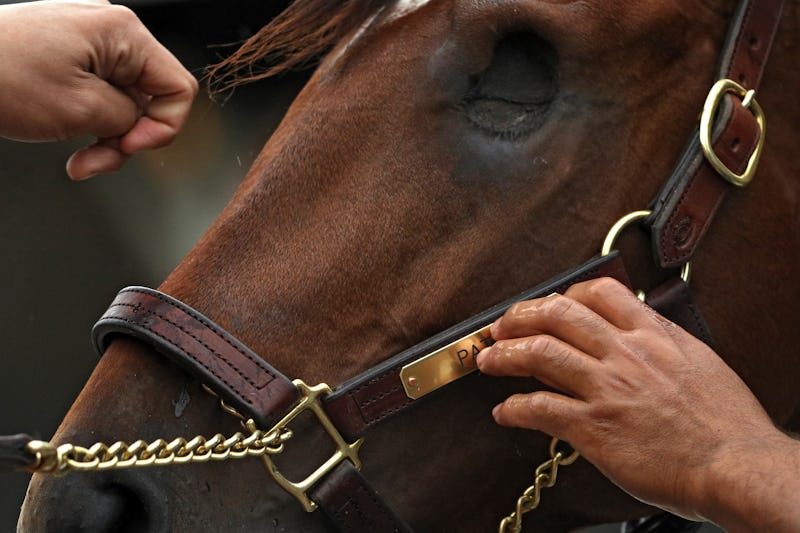 Patrick Smith/Getty Images Sport/Getty Images
Derby fans were obsessed with a special horse on Saturday — a one-eyed horse named Patch. And the story of why Patch the horse has one eye is still pretty mysterious, his owner and trainer told NBC Sports.
Trainer Todd Pletcher — who also trained two other horses running in the Derby, Always Dreaming and Tapwrit— said, "We came in one morning and his eye was a little bit swollen, and he was tearing heavily." Treatment to try to heal it failed, so a veterinarian removed the eye. However, the owner told NBC Sports, it's still not clear what happened to him. He could have ran into something, injuring his eye, or he could have fallen and somehow hurt it.
Patch's left eye is gone, and he can see only from his right eye. This means that, as the horse running from the 20th gate, he could not see any of the horses running beside him. He was certainly not a favorite to win — his odds of winning were 30:1. As SB Nation reported, three one-eyed horses have raced in the Kentucky Derby before, and none of them ever finished in the top 10. So, it wasn't really much of a surprise that one of Pletcher's other horses, fan favorite Always Dreaming, took home the top prize.
One of the most interesting parts of Patch's story is with his name. You might think that he got the name "Patch" because of his one eye. However, he actually was named before the mysterious ailment took his eye. Many horses are named based on their pedigree. His sire, which is the male parent of the horse, was Union Rags, so Patch was a play on that.
While Patch might not have taken home any awards this race, don't think it's because of his eye. "If you watched him train and didn't know that he had one eye, there's no indication of him doing anything peculiar in his training or in his races that would make you concerned about the one eye," Pletcher told USA Today. He was just a newbie who only had three races under his belt.
You might be seeing Patch around the track again soon. But in the meantime, you can keep up with him on his Twitter, which is full of awesome photos and stories about the lovable horse.