Vladimir Putin Allegedly Stole A Super Bowl Ring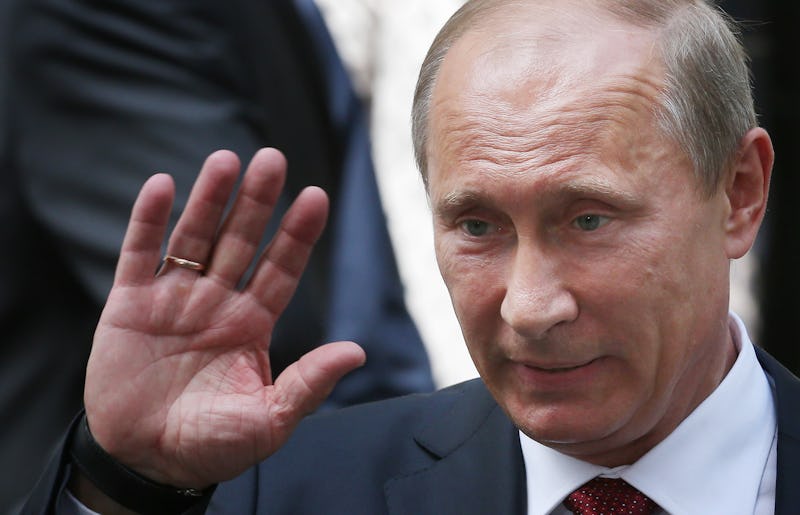 Peter Macdiarmid/Getty Images News/Getty Images
Friends and foes alike can agree on one thing about Russian president Vladimir Putin: he's not one to mess with. And that remains true even if you're the owner of an American football franchise like the New England Patriots. Back in 2005, Patriots owner Robert Kraft took a trip to St. Petersburg, Russia, with other business executives and met with Putin. What happened in the meeting might come as a shock: According to Kraft, Putin took his Super Bowl ring and allegedly won't return it. (Back in 2005, both Kraft and the Kremlin described it as a gift.) Now, Kraft is hoping that President Donald Trump will get it back for him.
That's what Kraft said to Fox Sports on Sunday before the big game. "I do have an emotional attachment to that ring," Kraft told Fox. He's hoping that Trump's warmer relationship with Putin can be leveraged to retrieve the $25,000 piece of jewelry.
However, back in 2005, Kraft said: "At the end of a very productive, three-hour business meeting with President Putin, I showed the president my most recent Super Bowl ring. Upon seeing the ring, President Putin, a great and knowledgeable sports fan, was clearly taken with its uniqueness.
"At that point, I decided to give him the ring as a symbol of the respect and admiration that I have for the Russian people and the leadership of President Putin," he added.
Kraft's even willing to sweeten the deal by having another ring made specially for Putin. "I was willing to have one made with his name on it," Kraft told Fox. "Maybe we will have the new president bring it to him when he connects with him." The ring is Kraft's second of what will now be five rings after Sunday's win.
But what exactly happened? How did Putin get the ring in the first place? The details only came out in 2013, some eight years after the initial incident. Allegedly, at the 2005 meeting, Putin tried the ring on and then when Kraft tried to get it back, body guards surrounded the Russian leader and led him out.
After backtracking on his initial statement that the gift was " a symbol of the respect and admiration that I have for the Russian people and [Putin's] leadership," Kraft explained how it went down at Carnegie Hall's Medal of Excellence gala in 2013:
I took out the ring and showed it to [Putin], and he put it on and he goes, "I can kill someone with this ring," I put my hand out and he put it in his pocket, and three KGB guys got around him and walked out.
The New York Post reported when the real story came out that the ring is kept in the Kremlin Library, and despite overtures from the Obama Administration, there have been no moves toward returning it. Kraft was dead set on getting the ring back in 2005, until he was talked out of it in a call from the Bush White House:
I really didn't [want to]. I had an emotional tie to the ring, it has my name on it. I don't want to see it on eBay. There was a pause on the other end of the line, and the voice repeated, "It would really be in the best interest if you meant to give the ring as a present."
Now, though, he's hedging his bets that Trump, who is a friend of 20 years, can disrupt not just the world of international affairs but also of Super Bowl ring recoveries.