Why Does Sean Spicer Dislike Anthony Scaramucci?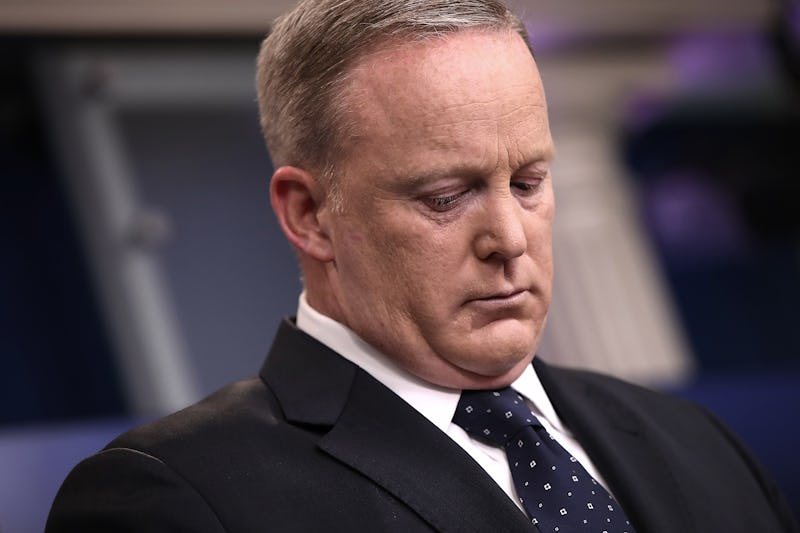 Win McNamee/Getty Images News/Getty Images
Sean Spicer officially resigned from his position as White House press secretary on Friday after opposing President Trump's appointment of New York financier Anthony Scaramucci for communications director. Trump's appointment of Scaramucci, the founder of the global investment firm SkyBridge Capital and Fox News Channel contributor, comes two months after a previous communications director, Mike Dubke, stepped down from the position.
Spicer's sudden departure is the latest twist in a White House characterized by internal upheaval and infighting. But, what exactly was Spicer's problem with Scaramucci that compelled him to leave the White House?
According to The Washington Post, Scaramucci's relationship with Spicer and chief of staff Reince Priebus was nothing short of tense — both Spicer and Priebus vehemently opposed Scaramucci's ascendence to the top communications job, and Scaramucci "coined a particularly crude name," for Preibus.
The New York Times reported that Spicer told the president that appointing Scaramucci was a major mistake. While Trump wanted Spicer to stay on as Scaramucci's subordinate, he blatantly refused, citing the financier's lack of experience in Washington and handling of communications strategy, according to CNN's Dana Bash. Spicer figured he'd likely still have to perform many of the tasks designated to the communications director, despite Scaramucci holding the more influential job title.
Ironically, and after around ten days in the White House, Scaramucci was fired by Trump. The former communications director was reportedly ousted at the request of the president's new chief of staff, John Kelly, according to The New York Times. During his brief stint in office, Scaramucci stirred controversy for his brash remarks against other members of Trump's staff, like Kelly's predecessor Reince Priebus and chief White House strategist Stephen Bannon.
Most notably, Scaramucci, dubbed "the Mooch," garnered notoriety after calling journalist Ryan Lizza, of The New Yorker, and providing a profanity-laced, on-the-record interview that included memorable lines such as how he wasn't like Bannon beecause, "I'm not trying to suck my own cock," and calling Priebus a, "schizophrenic," and "paranoiac."
On Monday afternoon, Press Secretary Sarah Huckabee Sanders released the statement:
Anthony Scaramucci will be leaving his role as White House Communications Director. Mr. Scaramucci felt it was best to give Chief of Staff John Kelly a clean slate and the ability to build his own team. We wish him all the best.
From Spicer to Scaramucci to Kelly, the White House has emerged as a breeding ground for friction and internal rivalries. And, who knows, maybe Spicey will find himself by Trump's side someday — after all, he did resign because of the Mooch's arrival. And, in dramatic fashion, the Mooch has officially left the White House.