America Could Learn Something From March Madness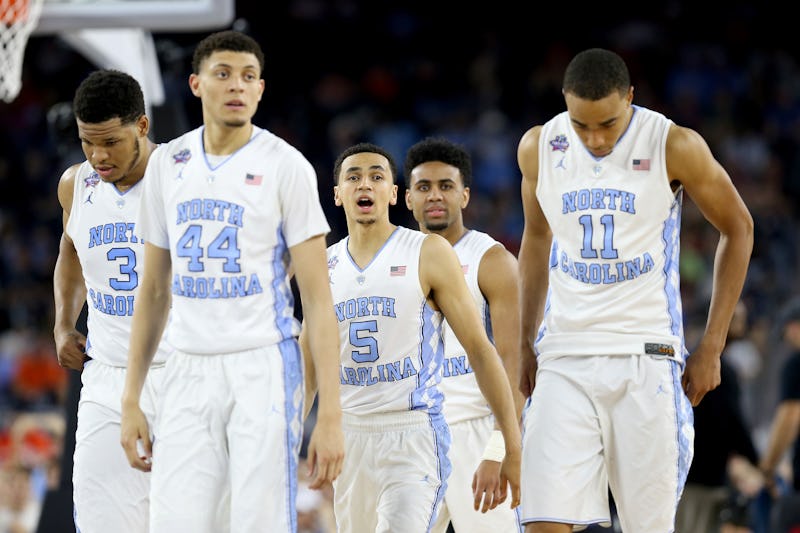 Streeter Lecka/Getty Images Sport/Getty Images
Whether you're snowed in with an insufficient supply of Girl Scout cookies or just bummed out by the general state of the country, there's one thing for everyone to be excited about this week: the start of March Madness. Every year, the NCAA men's basketball tournament gives America something to get fired up about, as the 68 best collegiate teams in the country compete to cut down the coveted net. Even if you're not a college basketball fan, it's time to hop on the road to Phoenix because America (and President Trump) need March Madness more than ever this year.
First, a brief guide: The NCAA men's basketball tournament — affectionately known as March Madness — kicked off on Tuesday with the so-called "First Four" games. On Tuesday and Wednesday, eight fringe teams were set to play for their chance into the tournament. The first round of bracket play will take place on Thursday. It all leads up to the national championship game, which will be played on April 3 in Phoenix, Arizona. This year's favorites include No. 1 seeds Gonzaga and North Carolina. Also a No. 1 seed is defending champ Villanova, who handed North Carolina a heartbreaking last-minute loss in last year's championship game.
Beyond the favorites, there's always room in the March Madness bracket for a Cinderella story. In 2013, No. 15 seed Florida Gulf Coast (FGCU) beat No. 2 seed Georgetown for one of the biggest upsets in recent memory. The FGCU Eagles are back this year, as an important reminder that anything is possible.
More than any team on the bracket, though, isn't America the team most desperately in need of a Cinderella story? Americans have been divided over tough issues like immigration and health care for a long while, but the election and subsequent presidency of Trump seem to have deepened those divisions — in some cases, to an extreme point of intolerable violence.
Don't get me wrong: March Madness will divide plenty of people. (It's called madness for a reason, after all.) Don't expect too many Tar Heel fans to be rooting for the Duke Blue Devils to upset Gonzaga. A Louisville-Kentucky matchup in the Final Four wouldn't be pretty, either. But isn't it far better to be divided over sports than to be divided over the fundamental idea of what's right and what's wrong?
As much as it divides rivals, the tournament also stands to unite fan bases. Hopefully, March Madness can remind Americans what it's like to root for the same team — and what it's like to be a good sport. Maybe that's a lot to ask of a basketball tournament played by 20-somethings, but at the end of the day, there's an important message to be learned: We all have to root for the country to succeed. At the very least, filling out your bracket is an excellent distraction from the nearly incessant stream of Trump tweets.
Speaking of brackets, the president himself is reportedly refraining from the obligatory March Madness tradition. Trump's decision not to fill out a bracket publicly, as former President Obama did, has raised some eyebrows — and for good reason. The bracket challenge helped Obama remain relatable. If there's any president who needs to come across as more relatable, it's the very controversial and very wealthy Trump.
While Trump sits out the tradition, his constituents will paint their faces, sing their fight songs, and rally around their teams. That kind of celebratory spirit has been missing from many parts of the country since November. It's a long shot, but here's hoping basketball can bring it back.